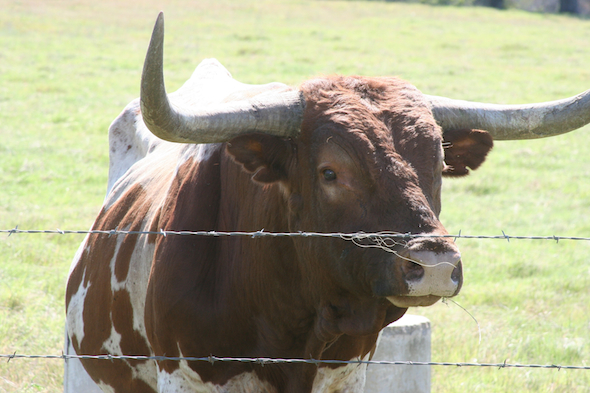 Well, it's almost here.  Rodeo is just about everyone's favorite time in Houston.  For nearly a month each year, Houston takes on the persona that the rest of the country assumes about Texas most of the time.  Having grown up here, I assure you that I've been asked more than once when traveling whether or not I own an oil derrick or rode a horse to school.  Thank you, Dallas.  (The TV show, not the city.) Once, while traveling in Indonesia, someone even asked me if I knew J.R. Ewing.  (I didn't.)  But, once a year, the fourth largest city in the U.S. goes back to its Texas roots – and its a LOT of fun!
We kick things off with Go Texan Day.  This year, that day is next Friday, February 28th.  Despite the name, this seems to be just a Houston thing, which I didn't realize until I moved away from the city.  If you're friends with any Houstonians on Facebook, you're sure to see their kiddos dressed up in cowboy gear for school that day.  Seeing little people in their jeans and boots, red bandanas and hats is beyond adorable.  I actually looked forward to all of those photos when we were living in San Francisco.  It reminded me of all of the Go Texan Days I celebrated growing up.  On this day, the trail rides that started in various parts of the state will all convene and ride into downtown Houston together.  They'll drive their horses and wagons down Memorial (a major thoroughfare here) and straight into the heart of the city.  I have to admit that when I was working in downtown Houston and Memorial was the main street that I took to work, it made me laugh every year to actually be driving to my job on the trading floor past a bunch of horse-drawn covered wagons.  It was always a little surreal.
After Go Texan Day, there's a Rodeo Parade and a 5k and 10k on Saturday morning.  One of my very favorite events, the World's Championship Bar-B-Que Cookoff is three solid days (and late nights!) of beer, music, cooking and competition.  Over 300 cooking teams participate and everybody wins in terms of eating the best bar-b-que you've ever tasted.  It is beyond fun!
Then, of course, there's the actual Houston Livestock Show and Rodeo (HLSR) which is the main event. For twenty days, Reliant Park is transformed into a livestock capitol.  (The event used to be held at the world-famous Astrodome when I was growing up, but was moved to Reliant in more recent years.) The HLSR's main mission is to promote better livestock and farm products within the industry.  It is partly educational and partly scientific and also benefits charitable organizations. In fact, since its beginning in 1932, it has raised over $350 million for Texas youth.  It is pretty incredible and amasses a TON of volunteers from within the Houston community.  Of course, there are also loads of fun activities that go along with all that education and charity.  There's the rodeo carnival, which is an absolute blast. Its a little like stepping back in time to a small town county fair, but on a larger scale.  The food is unparalleled, featuring everything from turkey legs to gumbo and cotton candy to funnel cakes.  There are midway games and all kinds of rides, from kiddie rides to the Western Hemisphere's largest portable Ferris Wheel and that crazy floor-dropping-out spinning one where you're stuck to a wall using G-force (crazy, right?)  For the littles, there are camel rides, tractor pulls, pig races, pony rides, a petting zoo and everyone's favorite…mutton bustin'!  (You ain't seen nothing until you've watched a group of five year olds try and hold on tight to a sheep for eight seconds.  It's hysterical!)  There's a livestock show and fabulous shopping and of course, the actual rodeo competition and concerts each night.  Its a lot of fun and if you haven't been before, you should come check it out.  You're pretty much guaranteed a fun time!  For more information on all of the events and activities, check out the Houston Livestock Show & Rodeo website.
At the rodeo, you're sure to see some CRAZY outfits!  Not sure what to wear?  Not to worry.  We've got some fun ideas for you coming up on the blog soon, so stay tuned!  And in the meantime, be sure to check out our Rodeo Collection on the website.