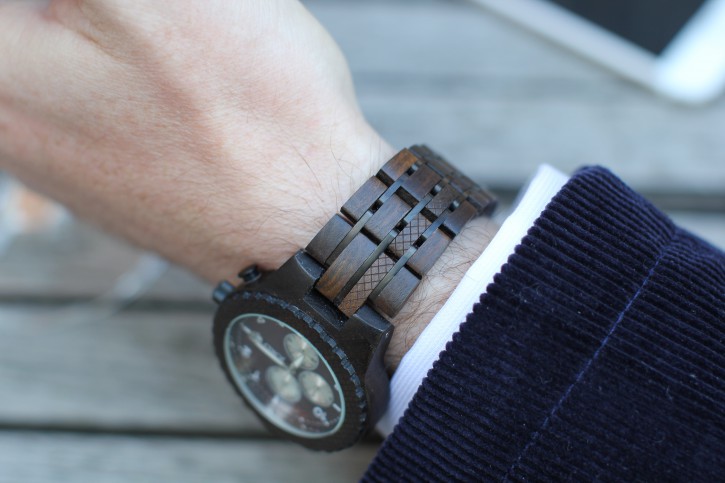 I always have a hard time thinking of good gift ideas for my husband. He's a tough guy to shop for, not because he is picky or doesn't usually like what I get him, but because he's a man who doesn't need much. He rarely asks for things, but he is a guy who really appreciates good craftsmanship, so when I can find something that is really well made, I know I've found something he will likely love. Whether it is a handmade pair of cowboy boots, a custom made button down shirt or a piece of jewelry that I handmade for him, I know he appreciates solid craftsmanship and good design.
As soon as he opened the gorgeous wooden box of his JORD men's watch, I saw that smile that let me know I had chosen well. The grain of the dark sandalwood glimmered in the sunlight and contrasted beautifully with the burgundy face. He carefully took it out of the box and examined it closely and proclaimed it a win – he loved it! Neither of us had ever seen a wooden watch before, so I love that it is a unique watch style. In person, it is so, so beautiful. You can instantly tell that it is carefully crafted and I love the earthy feel of the wood and it's just plain stylish!
Since he got it, hubs has worn it with casual clothes and dressy ones and it looks great with each. He's gotten lots of compliments on this cool watch and people are thrilled to know that is also has a great price point. I have a feeling he's going to be wearing it a lot this Spring (and I have a feeling I may be swiping it from him to wear myself!)
If you're in the market for a great gift idea for the man in your life, I highly recommend you checking out the line of lovely wooden watches Jord has for men here. Jord also has gorgeous women's watches as well. I personally LOVE the Frankie line of women's watches. I love the oversized look and the face is so clean and pretty.
Are you loving these wooden watches as much as I am? Good news! JORD is doing a fun giveaway for my readers. All you have to do is click on this link and enter your name and email address. The winner will receive a $100 E Gift Code. All entrants receive a $25 E Gift Code, so everyone is a winner! The contest will close April 2nd at 11:59pm. The $100 and $25 Gift Codes will expire June 30th, 2017.
So, hop on over to their website here and enter to win. And let me know in the comments below what you think of hub's new watch!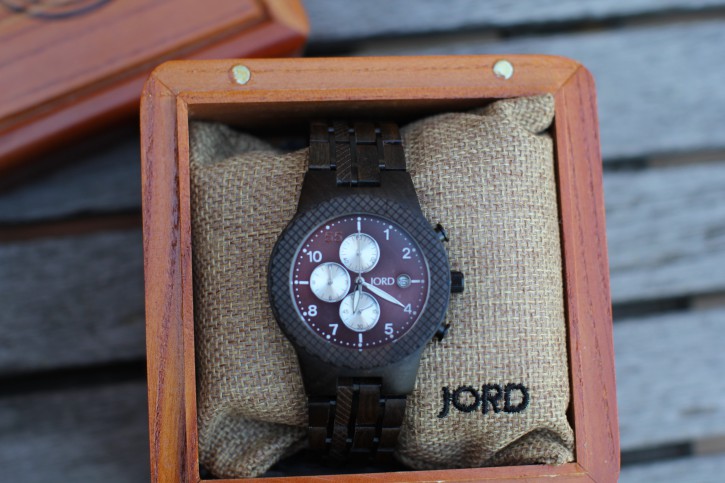 Gorgeous, right out of the box!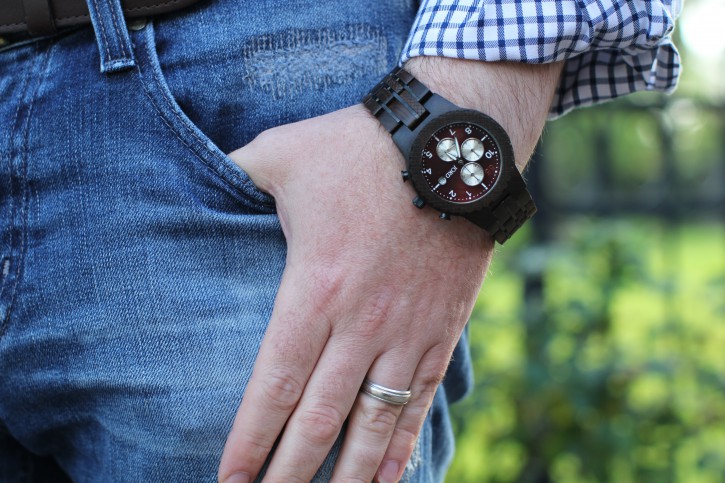 Love the way this dark brown contrasts with navy and white!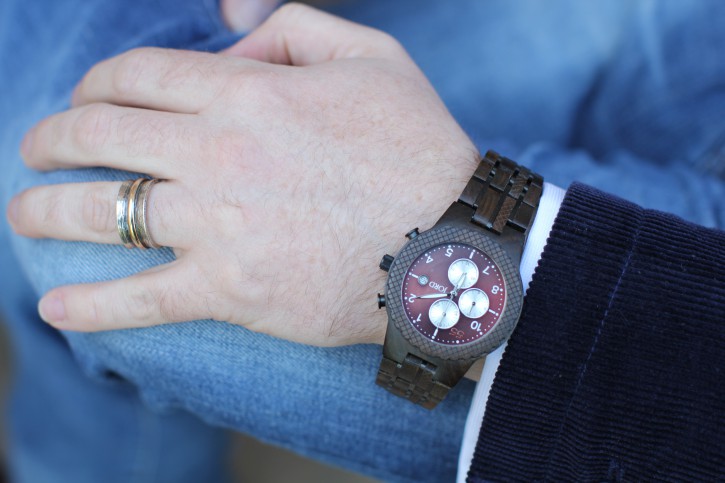 And the burgundy face is so elegant! I love the way the watch looks with this sterling silver and 14k gold ring I made him!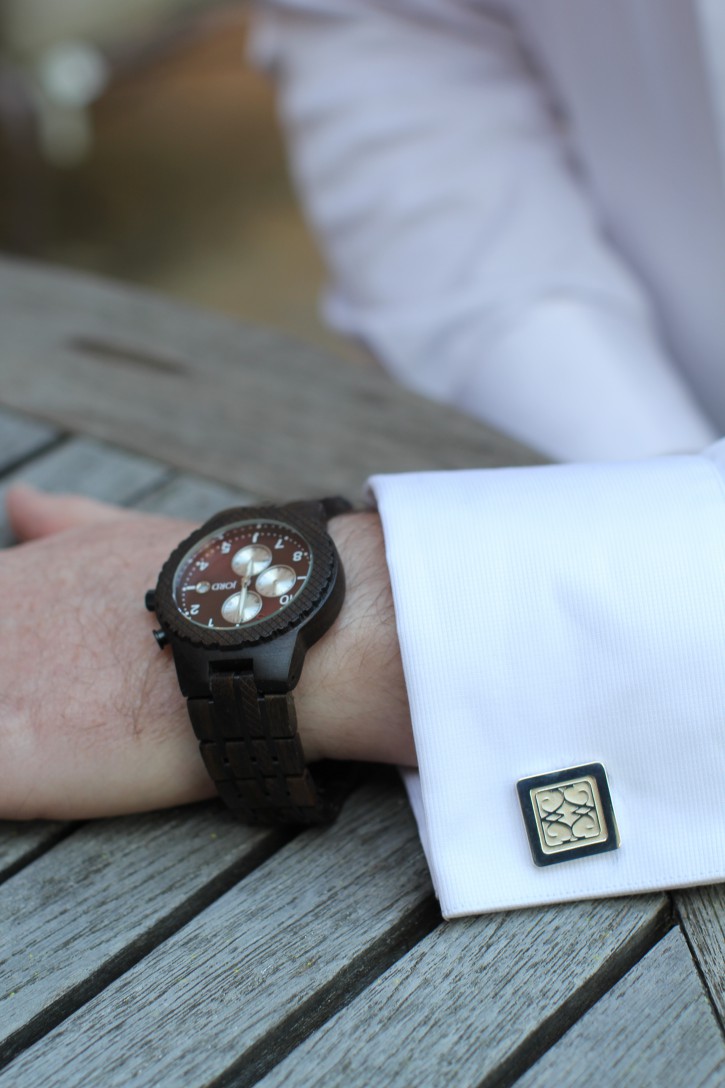 The watch looks just as good fancy! Shown here with his custom-made Andrea Montgomery Designs cufflinks.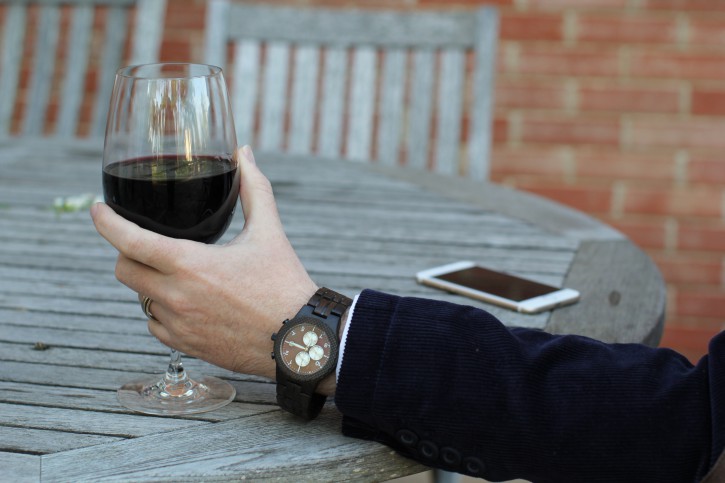 And, it looks good celebrating with a glass of vino!