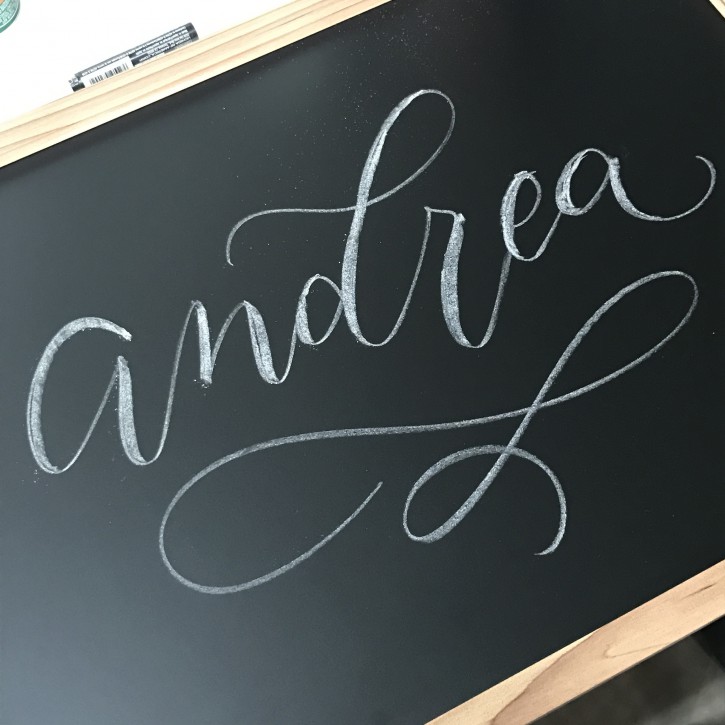 On a recent Friday morning, I was treated to a lovely chalkboard lettering class with Kristara along with some darling blogger friends. Her Houston calligraphy studio is located in an gorgeous building filled with inspiring businesses on Spring Street. Just walking in, you are sure to feel more creative! And her space is just adorable – filled with sweet little touches that make you feel right at home (if you live in a home filled with well-curated lovelies, that is!) Her walls are adorned with her incredible work, like the adorbs invitations pictured below, and I was immediately smitten. If you've been to the Lululemon store in Highland Village here in Houston, you've likely seen her work, as she does the art on their chalkboards. And for daily doses of her beautiful lettering, follow her on Instagram here.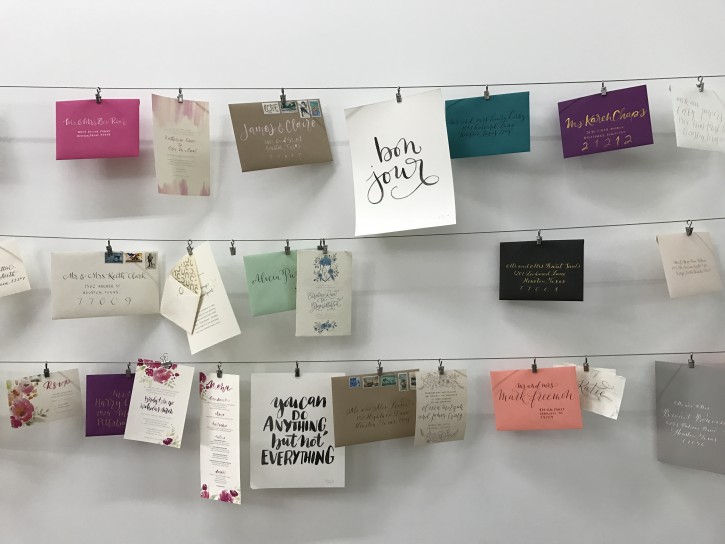 As we walked in, she offered us coffees, mimosas and sweet treats. It was a definite blessing for this mama after a harried morning of trying to get the littles to school on time. After some gabbing and catching up with friends (and commiserating that getting up this morning was super hard after a late evening out at the A Couture Cause event the night before!) we sat down at a pristine white table that was accented with simple, yet beautiful flowers, chalk and chalkboards with each of our names on them. Tres chic!
To begin with, Kristara is incredibly sweet, very patient and totally relatable, which makes the class super fun. First, she went over some lettering styles and examples with us. She demonstrated tricks and tips and also gave us a handout with the information so that we could focus on having fun and experimenting during the class. I love the "But first, coffee" design she did below. (Please note the artsy photo my darling friend Candace took of me taking a photo of the chalkboard!)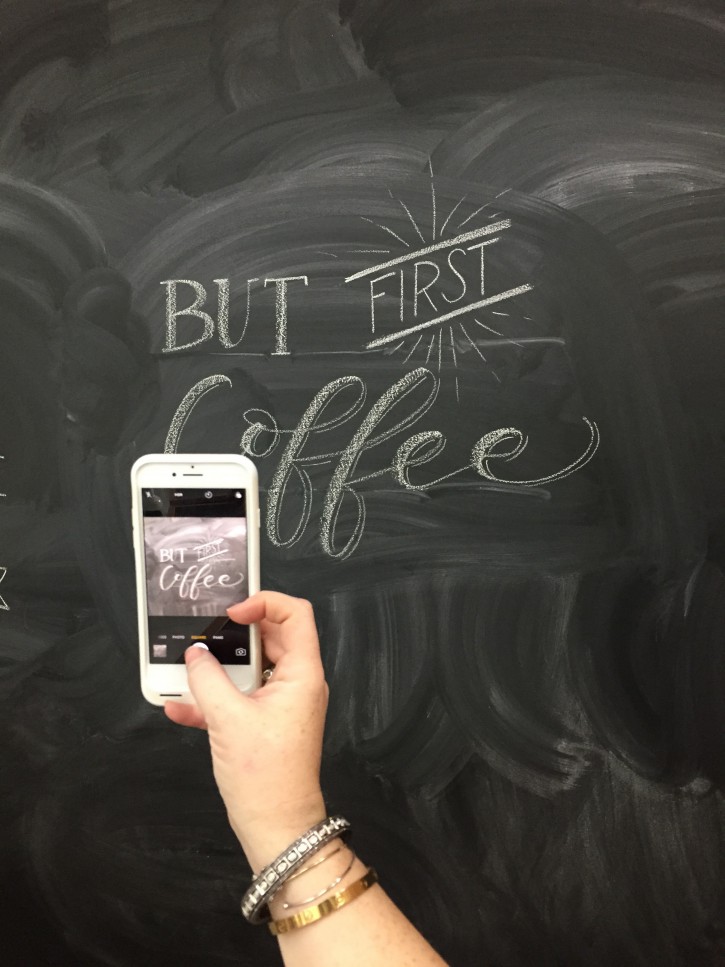 After the examples, we went to work creating. We started out with chalk and in the end, those who wanted to make their designs more permanent used a chalk marker (which is still removable) to make the chalk art last longer. I practiced a few things, but erased them before I took photos, much to the dismay of my table mate, the always-adorable style blogger, my friend Carly, who thought they were way better than they actually were. (Must have been the mimosas talking!) Turns out, I'm more of a perfectionist than I thought and chalkboard lettering is harder than I thought! It sure was fun, though, and I'm excited to practice more at home on the chalkboards she gave us!
Kristara does hand-lettering, so you can hire her to address your next batch of party invitations for a beautiful touch. She also teaches calligraphy and brush lettering as well, so no matter what your style is, you're sure to find something to inspire you in her class list. I cannot recommend her classes highly enough – especially if you go with a friend (or several.) You are sure to have fun indulging your creative side in her precious studio!