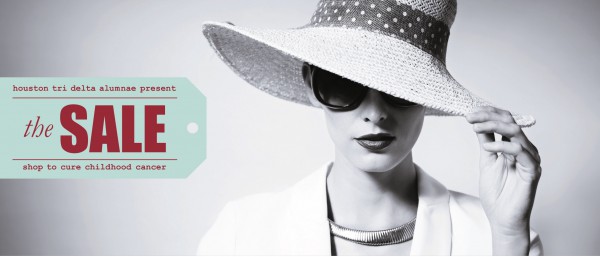 Well, friends! It's that time of year again…
After-Christmas sales are heavily upon us and I know you're getting a barrage of invitations to save money, but trust me, THIS is the one you don't want to miss out on! This event is back for a fourth year and we've participated every year they've had it and it is ALWAYS amazing! (And by that, I mean that I score great deals shopping myself…Ha!)
This sale is different because over 50 local vendors come together to offer you HUGE savings in one place that easy and convenient for you to shop. Grab your girlfriends to come with you, because these Tri-Delts throw one heck of a fun party! Up for a splurge? I highly recommend the champagne shopping early access tickets so that you'll get first pick of the goodies (and there are SO many deals to be had!) and come at 10am on Saturday. Don't need first pick? Grab the regular shopping tickets (which are $5 cheaper in advance!) and some of your best gal pals and come see us starting at noon on Saturday or noon on Sunday.
This sale features some of our FAVORITE Houston vendors, so be sure you don't miss out on them! Two years ago, I scored a Louis Vuitton Speedy for $200 from Cheeky Vintage, which always has amazing deals! Last year, I got a fabulous cashmere and fur wrap from Tootsies that was 75% off! And don't get me started on the deals at Elaine Turner – you don't want to miss those! I got a FABULOUS coat from Hunter Bell last year for 75% off – her deals are amazing! I scored two great short skirts last year at Muse that were an absolute steal and a darling skirt at Pinto Ranch that was also an incredible deal. And, OH the deals to be had a Monkees! I snagged a $395 pair of LK Bennett heels for $50. And I love them! And I've scored GREAT deals on fab items for my home from Savannah House/34th Street Design each year. A painting, a marble end table, a sweet little lamp, gorgeous dried flowers, fab mod pillows – too many great things to mention! And I've gotten some great gift items at Paris Texas Apparel Co, including cool Texas t-shirts for $10. Are you seeing what I mean? The deals are truly incredible. Also, I clearly shop almost as much as I sell – oops!
Of course, we'll be there as well and you do NOT want to miss out on the deals we have for you! You won't believe the prices on our jewelry – seriously, we are cleaning house before the new season starts and YOU are going to be the big winners on that deal!
So, make your plans to join us now and we'll see you this weekend! We've got lots of only-one-left designs to sell, so you may want to pop by our booth first! Want more scoop, visit www.thesalehouston.com.
See you there…