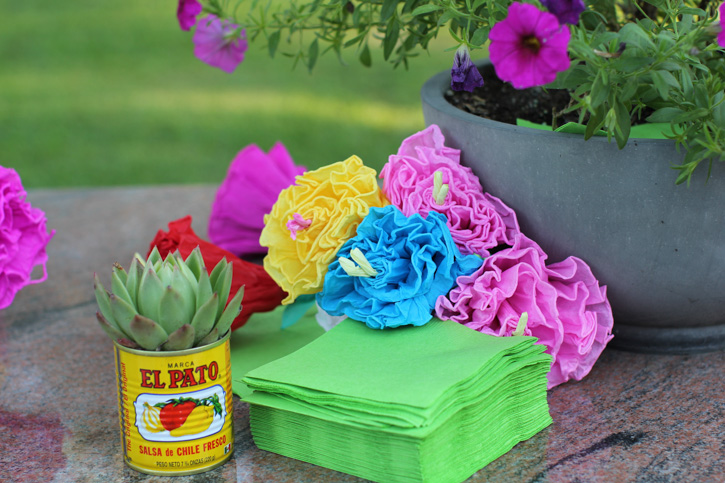 I'm still not sure how it happened. Somehow, my baby boy turned three this past week. Where the time went is absolutely beyond me, but here we are. . . and this occassion calls for a celebration! Since our little guy was born so close to Cinco de Mayo, we thought that would be a super fun birthday party theme and it was a huge success. Read on for all the scoop on how we pulled it off complete with loads of colorful photos, of course!
We decided to have the fiesta in our backyard and the Lord blessed us with amazing weather for the outdoor event. Houston in May is pretty hit or miss, but it was 70 degrees and sunny with very little humidity – a birthday miracle, for sure! To transform the space, we hung huge tissue paper flowers and paper fans (all found on Amazon) from the light strands that we strung over our patio last Fall. All of the color made for one festive fiesta! The fans were super easy to put together and even came with little white paperclips, which made hanging a breeze. The tissue paper flowers weren't hard to put together, but were a bit more time consuming to fluff each one. They were totally worth it, but I recommend you buy yours in advance, rather than doing it the day of the party, like I did. Also, if you want to vary the height on them, you'll need to buy your own coordinating color ribbon for them and using paperclips to attach them would have been SO much easier than tying each one, so toss some white ones in your Amazon cart as well.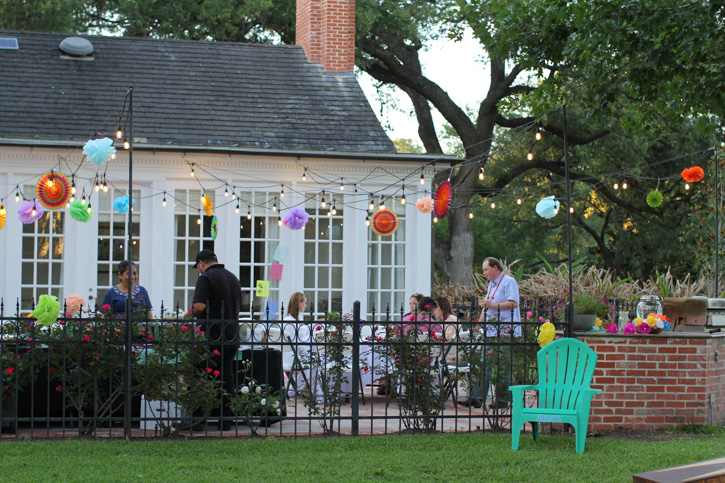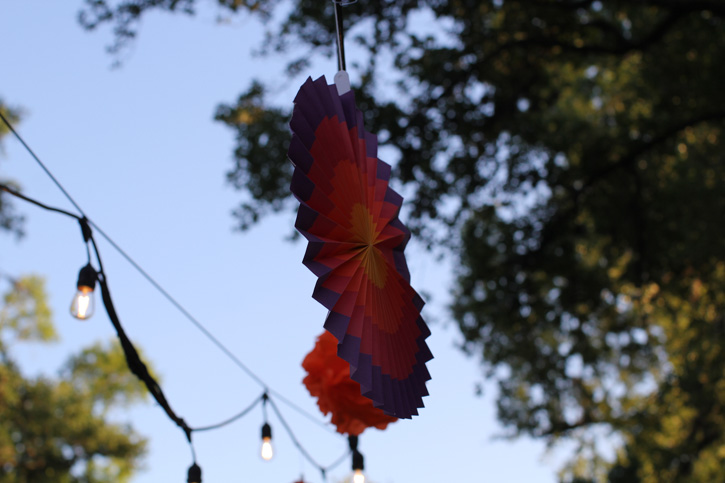 At the party entrance, we set out some flower hair clips for the ladies and self-adhesive mustaches for the gents, both found at Party City. For added flair, we set out some small piñatas and two blow up cacti (both borrowed from a dear friend) and a few bottles of Jarritos, embellished with a few of the sticky mustaches. I also potted some succulents in El Pato bean cans, which I bought at Fiesta. (If you don't have a Fiesta near you, you can snag them on Amazon as well.) Those were an idea that I found on Pinterest and I love the way they turned out! They were easy, inexpensive and super cute. And now I have the goods to create a little potted succulent garden!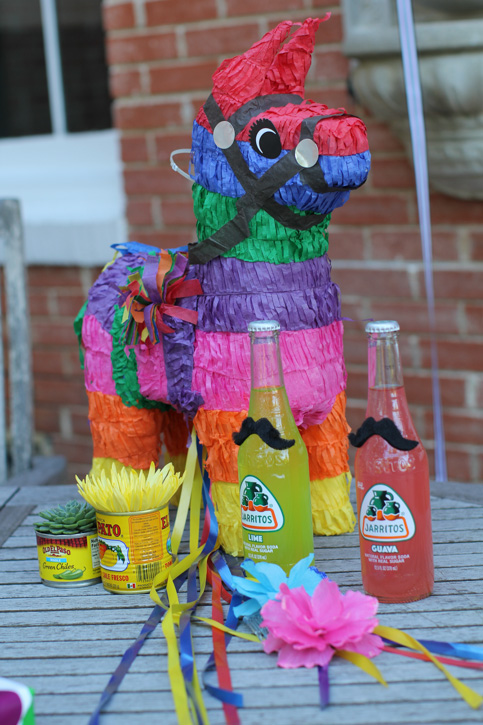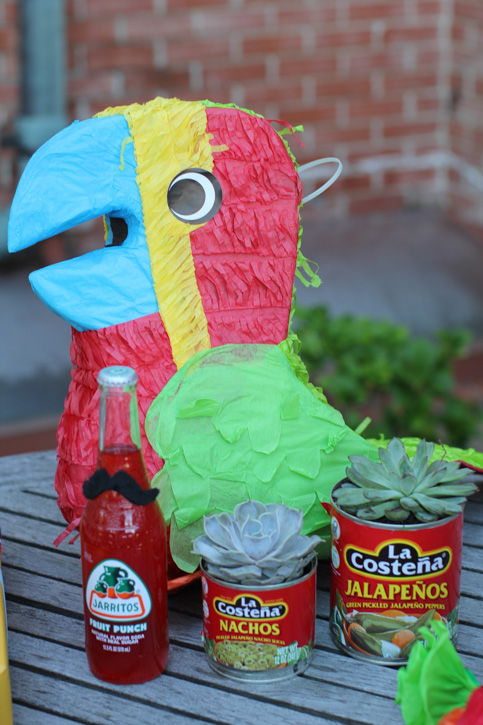 For refreshments, we set out ice water and beer 'ritas (recipe on the blog here) in these cute glass drink dispensers that we bought online at Pottery Barn about a year ago. They were a great investment. They're really cute and we've used them a ton! Ours are the large size and we bought pretty silver stands for them to go on as well, which raises the spout and makes the dispenser useable even when it's not on the edge of the counter, but we didn't need them at this party. At first, I was leaning towards the acrylic version of the container, but in the end, I've really loved the real glass ones we bought. We also had wine and beer out and, of course, Jarritos and Topo Chico as well – what Mexican fiesta would be complete without those?! We tossed those, along with some juice and lemonade pouches for the littles into a cute galvanized metal tub on a stand that we bought on Amazon before our oldest son's birthday party last Fall. It has come in quite handy at parties for a little extra counter space. We set out some fun striped paper straws and some bright green napkins along with some paper flowers on stems for a little extra pop of color.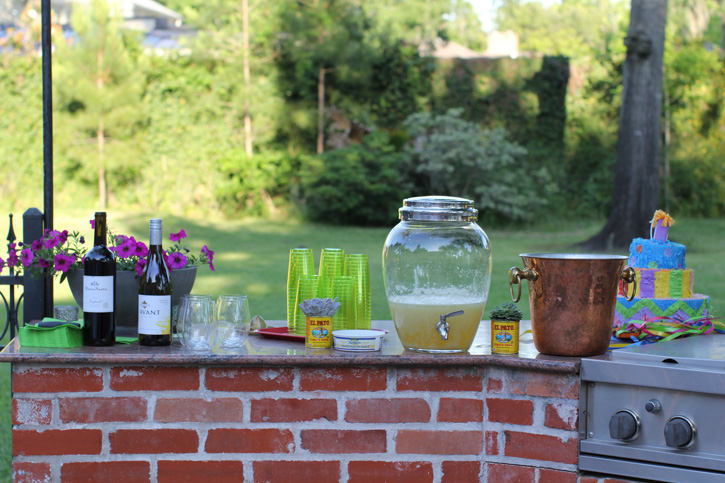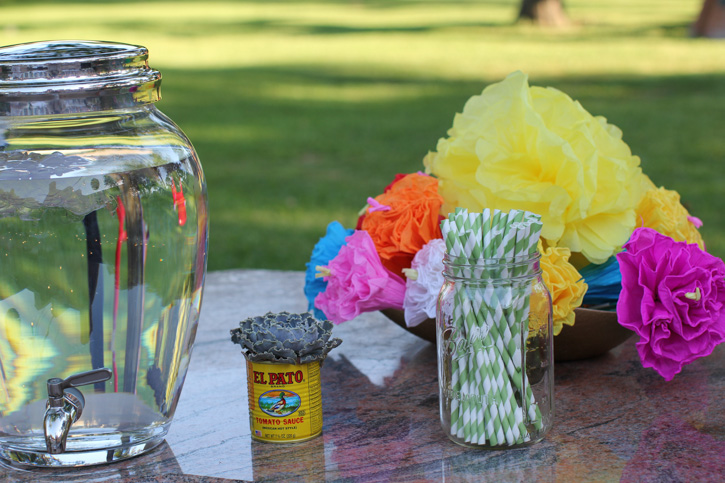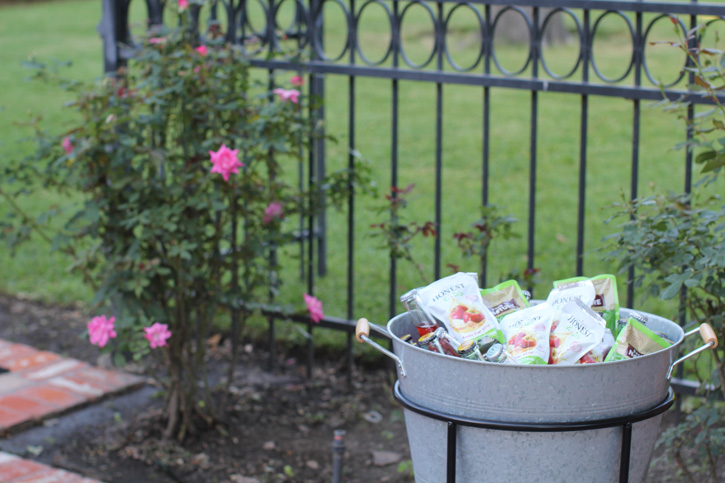 I tossed together a few brightly-colored flowers for a centerpiece on the gifts table, mostly because I'll take any excuse to have fresh flowers in my house!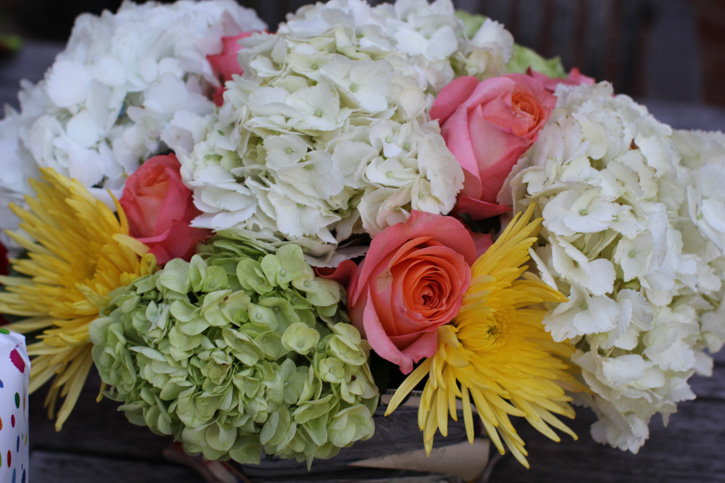 We had El Tiempo Cantina cater a beef and chicken fajita dinner with chips and queso. The server was super nice and the food was delicious! And we had them bring tres leches for the adult dessert – yum!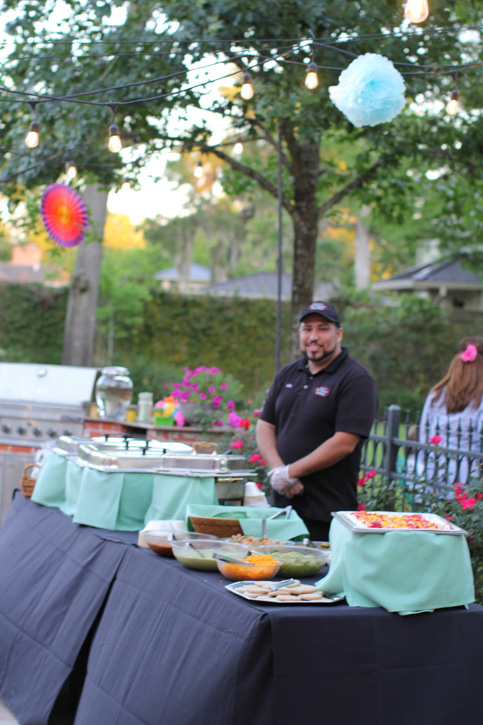 For entertainment, we set up lots of lawn games, just like we did for our oldest boy's birthday Southern Lawn Party event. It was such a huge success and definitely a great investment on those games. We play them as a family all the time! Our boys particularly love ladder ball and corn hole and, of course, launching balls on our giant Angry Birds slingshot that my husband built.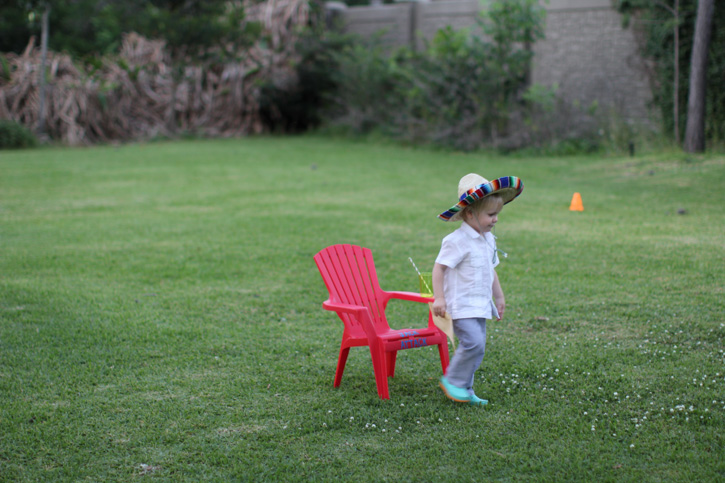 I LOVE the child-sized sombrero that I bought for the birthday boy and he loved it as well! It was well worth the $7.50, as it is quite well made and made for some really cute photos – highly recommend!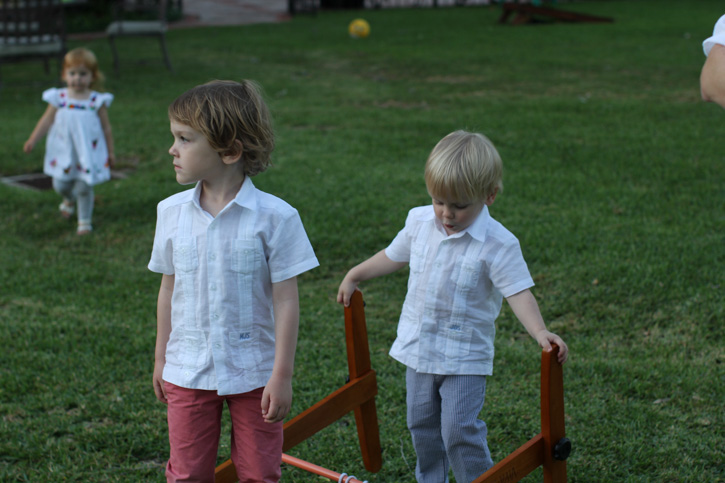 All of our boys wore their monogrammed guayaberas, which they love. They're comfortable and cool and super cute, especially with seersucker pants! I bought the two younger boys' at The Monogram Shop here in Houston last Summer before a wedding, but they didn't have one big enough for our six year old. (And, heads up, these things run small!) Thankfully, I found some online here and got one that matched exactly for him. Daddy wore his favorite one that we bought from my friend at San Cristobal Guayaberas. Theirs are gorgeous and I cannot wait until they start carrying kid sizes this Fall!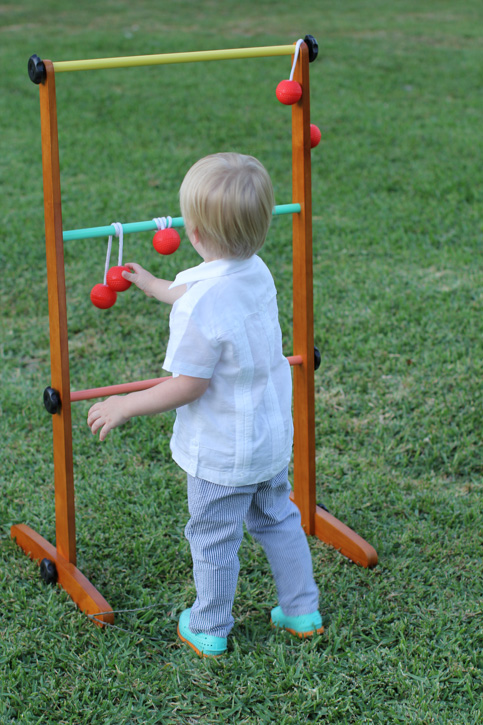 The birthday boy playing ladder ball. People ask me about these adorable shoes all the time. They're made by Native, but we bought them last Summer and they don't seem to make them anymore. I'm just sick about it, as they're my boys' favorite shoes – and mine as well, because they work at church or on the beach! When they get dirty, I just hose them off in the sink. Seriously some of our favorite and most-often complimented shoes. Please bring them back, Native! In the meantime, these are the closest that I've found from them.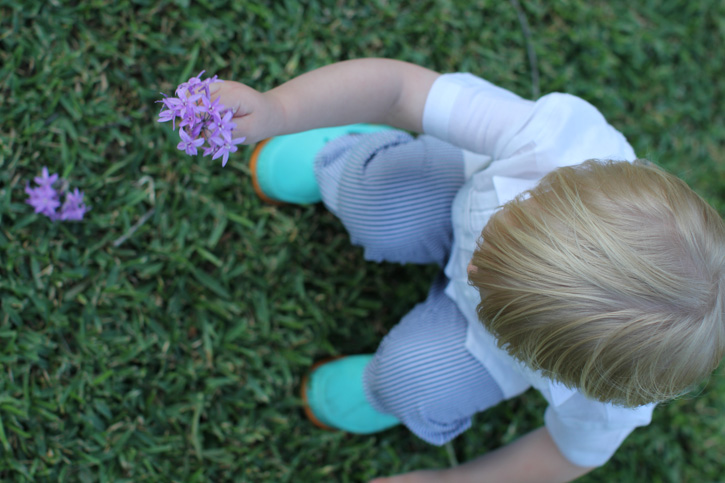 "Flowers for you, mama!" Is my darling boy just the sweetest?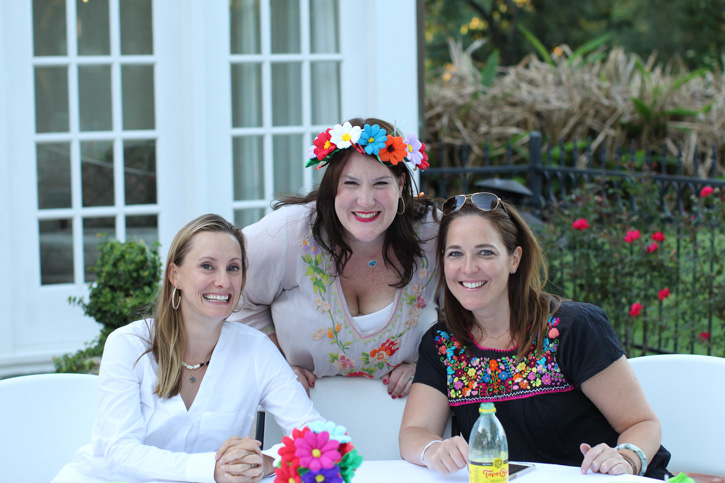 I found this adorable paper flower crown (and the paper flowers on the table here) at Houston's cutest party shop, Emerson Sloan. I was surprised how many people who asked me haven't heard of it! It's located in Rice Village and run by my friend Kim, who is so much fun. They've got upscale party decor, great gift items and fun gag-type gift items and hilarious cards as well. Get over there and check it out or shop online! (Also, my top is by Johnny Was. I've had it for a few years and I love it. It's cool and comfortable and I always get compliments on it!)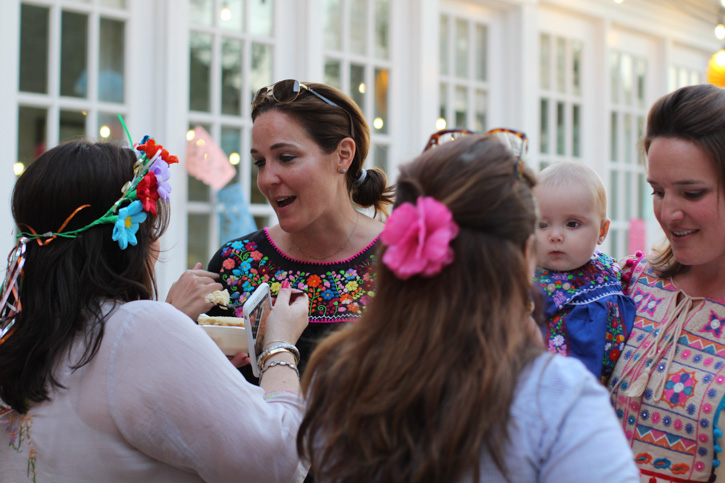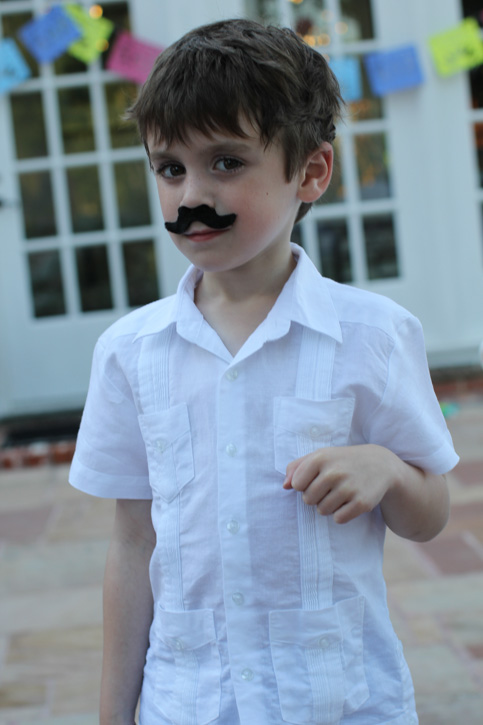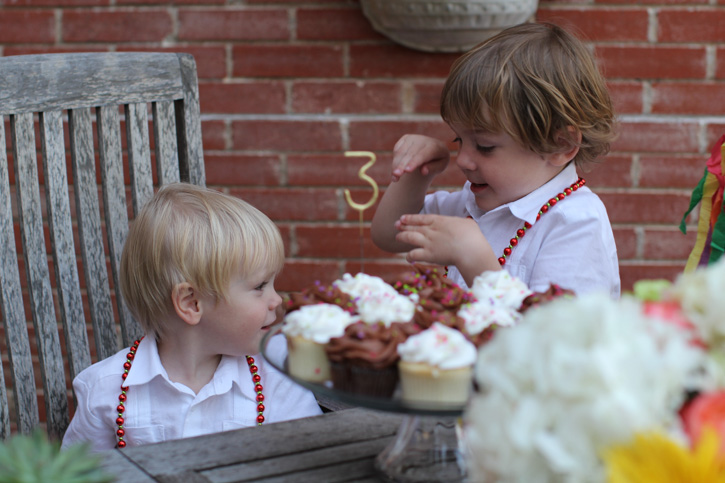 I snagged this sparkling number 3 at Emerson Sloan as well. I was amazed at what a huge hit it was! My boys thought it was the coolest thing ever. And we got some super cute photos with it as well (see the birthday boy's face below!) I highly recommend it for your next shindig! We also picked up a golden number 3 balloon while we were there and from what I'm told – that thing will last months!
The cupcakes were from Moeller's Bakery in Bellaire. We absolutely love this place. Their prices are super reasonable, their turnaround time is very quick (in case you're forgetful like me and order the day before – oops!) and the taste is out of this world. I definitely recommend them for cakes, cupcakes and other treats.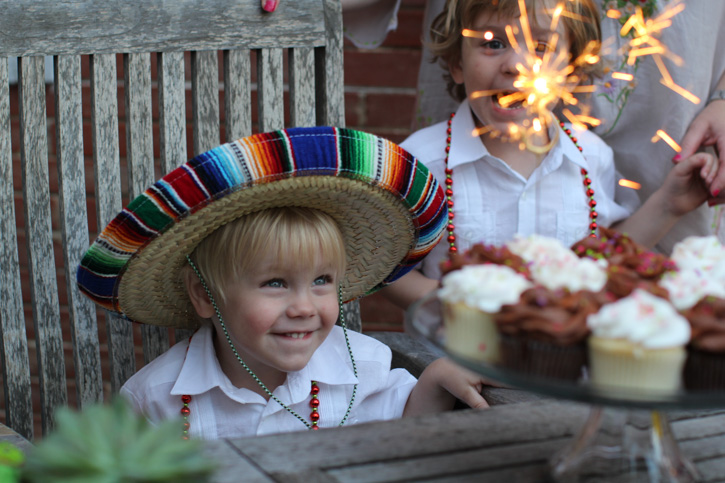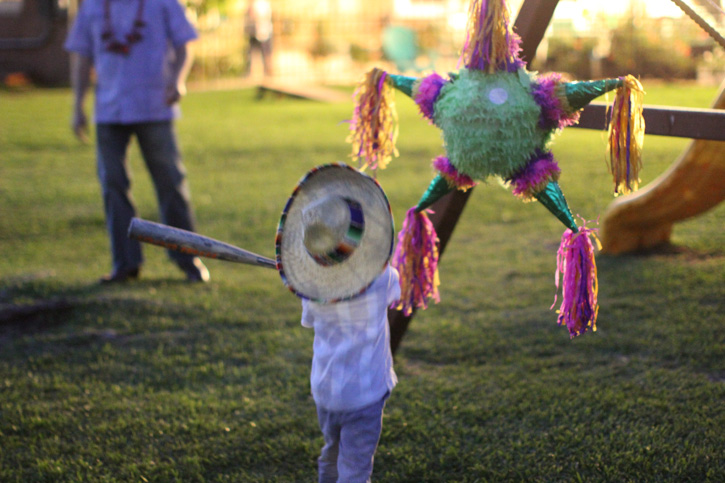 After the cupcakes, we remembered the piñata! (#oops again) and the kids had SO much fun smashing it with a baseball bat!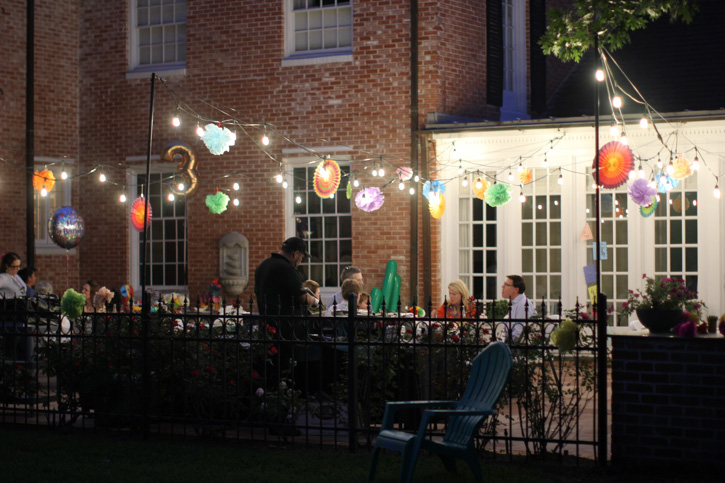 All in all, it was a very successful party! All of the adults had fun, the kids had a blast and the next morning – the birthday boy was STILL talking about it. That's the biggest win in my book!