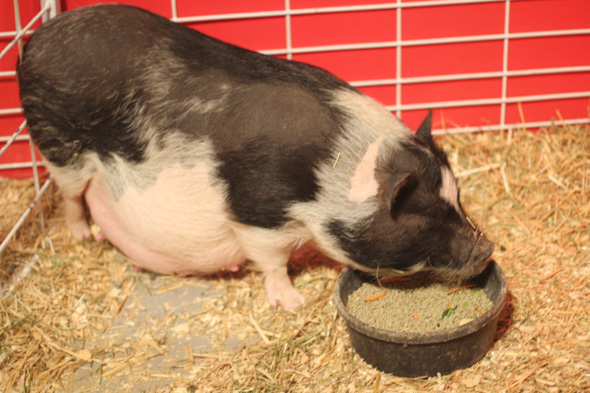 Yesterday, we finally fulfilled our promise to our boys to take them to the Houston Livestock Show & Rodeo.  Bean has been dying to go since Go Texan Day and since a "real cowboy" visited his preschool. Both of the boys looked absolutely precious in their jeans and boots and Bean looked extra cute in his hat.
First, we stopped by the Mutton Bustin' tent.  I seriously love this "sport."  It's so cute.  Little kids (around five years old) come out riding a sheep and try and hold on for eight seconds, like the bull riders do.  It is absolutely adorable.  One kid we saw absolutely would not let go.  That sweet boy held on to the side of that sheep as it ran for so long – it was really impressive.  What a little rock star!  
After watching this favorite event of mine, we hit the food tents for some delicious bar-be-que, though it was hard to pick dinner with all of the delicious options at the rodeo.  (Seriously, it's one of the best parts!)  From giant turkey legs to corn dogs and city favorites from Goode Company to Pappas, there is truly something for everyone. After dinner, we grabbed some funnel cake, because really, can you go to the rodeo and NOT have funnel cake?!  Then, we hit the Kids' Corner for a TON of fun rides.  There were ferris wheels (multiple options of them!) carousels, car, tractor and train driving rides, a "Fun on the Farm" section where kids can gather eggs and pick corn, a kids' tractor pedal and more.  What a fun place for city kids to learn more about life on a farm – and eat funnel cake, of course!
After getting dizzy on the rides, Hubs took Bean on a camel ride, which he ADORED. It was too cute. Then, we headed over to one of the small stages where we saw a man carving a log with a chainsaw. By the time it was done, it was a little parrot on a perch that read "It's Five O'Clock Somewhere." Seriously, the dude did all that detail work with a chainsaw. Incredible!  (Photo proof below.)
After the camel ride, we hit a few more rides and played a couple of games and then went off to the petting zoo.  That was absolutely precious!!  There were chickens, pigs (and adorable little piglets!) sheep, ducks, goats, deer, donkeys, llamas and alpacas.  So fun!  Bean grabbed one of the brushes and started brushing the animals.  So.  Cute.  He had a ball – and looked like a real little cowboy!  He thought it was hilarious that one of the deer kept following me around and nibbling on my shirt and has been laughing about it ever since.
If you haven't made it to the Houston Rodeo this year, you've got the rest of this weekend to check it out.  If that won't work out, be sure to make plans now for 2015.  It's a not-to-be-missed experience!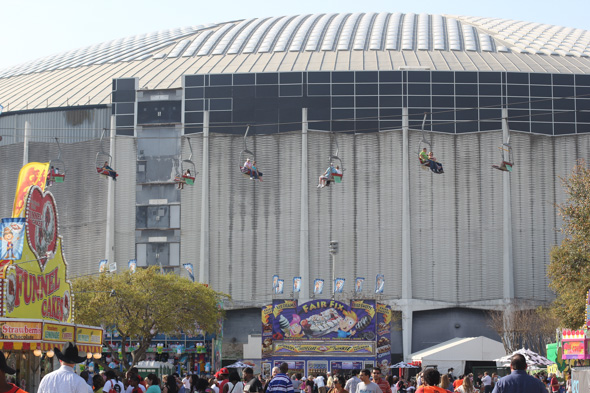 The iconic Astrodome behind the fair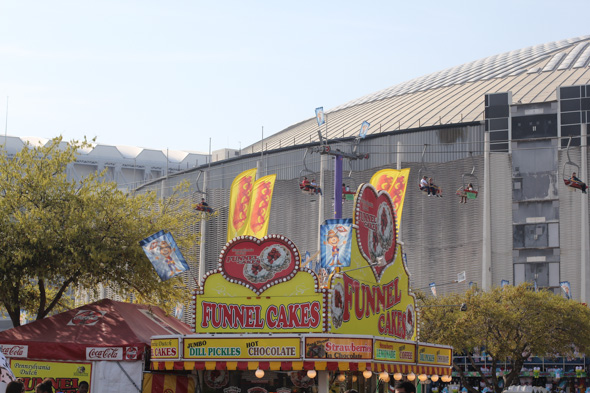 Funnel cakes?  Yum!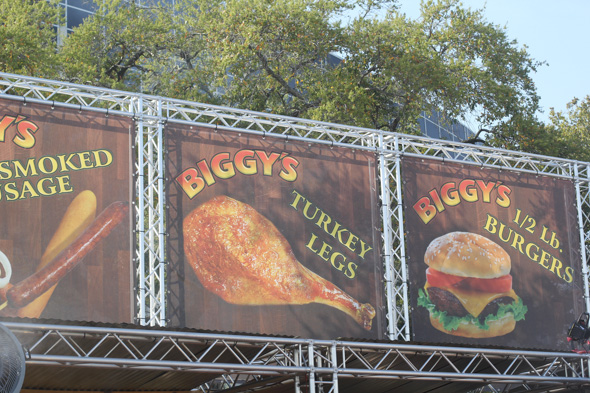 Giant turkey legs might be one of the most popular parts of the rodeo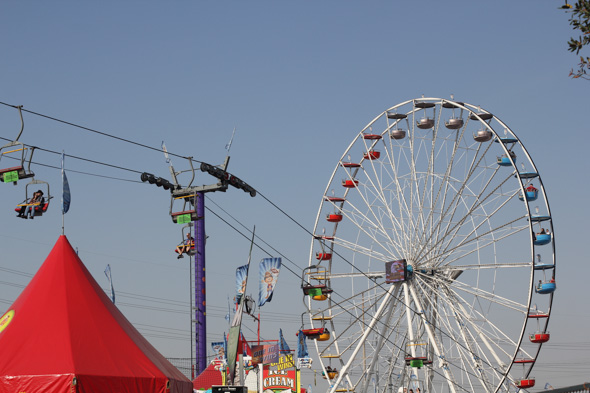 Fair fun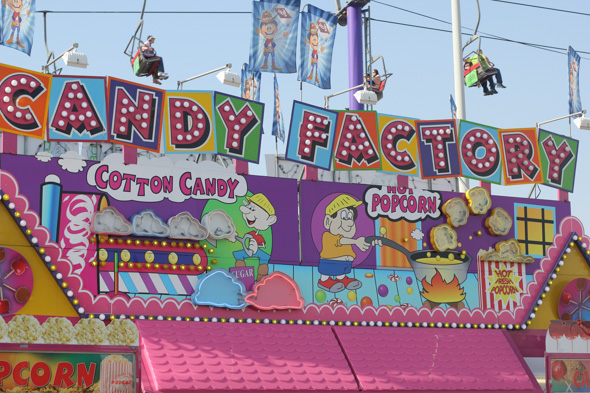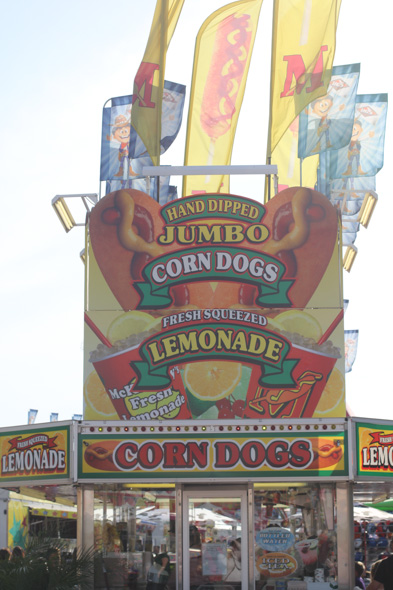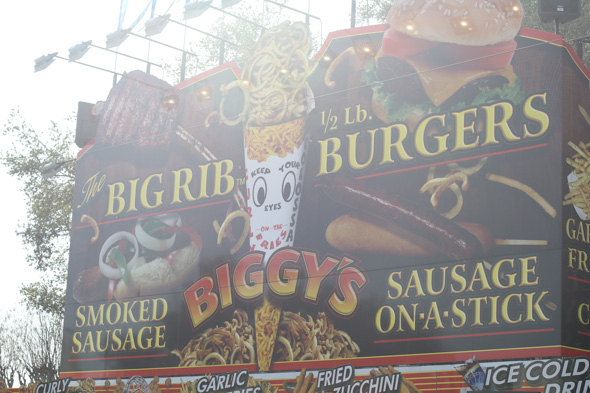 Rodeo food = everything on a stick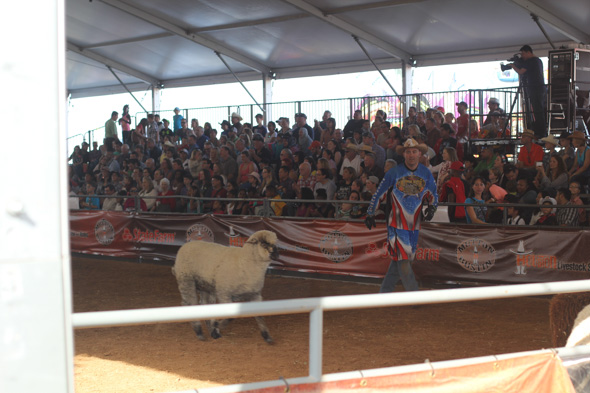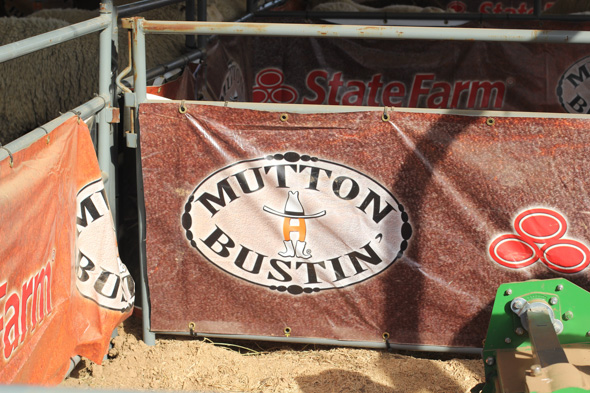 Mutton Bustin' – my favorite!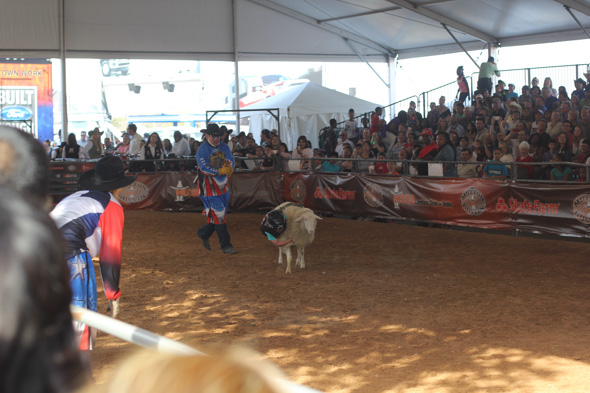 This sweet kid was a ROCK STAR!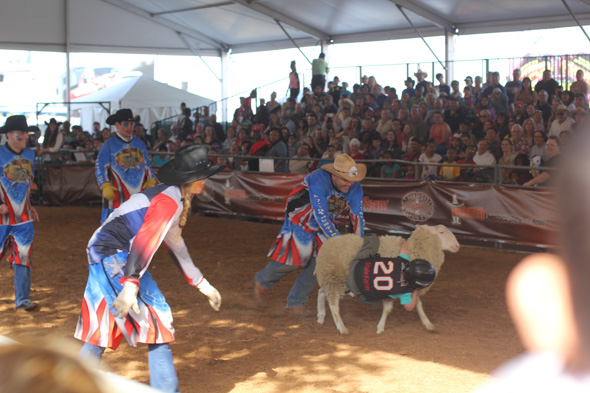 Seriously, look – he's STILL holding on!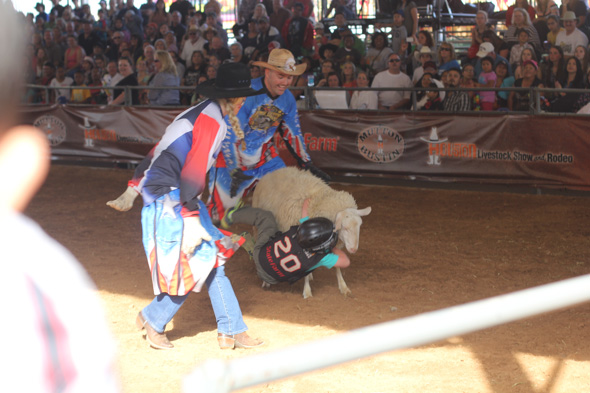 Amazing.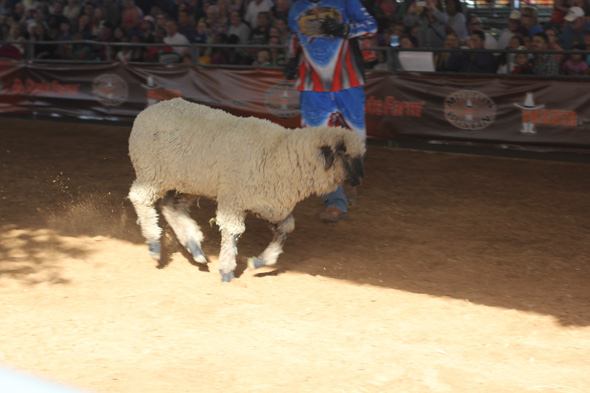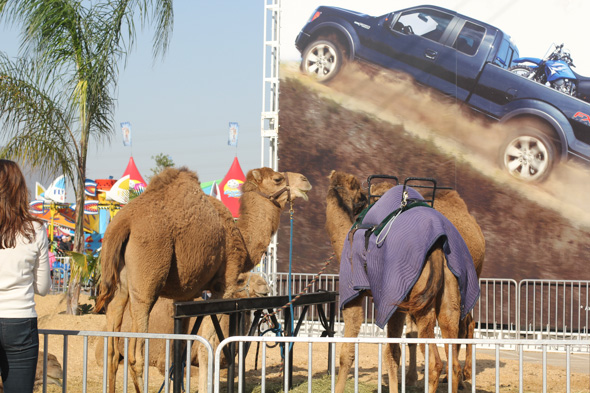 The adorable camels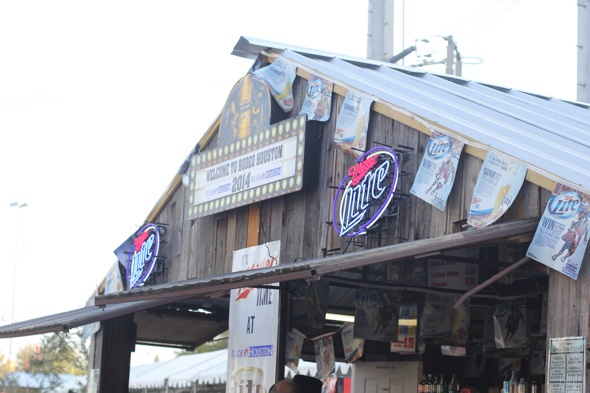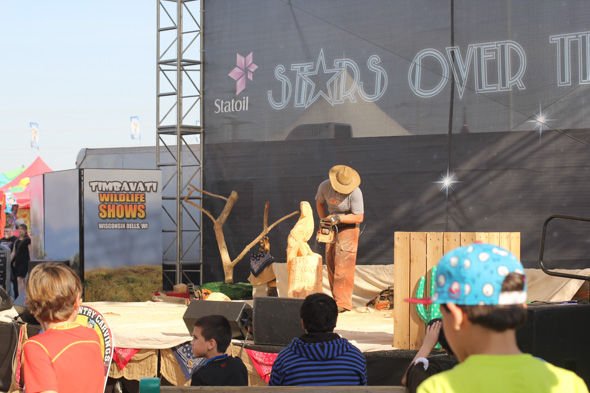 Amazing skills – this guy was carving a parrot and the words "It's Five O'Clock Somewhere" with a chainsaw!!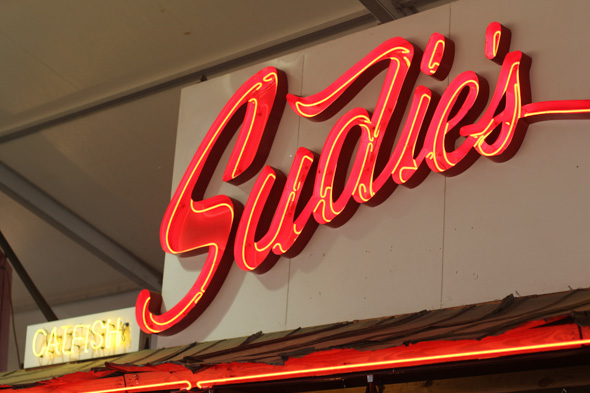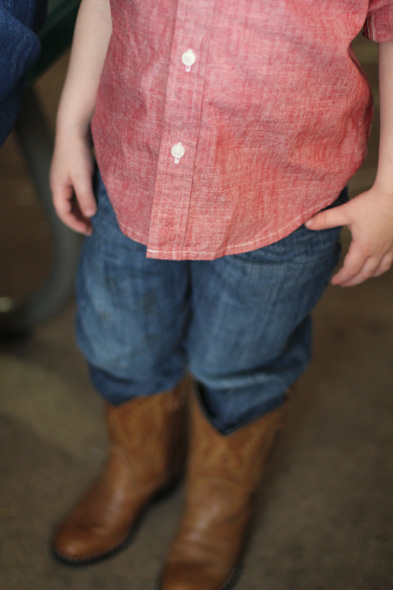 Bean's Boots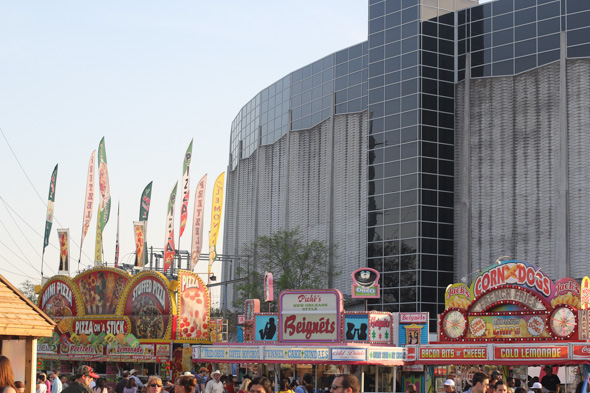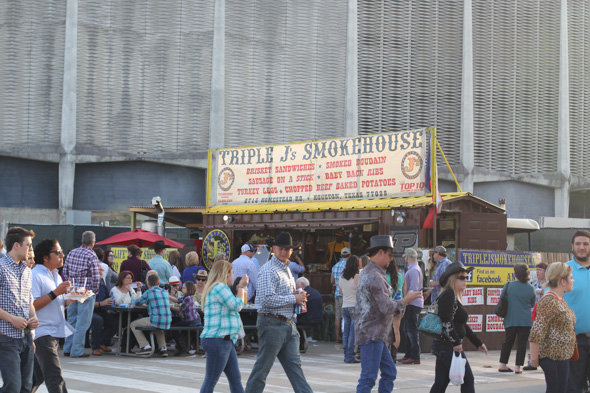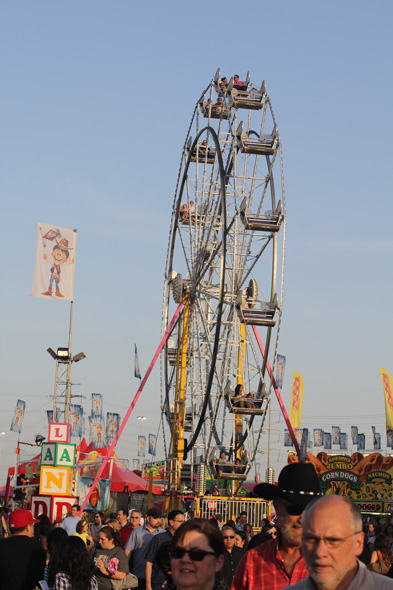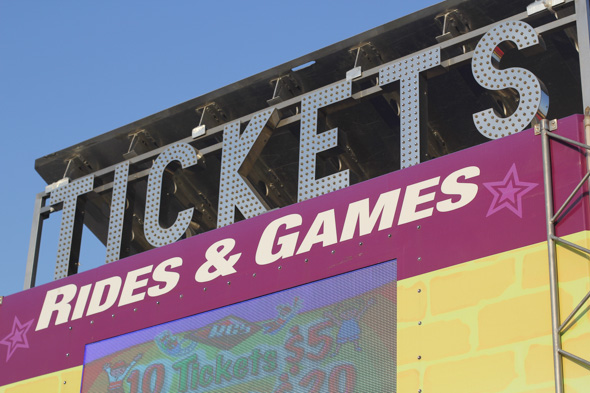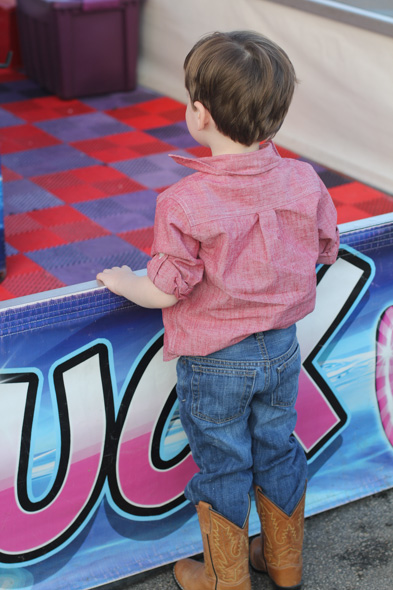 Waiting his turn. . .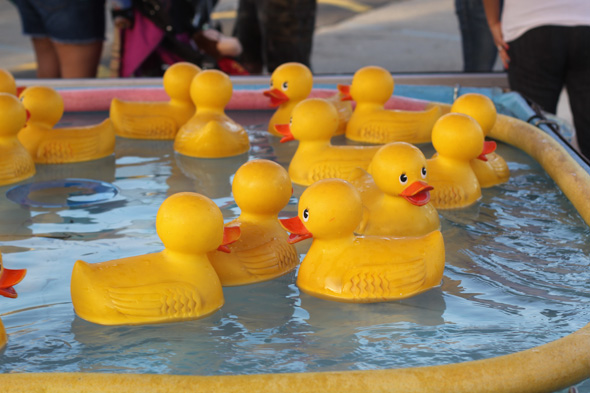 . . .at the duck pond!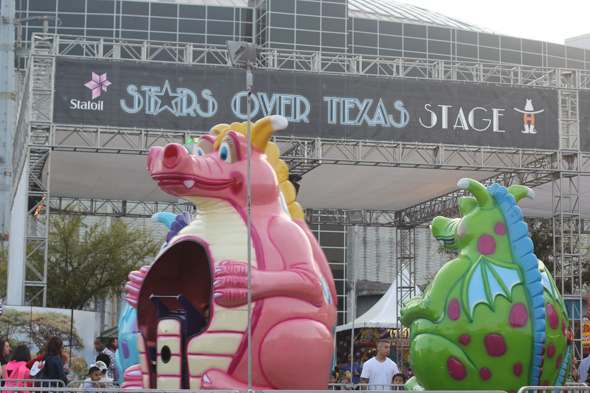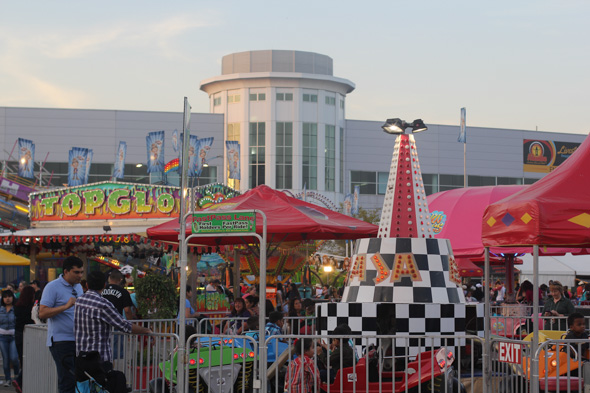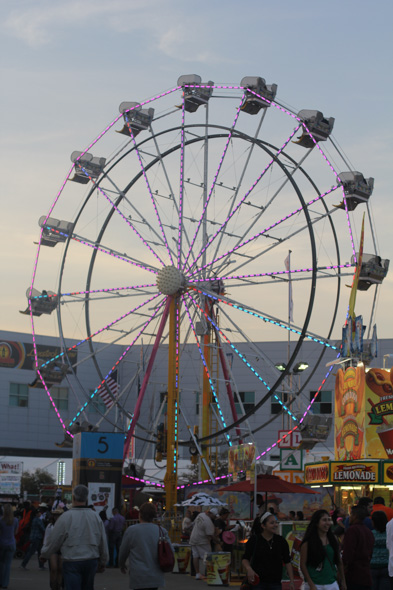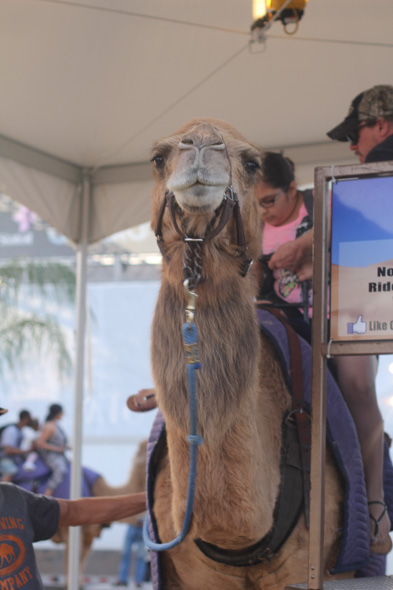 How cute is this guy?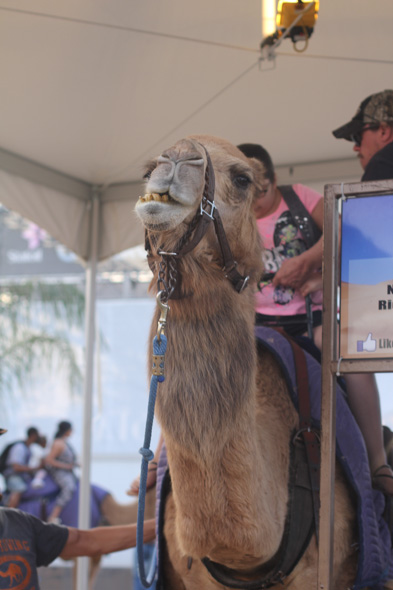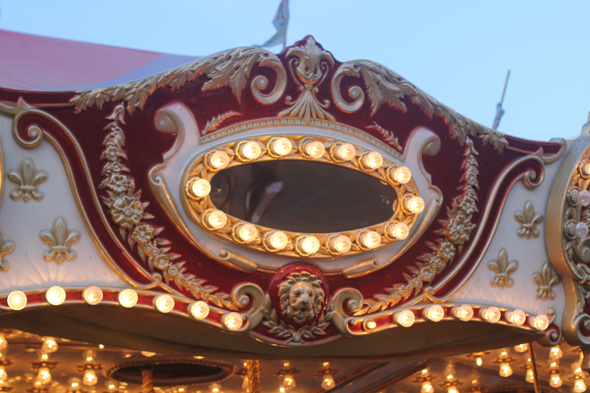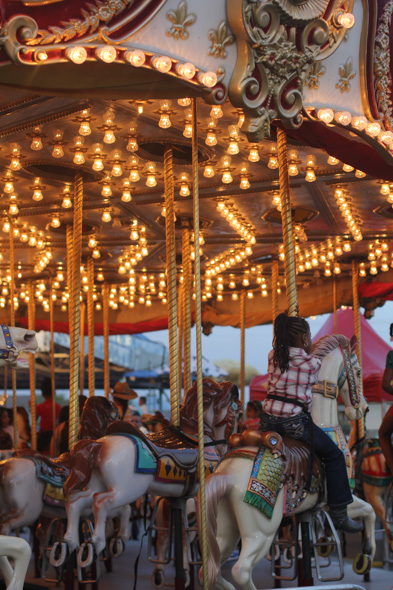 Carousel fun!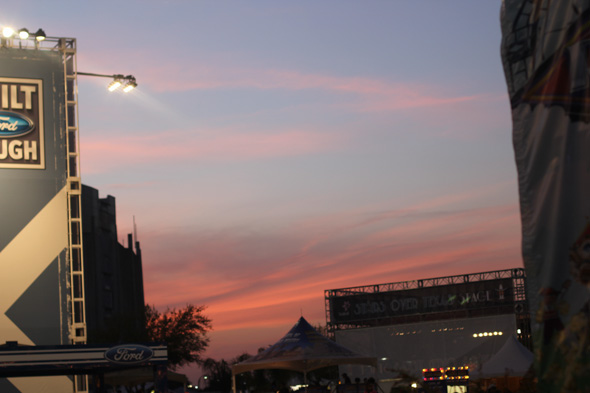 Sunset at the rodeo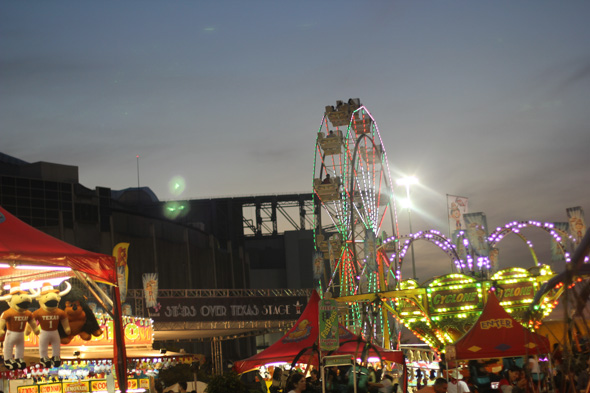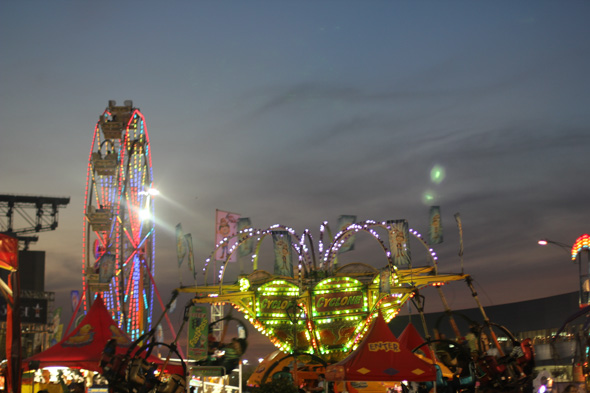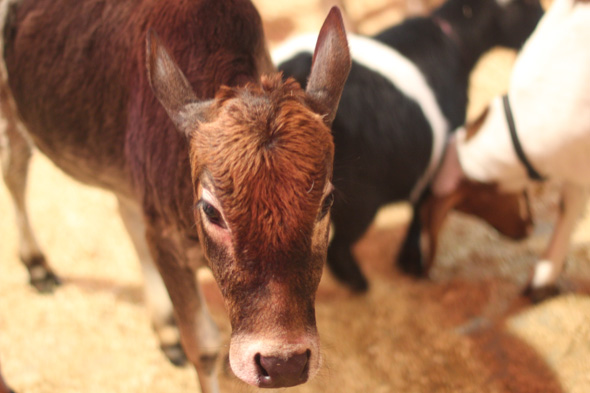 Petting zoo fun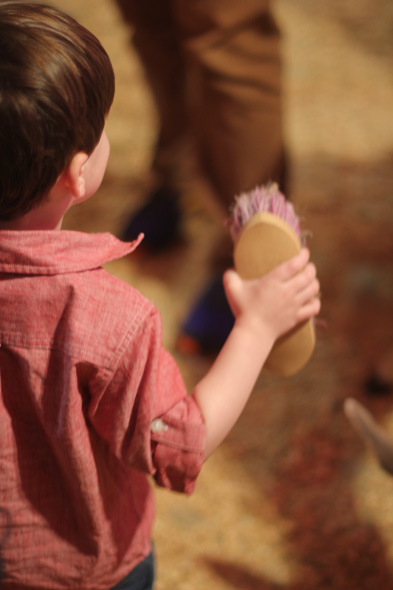 Ready to brush the animals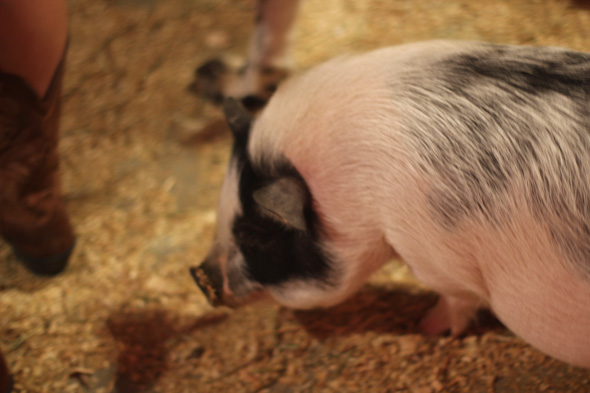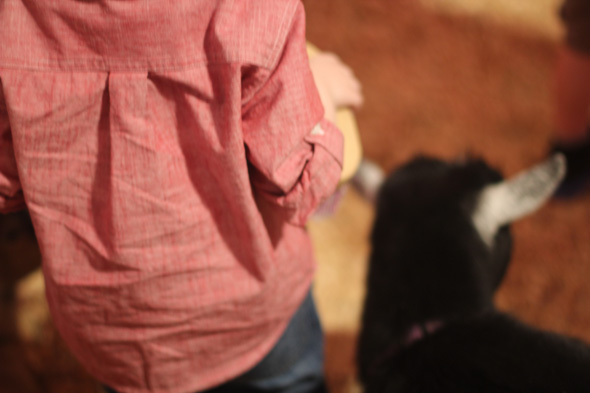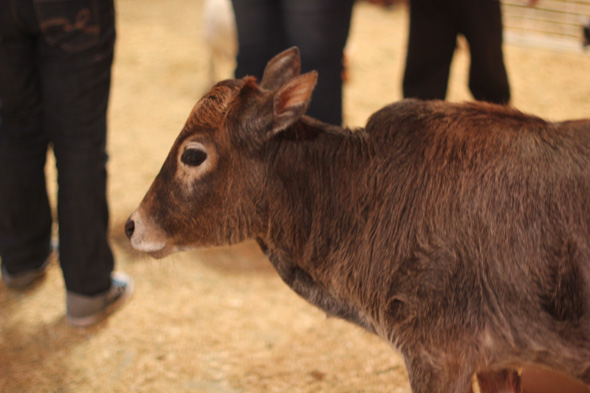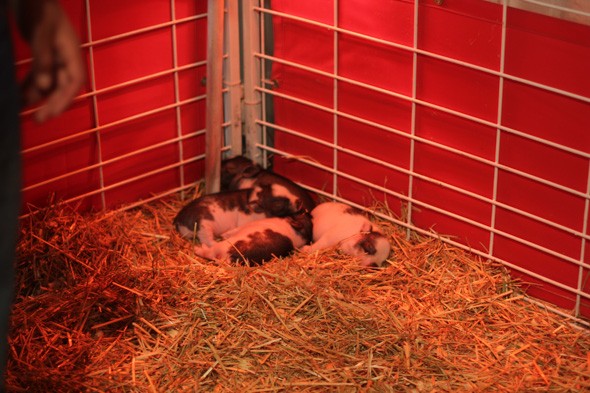 Baby piglets keeping warm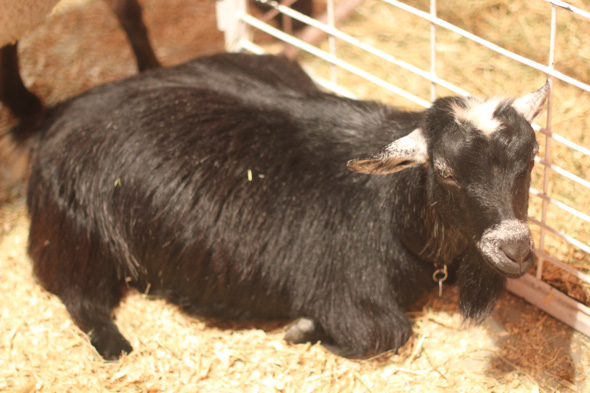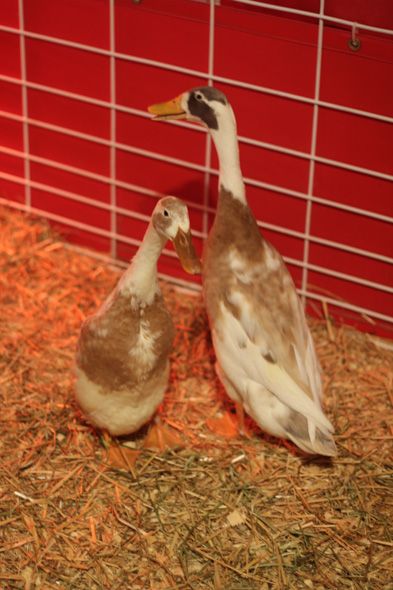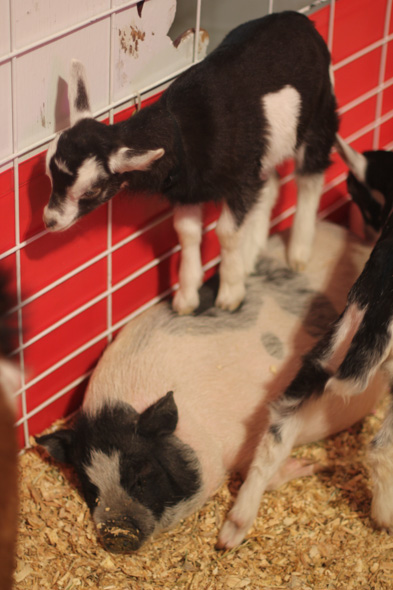 How about this little goat standing on a pig?  Hysterical!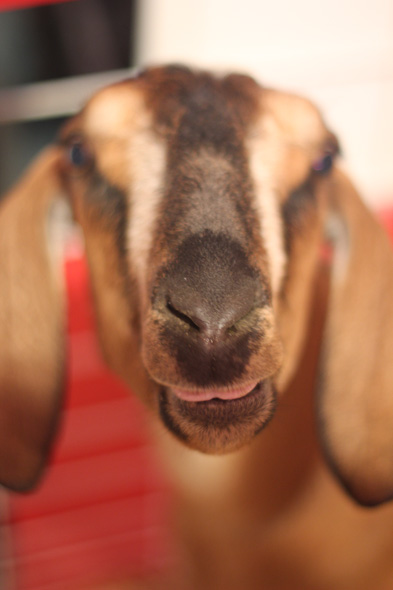 So.  Cute.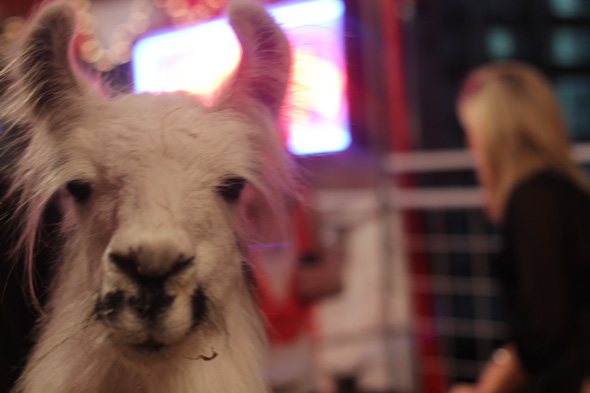 Llama llama says, "Y'all come back now…y'hear?"