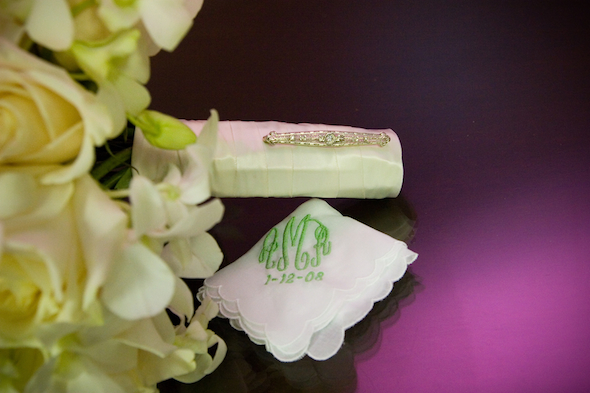 Last week, we shared with you some ideas from our friends over at Simply Bridal.  Today, I wanted to share with you what I did for this fun, age old tradition.
When I got married, my something old was a platinum and diamond Art Deco style pin that was my grandmother's.  She was not living when I married, having passed away just a few years before, but she was definitely one of the most influential people in my life growing up.  She had style and spunk and always, and I mean ALWAYS had a glimmer in her eye that made you wonder just what she was thinking.  People used to comment on that little sparkle well into her 90's.  
She was a darling woman of solid character who loved her family deeply and I really wanted to honor her at my wedding, so pinning the brooch that she had passed down to me onto my bouquet was a beautiful way for me to have her with me.  I carried my bouquet with a sweet white linen handkerchief that my dear friend and maid of honor gave to me on our wedding day with my "old" monogram on it and the date of our wedding.  It was such a thoughtful and sweet little gift that made a darling detail (and a lovely hand-me-down heirloom!)
For my something new, my sweet husband was dear enough to gift me a sparkling diamond eternity band on our wedding day.  It made a sweet addition to the engagement ring and wedding band and every single time I put it on, I remember how fun it was when my brother brought me that little token of love passed along from my husband – along with a really sweet note, just moments before I walked down the aisle.  (My hubs is a total keeper!)
For my something borrowed, I had a little trinket of my mom's that she loaned me for the occasion and for my something blue, I had a piece of fabric from the bottom of my wedding dress (that had been cut off during the hemming process) monogrammed in robin's egg blue thread with my new monogram and the date of our wedding, which I pinned to the inside of my dress skirt.  If I ever have a daughter, I doubt that she'll want to wear my dress, since styles and fashions change so much, but I thought that might be something that she would actually pin inside her own skirt as a reminder of her heritage and where it all began.  Here are a few photos (below) from our wedding.
What fun traditions did you use at your wedding?  Comment below!
All photos taken by Brooke Schwab Photography. (She rocks!)