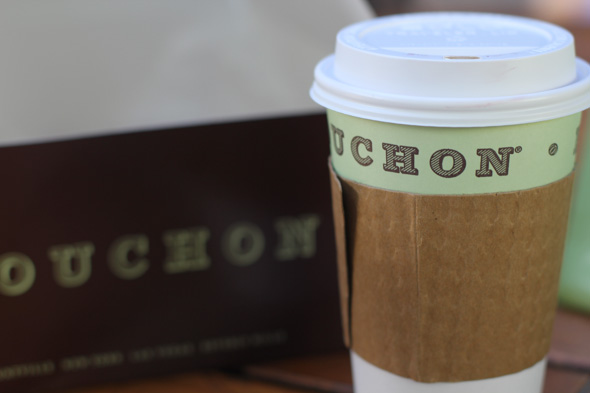 Last week, I gave you all the details on our fun picnic in the wine country for Mother's Day.  Today, I want to fill you in on the rest of our fabulously relaxing and fun day!
After our picnic at Rombauer, we drove over to Paraduxx, which is an adorable little winery on the Silverado Trail.  It is owned by the same couple that started Duckhorn Vineyards. Paraduxx has some really good wines and a really gorgeous outdoor backyard space in which to drink them.  They have several "living room" like stations with outdoor couches and coffee tables set up next to the vineyards and also some fun little tables on a porch and some grassy areas for letting the kids run.  
We sank into a big, comfy orange-cushioned couch with the little man to do our tasting and let the bigger little man run.  It was great!  He had a great time, especially when he saw two little dogs at the table next to us and their owner was sweet enough to let him "walk" them around the courtyard there.  Everyone back there was watching him and laughing with him as he told the dogs to "Come along, little doggie!" and called them by their names  – "The big one is Bear and the little one is Belle" he would inform everyone.  It was really cute.  If you haven't yet been to Paraduxx, I highly recommend a visit.  Their outdoor area is so relaxing and lovely and the wine is great and the people who work there could not be nicer.  They make you feel right at home and love engaging with their customers if you're looking for recommendations on other nearby places to try or want to know more about the wines and their provenance. You may want a reservation, though, if you're headed up on a crowded day and really want a "living room" to yourself at a certain time.
After Paraduxx, we drove into Yountville to Bouchon Bakery, which has become a tradition of ours.  Bouchon Bakery is owned by the incredibly famous Thomas Keller and the pastries and treats there definitely do not disappoint.  We grabbed some lattes before the drive home and a few little treats and sat outside in their picturesque courtyard and had a few more moments in the evening sunshine before heading back to San Francisco.  Again, the littles had a great time running around and chasing the birdies (also instructing them to "come BAAAAACK, little birdie" as they flew away from him.  Both kids crashed out on the drive home.
I highly recommend a visit to both of these spots if you're up near Yountville.  I doubt you'll be disappointed.  Photo proof below…