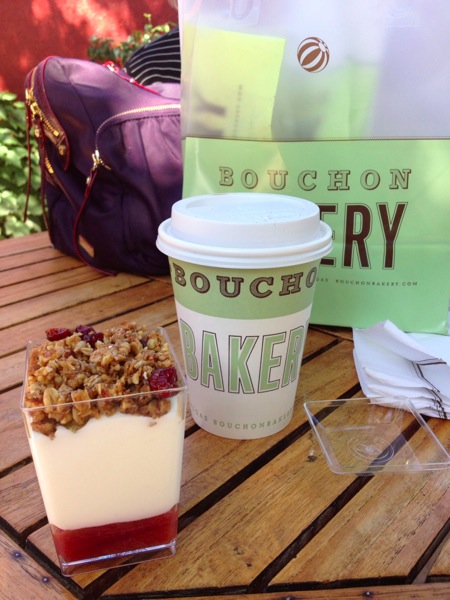 One of the fabulous things about living in San Francisco (and there are many!) is that we are so close to the wine country.  Sonoma is a quick 45-minute drive and Napa is just an hour away, making it really easy to drive up for the day.  The landscape is beautiful, the shops adorable and the weather is usually warm and sunny, which is a nice break from the city fog in the Summer!  There are more wineries than you can possible visit and more great food than is reasonable for anyone to eat and when you visit the wine country, even for a day, you feel like you're on vacation – a million miles away from the city.  It makes for a wonderful day trip or weekend getaway if you life in SF and a fabulous vacation destination if you don't! 
For Memorial Day, we went up to Napa for the holiday weekend.  It was such a great time away together as a family. We ate great food, went swimming in the sunshine, visited a few wineries and enjoyed undisturbed time with each other.  On Saturday morning, we drove over to Yountville to visit Bouchon Bakery.  I cannot believe I've never been here before!  (In my defense, it is one of those places I've been meaning to go, but since it's so close, I never get to it!)  It is amazing!  The food is incredible and the outdoor setting with tables where you can eat your takeaway goodies is just precious.  It's so beautiful and so relaxing – and the food…is absolutely delish!
The yogurt parfait is incredible – an absolute must-taste.  The croissants are light and flaky – by far, the best I've had outside of France.  (We had a chocolate almond one – yum!)  The macarons are tasty and come in a variety of flavors and the lattes are great – and are a wonderful pick-me-up to give you fuel for the rest of your winery visiting!
If you're in the area, I highly recommend you visit Bouchon Bakery for a treat.  You will not be disappointed!!  For now, enjoy a little eye candy from our visit…