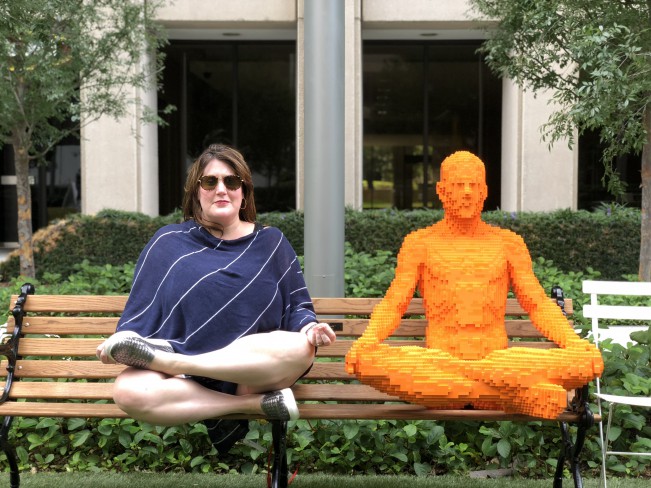 My boys love LEGOS. There's no doubt about that. (Downside: Stepping on a LEGO barefoot may be one of the worst pains around. #boymomproblems) So, I knew they'd flip over the new LEGO People sculptures in downtown Houston.
LEGO Artist Nathan Sawaya builds incredible life-sized LEGO figures and downtown Houston is the newest (temporary) home for them. Allen Center at 1200 Smith Street has a cute new green space dubbed "The Acre" which currently hosts six of the colorful dudes hanging around on park benches. Apparently, each figure is composed of over 21,000 LEGOs, are held together with adhesive and takes up to three weeks to make. The LEGO People are in various fun positions and are amazingly life-like in style. LEGO even endorses him as a Lego Certified Professional on their website. Pretty cool!
We took the boys this weekend and they loved running around in the cute green space and taking photos with these guys. The artist has a full exhibit, "The Art of the Brick" that is traveling around the world. Sadly, Houston isn't on the upcoming schedule, so hop on over to the park to see these guys for free to tide you over. They're only at Allen Center through August 10th, but will then be at 2 Houston Center (located at 909 Fannin) from August 13th to 24th.
I highly recommend heading down there to see them and snap some fun photos. I also highly recommend taking some water with you – it is hot out and you'll likely want to hang out for a bit! Also, if you're interested in my shoes (shown in the top photo), they're the Cerchio style from M. Gemi and they're both super cute and crazy comfy!! Shop them via this link for $50 off!
For a sneak peek of the awesome LEGO people, check out our photos below.