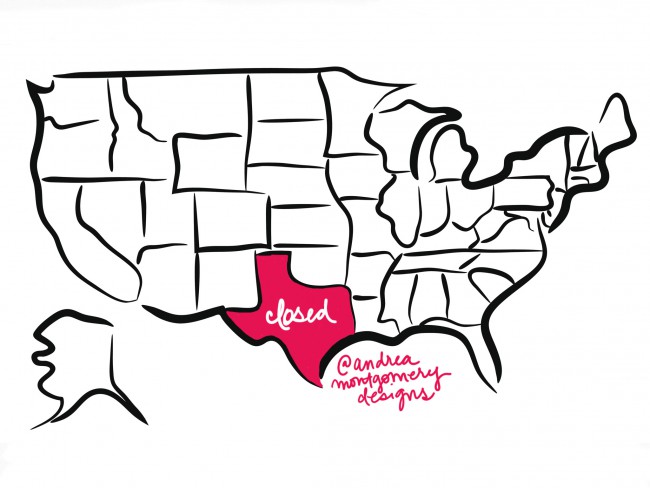 It's just flat COLD across most of Texas and Houston is no exception this time! Schools and most businesses are closed today and it is looking like they may be tomorrow, too. A little snow and a LOT of ice (for this neck of the woods, anyway) are blanketing our city and temps aren't supposed to get above freezing for a few days. This is officially the first time it has snowed in Houston this many times in one winter season since 1973, which is more than my lifetime! That seems a little crazy to me, but it has definitely been a colder winter here than I can remember in a long time. And last winter was so warm!
As for our little family, we are hunkering down at home and staying fireside with cozy blankets and lots of hot chocolate! Thankfully, I stocked up on groceries and marshmallows in anticipation of the storm (Shout out to Instacart, for bringing it right to me late last night – I am not sure how I would survive without them!) so we are all ready for the laid-back family time at home. Hubs still has to go to work (per the usual) but the kiddos and I are cozied up at home, where I'm doing a little work and they're doing a LOT of playing. Yay for the new toys from Christmas that are keeping them entertained! Our studio is closed until further notice this week when things warm up.
In case you're getting a little stir crazy like we are, I've gathered a few of my favorite snow-day-related things from the internet for your enjoyment. Hopefully it will get a few laughs on this COLD day!
The first is this HILARIOUS Snow Day Bingo card from Houstonia Magazine that they posted on their Instagram feed. Several of them made me laugh out loud! This one definitely deserves a look – I'm pretty sure I scored bingo right away and am awfully close to a blackout card!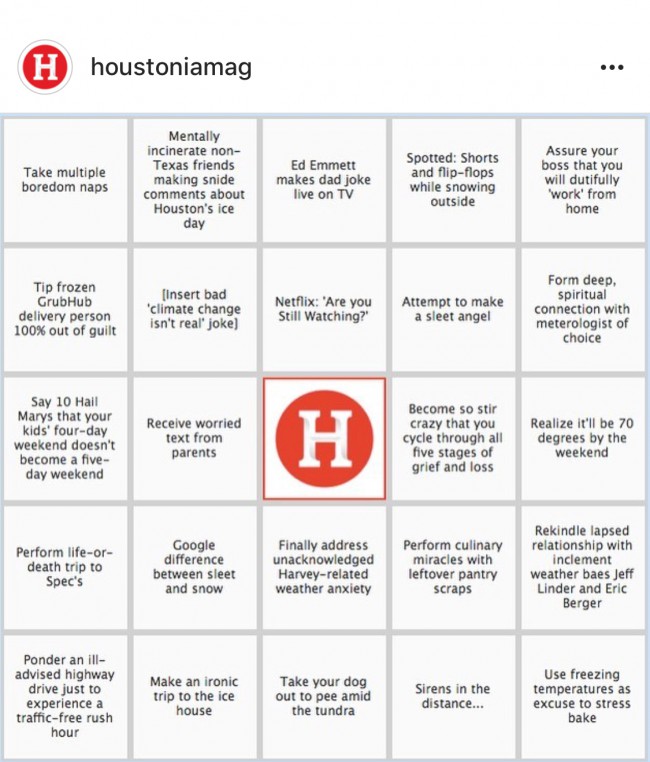 After a few snide comments on Facebook and Instagram from my friends in the North about how we Texans are handling this wintry mix, I found this one to be HYSTERICAL! It's true, ice days really throw us for a loop down here, since we don't have the salting equipment that they do up North and most people have very little experience driving on ice. That, and we take our football pretty seriously down here. . . This bit of hilarity is from It's a Southern Thing on their Facebook page and I love it!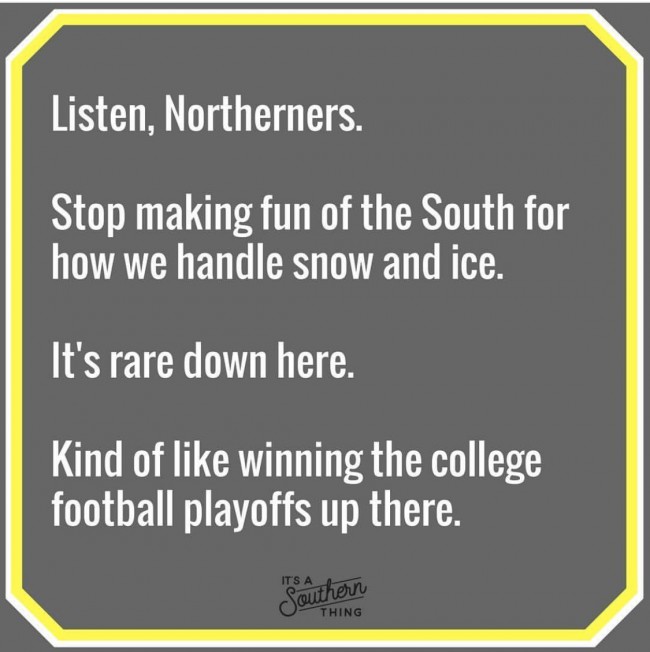 So, what are y'all doing to stay sane on these ice days? I need all the tips I can get as it's about to be an "add to cart" kind of day over here and it's looking like our long MLK Day weekend is turning into a 5 day break!