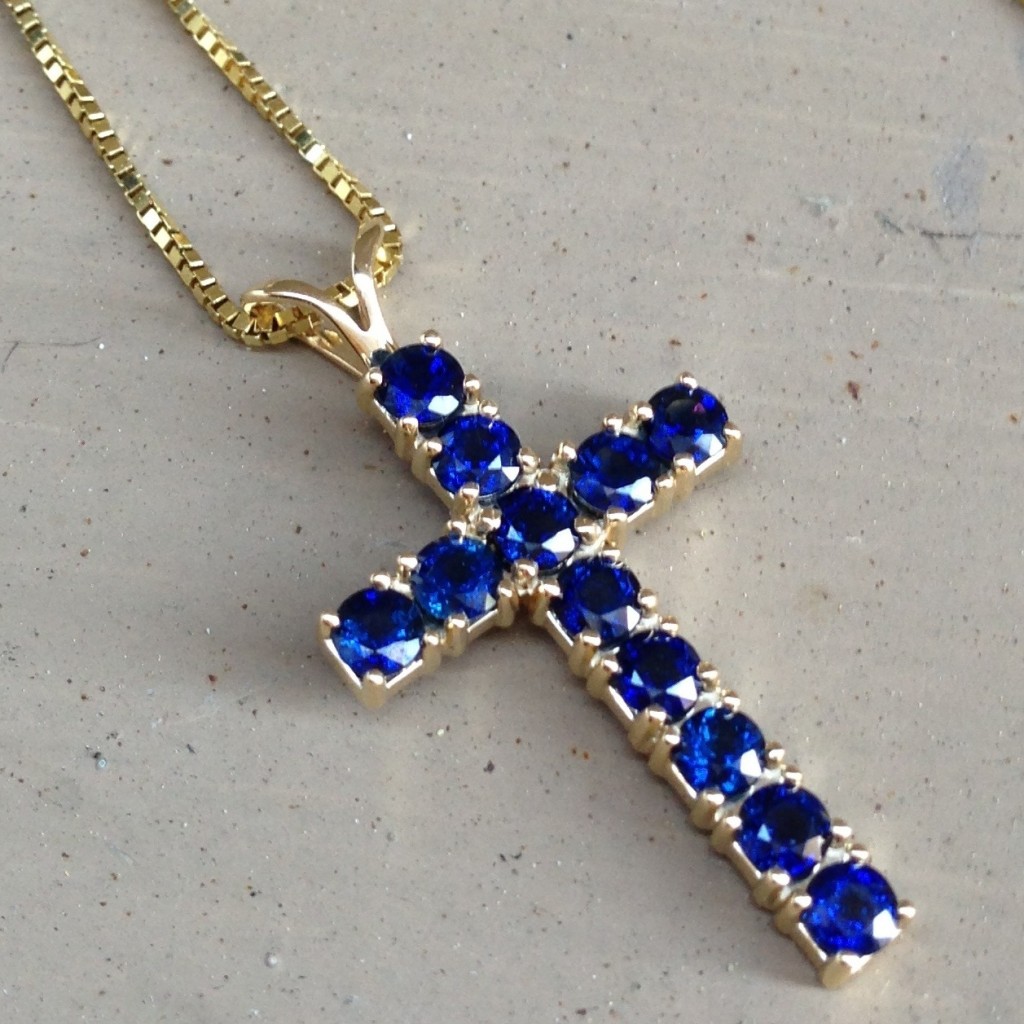 When a friend of mine from junior high emailed me a request for custom jewelry work, my first thought was, "How sweet of her to think of me and how fun that Facebook keeps people connected who might otherwise have no idea what someone they went to school with 20 years ago is currently doing!"  I know that there's a lot of debate about how Facebook takes away the personal nature of face-to-face relationships, but I really think that when used in the right context, it's pretty cool for keeping people connected in a world where we can feel pretty disjointed for myriad reasons.  But, I digress…
So, this friend's parents are celebrating their 45th wedding anniversary (major congratulations to you both!) and the traditional gift for that year is sapphires.  So, her dad wanted to buy her mom a custom sapphire design for their anniversary.  After a little discussion about style and budget, we came up with a custom cross necklace with prong-set blue sapphires.  The final design included stunning blue sapphires set in 14k yellow gold on a 14k yellow gold box chain.  I love box chains for necklaces that may be worn daily because they are so sturdy!  (Sidenote:  In my metalsmith training, I actually learned how to repair box chains and let me tell you – it's not that easy.)
Thankfully, the customer was super happy with the final design, as was his daughter who thought of me for the gift item in the first place and both of them assured me that his wife was THRILLED when she opened her anniversary gift, which is shown in the photographs below.
It is incredibly fun for me to be involved in celebrating such special events in people's lives.  It really is such a blessing to be a part of important milestones in people's lives and it's not one that I take for granted.  I love the idea that these custom pieces that I create will be heirlooms with a beautiful provenance for a special family.
Have an idea for a custom piece of jewelry?  Email us here and tell us your vision.  We would absolutely love the honor to work with you to make your dream a sparkling reality!
What jewelry piece has a special meaning or memory attached with it for you?  I love hearing new ideas and stories, so do tell!