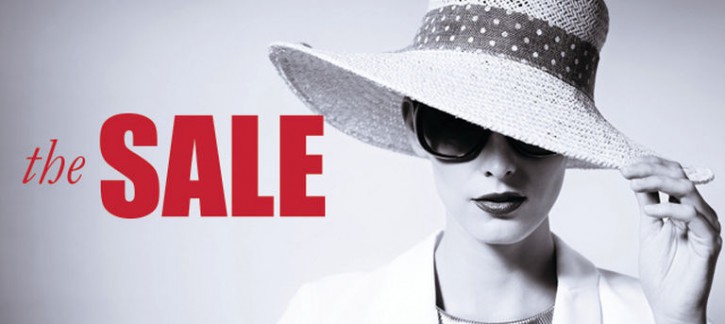 It's that time of year again! This year marks the third annual The Sale Houston event, which proudly features the finest area boutiques offering end of season merchandise at dramatically reduced pricing in one location. And, trust me, this is one shopping event you do NOT want to miss!

I'll be there with jewelry items at 50% off again this year. If you know my brand well, you know that I don't often have sales. The real reason for that is that I'm a small business and I produce limited quantities of my designs by hand, so I'm honestly not left with huge amounts of inventory to get rid of. The Sale, however, is one of those sales, so if you've been wanting some of my pieces, but were waiting for a good deal – this is it!
Not only do I love selling at this show (because everyone is so nice and scoring good deals puts everyone in a great mood!) but I love buying for myself at this show! The event takes place at the Bayou City Event Center, which is a really wonderful spot. It's very nice, super clean, has free parking and is big enough to hold 50 boutiques, but not so huge that its overwhelming. In past years, I've scored $200 Elaine Turner clutches for $10, gorgeous scarves from A Bientot for $8, shoes and clothes from Monkees and Tootsies for 50% or more off, a gorgeous tote from A Bientot for 50% off, a fur stole from Cheeky Vintage at a steal, a Louis Vuitton speedy purse from Cheeky Vintage for under $200 and so much more! (For a full list of this year's participating boutiques, click here.
The early bird shopping is from 10am to noon on Saturday and a ticket to that is $150, but you do get the best selection, along with champagne while you shop and light bites. After that, the tickets are $25 in advance or $30 at the door and the money raised by this event goes to pediatric cancer research at Texas Children's Cancer Center, so you can feel good about the ticket money going to a very worthy cause.
The first year that I participated as a vendor at The Sale was the very first year they had it and I sold out of 2/3 of my merchandise within the first two hours. These ladies come ready to shop! And there are amazing deals to be had ALL weekend long. So, make plans to grab a friend and cure those post-holiday blues with some fun shopping with amazing deals that benefit a wonderful cause.
See you this weekend!