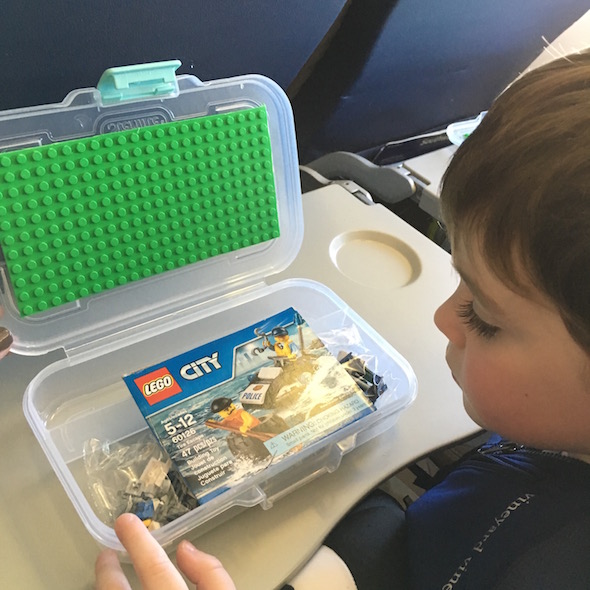 We are SUPER into Legos in my house. My boys love them and they are entertained by building and rebuilding them for hours, which is wonderful! On our trip to NYC in December, my oldest and I had dinner with my gorgeous and crazy-talented cousin who lives there and we sat in a quaint French restaurant chatting and drinking wine while he built his Legos for 3.5 hours. It was a God-send for us. He was happy and content to be playing Legos quietly and we got to catch up and enjoy a delicious dinner. The only downside was when he would accidentally drop one of those tiny little pieces on the floor of the restaurant. (Don't worry – he's so adorable that the people at neighboring tables were more than happy to help us find them!)
Before our next trip, however, I resolved to find a solution for our problem. So, I took to Pinterest, which I love for the fabulous ideas that I find there (though I sometimes also lose that love temporarily when I realize how far the bar of expectations has been raised by all of those amazing ideas.) The other day, however, in researching travel lego solutions, I found a fabulous one and it worked just great, so I wanted to share it with you!
There were lots of Lego travel box solutions on Pinterest, with some using vintage-style lunch boxes, old diaper wipes containers, pencil boxes, etc. I really think that anything would work. Because I wanted to use ours for plane travel, I wanted it to be a little smaller and because my boys are so young, I wanted the latch on it to be pretty secure. I found all of the supplies for ours at Target (along with a few new small Lego sets to surprise the boys with on the trip, since new toys never hurt in keeping them busy!) but you can also find everything on Amazon and they will deliver it straight to your doorstep – amazing! You'll need a Lego baseplate in your desired color (I went with green), a plastic container that latches closed (I went with this inexpensive Sterilite one with one divider inside), a hot glue gun and either an Exacto knife or a good pair of scissors for cutting the baseplate to fit.
The instructions for the style that I decided to go with is here on an adorable blog called Housewife Eclectic. Her instructions are fantastic, so hop over there and check them out. I will say that neither Gorilla Glue nor Super Glue works well on these types of plastic, so I suggest that you stick with her idea of a hot glue gun.
I decided to surprise the boys with them on the airplane and they were thrilled!  We definitely still had some dropped Legos, but these helped a ton and were great for transporting them and for playing with them in the car!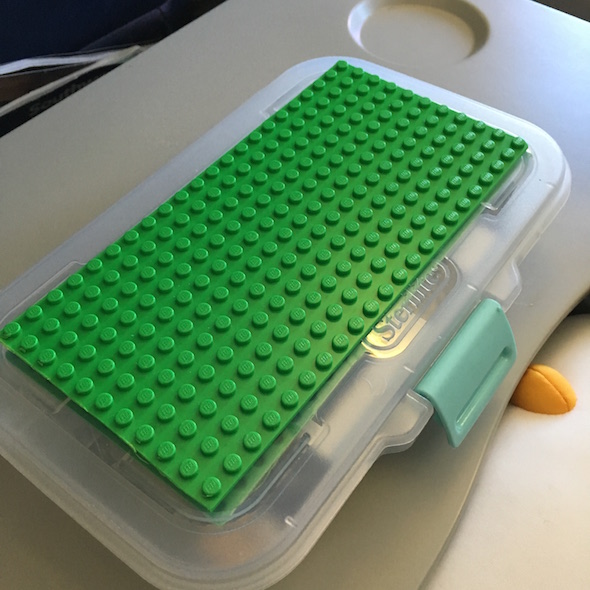 We put one green rectangle on the top of the box and another inside, so that they can play with the box open or closed.
Enjoy!