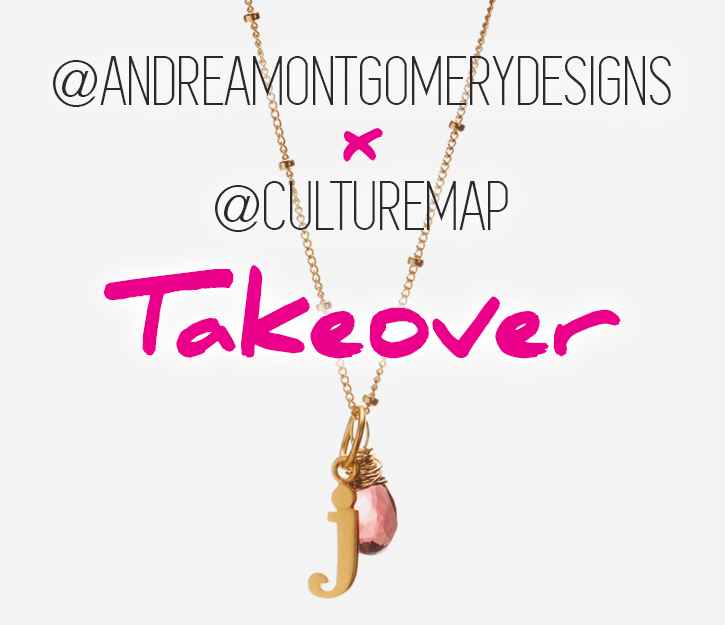 As one of the featured designers at the recent Culture Map Holiday Pop Up Shop on Sunday at Silver Street Studios, I was asked to do an Instagram Takeover of their account for a day.  It was my first takeover and it was so much fun!  In case you missed the posts, I wanted to share them here – with links to make it easier on you to find just what you're looking for!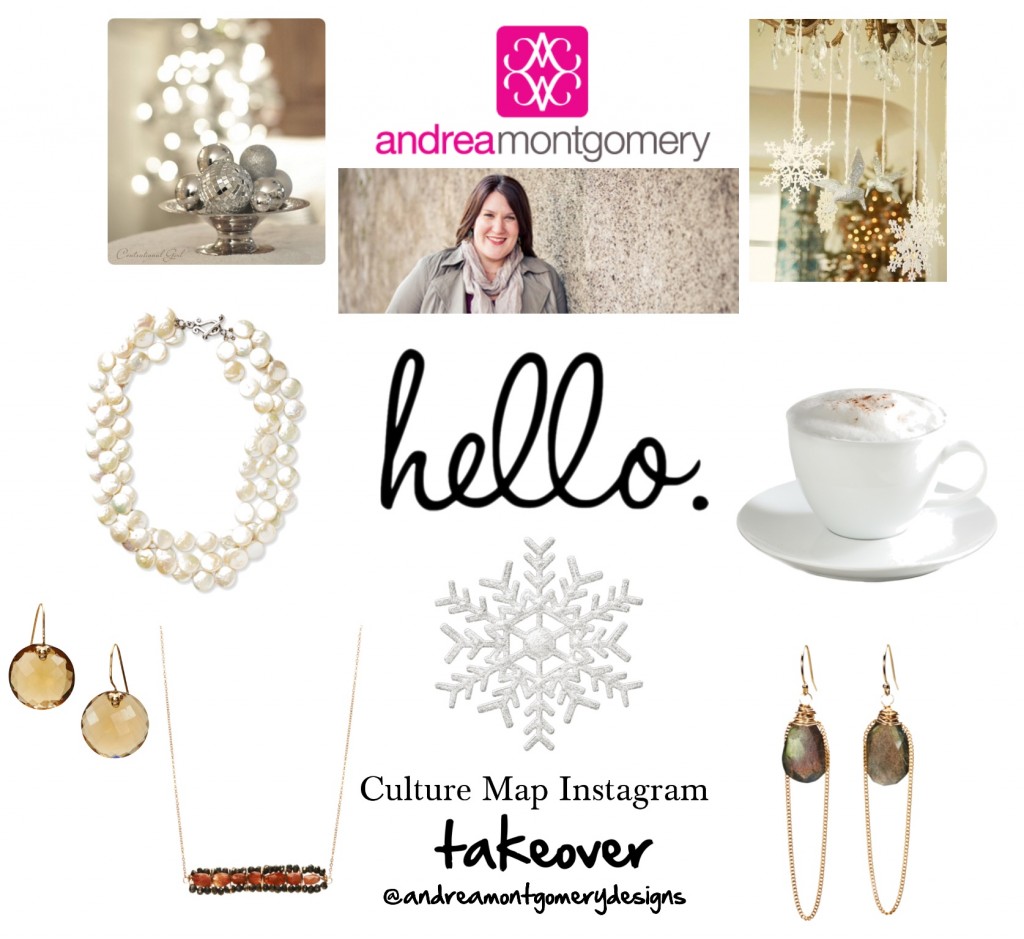 On my recent Instagram takeover of the CultureMap account, I decided to share a few of my favorite things! I love lattes, all things Christmas and, of course, sparkles! With the holidays just around the corner, I'm here to give you some gift ideas for yourself or a lucky lady!
(Shown:  Principessa White Coin Pearl Necklace, Simple Beauty Earrings in Whisky Quartz, Lucky Chic Earrings in Labradorite, Laguna Bar Necklace in Sunstone and Pyrite.)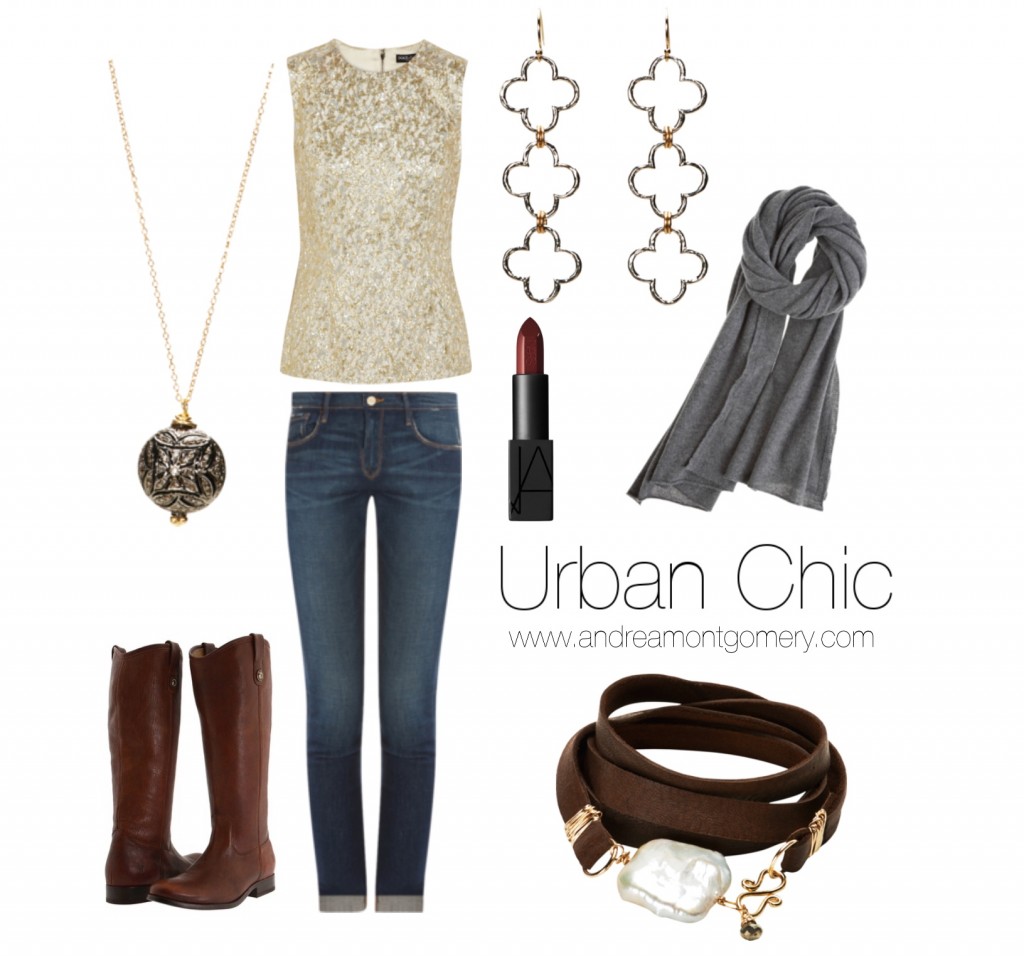 These pieces are perfect for the "urban chic" girl. Stylish and effortless, this look can easily take you from day to night. Our Diamond Scrollwork necklace adds some sparkly elegance to any outfit and our Mission Link earrings are incredibly flattering with their long lines. Grab a little edgy arm candy (that looks amazing with tall brown boots) with our Valencia wrap bracelet with a square freshwater pearl and pyrite drop. Throw on your fav jeans and a chic tank top and you're ready to go!  And don't forget that we are doing free Priority Mail shipping all month and offer free gift wrap as well.
Gift giving has never been easier – or more stylish!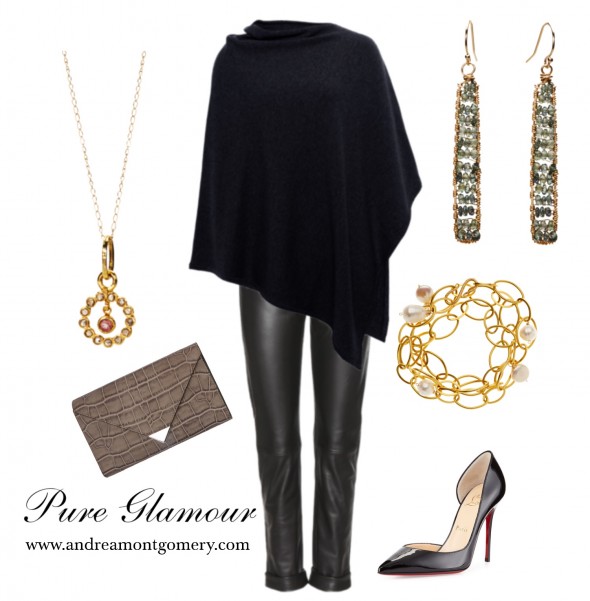 Pure. Glamour. Aren't there days when you pick just the right ensemble and feel like you're a movie star all day long? This outfit is a simple way to feel glamorous all day and it can take you from a luncheon to a shopping date with friends…and then to a fun night out! Our faceted green sapphire Catalina earrings are pure style. They sparkle like crazy as they swing on your ears! Pair them with our Nob Hill necklace, featuring a handcrafted 18k gold pendant with champagne diamonds and pink tourmaline bezel-set on a 14k gold chain. Top it all off with our Lombard gold vermeil chain wrap bracelet with white freshwater pearls. This versatile piece can be worn as a bracelet or a necklace. Grab your favorite clutch and a black cashmere poncho or wrap and a fabulous pair of heels and get ready for heads to turn!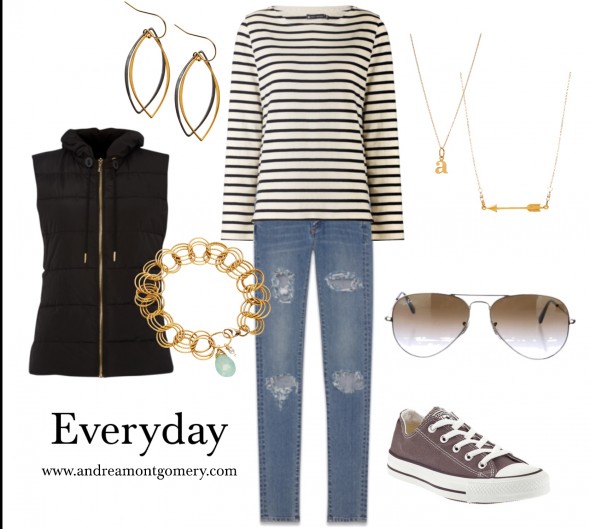 I love the look of pure glamour in my last post, but to be honest, it's the everyday that sometimes stumps me on what to wear. How to keep comfy while running errands and chasing kids, but still look cute? This outfit is one of my staples. And to keep comfy jeans and sneaks and my puffer vest looking cute, I go with delicate jewelry. I'm loving mixed metals right now, like our Mt. Tam earrings. Gold and black oxidized sterling together are a fabulous contrast. I love personal jewelry, like the delicate chains here – our letter necklace and our arrow necklace. Love the layering look! (If you're confused by how to do it, check out the recent post on my blog.) finally, our versatile Kentfield bracelet tops it off with a little dangle of Peruvian opal teardrop. Available in 5 colors, this bracelet has been hugely popular this season! The right jewelry can add a little pizzazz to any outfit…and a little pep to your step!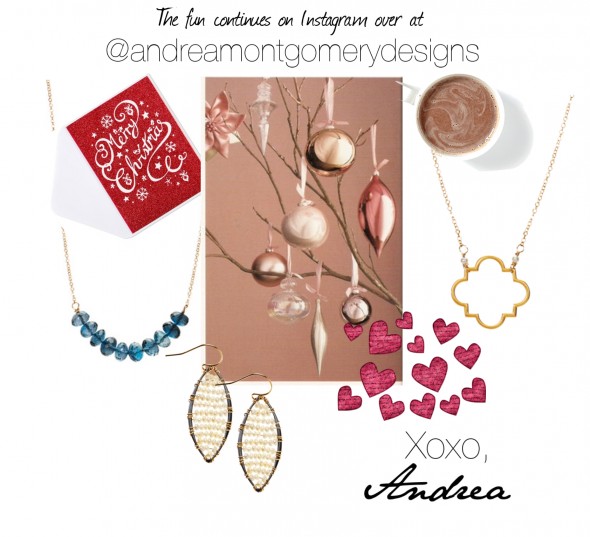 Thanks so much @culturemap for letting me do an #Instagram #takeover. It was SO fun connecting with all of you today and I had so much fun at the Culture Map Pop Up Shop on Sunday.  Keep the fun going by following me on Instagram over at @andreamontgomerydesigns.
(Shown here:  Large Bar Necklace in London Blue Topaz, Mill Valley Earrings in Freshwater Pearl, Granada Necklace in 24k gold vermeil.)
Here's to a holiday season filled with pretty ornaments, hot chocolate, much love, lasting peace and, of course, lots of sparklies!