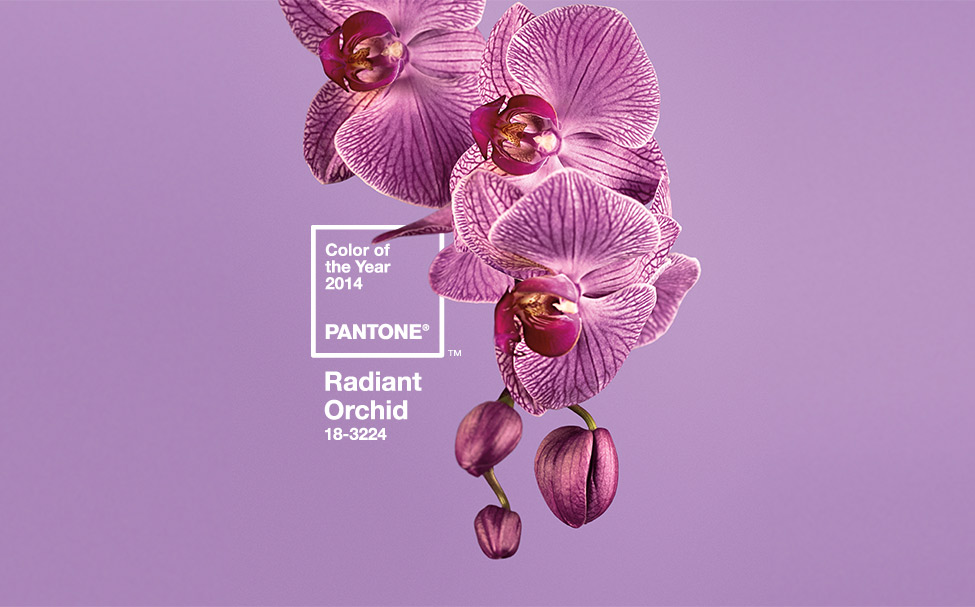 You've probably heard by now that the "Color of the Year" for 2014 according to Pantone, is Radiant Orchid.  A lovely shade of purple with fuchsia and pink undertones, I absolutely LOVE the color…except that I don't actually own anything in it (unless you count an actual orchid, and if you do, then SCORE!)  I adore orchids, don't you? They're so stately and add such a lovely pop of color (or an elegant stark white) to a room.  And unlike cut flowers, they last for SO long!  I've even been successful in getting them to re-bloom, which I thought was always a bit of a wives' tale, but if you're patient with them, they will bloom again for you.  And they have such incredibly unique shapes and color markings.  Truly gorgeous.  But, I digress.
The color is lovely and I think it will be super versatile for both Spring and Fall.  When placed with pastels and grey for Spring, the color evokes freshness and a calming palette.  When placed with plums and navy for Fall, the color helps create varying levels of depth and adds a sophistication that I'm really excited about.  It is always fun to me as a jewelry designer to see the colors that have been "chosen" for the upcoming year.  It adds a bit of challenge and fun to the design process.
Although Pantone chose Radiant Orchid as the 2014 color of the year, in their Fashion Color Report for Spring 2014, they noted several colors in the palette that go beautifully with it.  This season, designers are focusing on pairing soft pastels with vivid brights for a Spring full of balance and unexpected pops of color.  (Love!)  Among the Placid Blue, Violet Tulip, Hemlock, Paloma, Sand, Freesia, Cayenne, Celesta Orange, Radiant Orchid and Dazzling Blue (all shown below), you are sure to find some colors that you love for the Spring.  So, dig into your closet and see what's there.  Then, think about what few key pieces you can buy to add a pop of the new colors to your existing wardrobe for a fast, easy, inexpensive update.  I think your choices are going to be plentiful.  And above all, HAVE FUN!
Do you love the colors?  Dread seeing them for the next six months?  What are YOUR favorite colors from the Spring 2014 palette?  Let us know in the comments below!