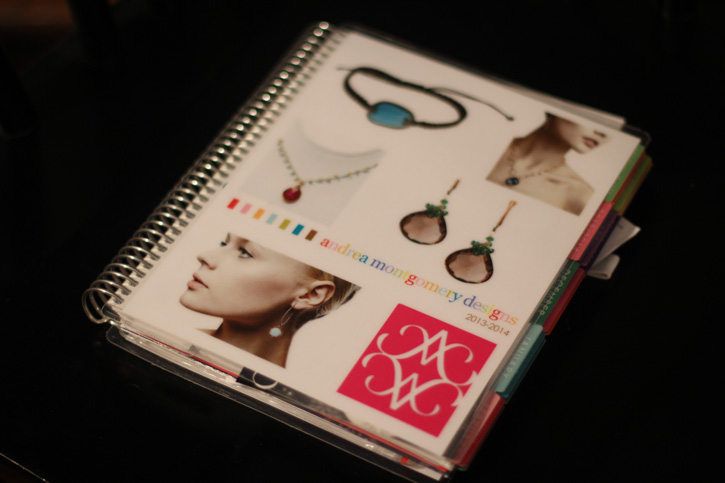 I've always been a "paperless" gal. I think it comes from my years in consulting, when I rarely stayed in one city for more than a few nights and had my badge of pro-traveler honor, platinum status, on an airline or two and at more than one hotel chain. (Looking back, it may be a little sad that the hotel staff knew me by name in more than one city!) I quickly became a pro at packing and traveling with as absolutely little as possible, which is key for being nimble in airports, switching flights last-minute and lowering general frustration levels when traveling. All that is to say, I certainly didn't save room for a paper organizer and was completely digital in as many ways as possible.
Now, however, my life looks very different.  With two children and a full-time jewelry design business, I have a zillion things to write down and organize. Suddenly, a paper organizer just makes sense. With the upcoming holiday season approaching and all of the markets that I participate in, I need a place to organize all of the setting up, show details and such. I also need a place where I can write notes to myself while at the shows, and my current post-it note method is failing miserably. Inevitably, customers mention something to me at a show and I promise something and then at the end of a busy day, after chatting with thousands of customers, I have absolutely no idea what we talked about! Enter my new planner.
A few years ago for Christmas, my sister-in-law gave me a calendar from Erin Condren and I loved the colors and font and fun feel of it, which made it fun to actually use! Actually, she ordered the organizer and had it sent to me and it arrived with the wrong name on the cover. I called the company and they were so kind and quick to replace it, free of charge. Yay for great customer service!
So, this year, when I needed a new planner, I went straight to the Erin Condren website and found out that you can customize your cover with your own photos – genius! So, I uploaded some jewelry photos and, voila! A few days later, this beauty arrived…
Isn't she cute?  I love the fact that it is customized with photos of my own jewelry designs, and I've already gotten tons of compliments on it at a holiday market. There are monthly views and weekly column views, pockets for keeping loose bits of paper which is key for me!), cute stickers for decorating the pages and marking special events, an adorable personalized notepad at the back and a cute little clear zippered pouch for storing paperclips, post-it notes, etc. Photos of the inside below.
If this baby doesn't keep me more organized, I'm afraid that nothing will! What are your favorite organization tools? Please share in the comments below, as I can use ALL of the help that I can get!