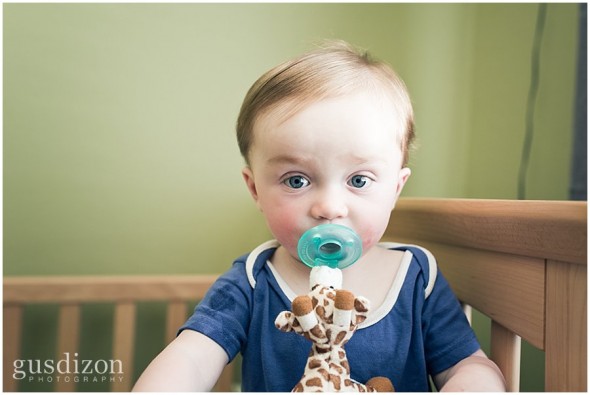 Look at that precious little face above!  Isn't he darling?  That's my friend Gus' son and he is just as precious in person as he is in that adorable photograph.  He's a lucky little boy because his dad is an expert photographer, so he's going to have loads of photos that are just as cute as this one.  What a well-documented life this little guy will have!  Gus is a dear friend of ours from our church in San Francisco, Reality, and has photographed our family numerous times – from baby photos of our first son to the birth of our second son to birthday parties and holiday cards in between, we LOVE having Gus photograph our family.  In fact, you'll see some of the ones he has taken of us in the full post!  I'm always a little overwhelmed by the process of coordinating outfits for all four of us that blend well in color, but aren't too matchy-matchy and in picking a cool location for our photos and getting the littles' naps and meals coordinated just right so that he has happy and well-rested subjects to shoot.  
Gus always makes it so easy, though.  He is super laid back, super sweet and helpful with decisions and could not possibly be better with the kids.  He loves children and it shows, not only in his photography, but through the way he interacts with them in the photo shoots.  He is an absolute delight to work with…and my kids especially love his special elephant noise, so be sure to ask for that if you book a shoot with Gus.  I asked Gus to do a little blog post today to give us a few tips on what he recommends to his clients in terms of location, time of day and that all-important what to wear!  Be sure to check out Gus' photos below and click through to his website (linked below as well) to see his full portfolio.  I'm sure you'll love him just as much as our family does.  When you're done checking out his photos, tell us – which ones are YOUR favorites?
---
Change is happening every second. Some change is good, some not so much. My job is to capture the good through my lens, preserving the memory of a moment, and reliving the emotions of that experience through my photography. When I do my shoots I want to be able to capture one's soul. I'm looking to freeze a natural moment that happens in between the poses I may ask you to get into, or capture that moment happening in my peripheral. Before shooting my clients I usually ask them to tell me of places, or elements that are important to them. I want my clients to participate so that their shoot will have more significance. It doesn't matter if the client's ideas are not my ideal shots. Don't get me wrong I will still look to get shots I like, but I'm not my client so If my client wants grandma's hand knit blanket in the shot, or the chair that has been in the family for many generations, or the fiance's classic muscle car project then it is important to capture those details. I want my images to have significance, clarity, and last for multiple generations to enjoy.
There are a few things that I usually will request of my clients when possible in order for me to capture the style of image they hire me for. One is to be able to shoot their session either in the morning or towards the evening when the lighting is more ideal. The other request is to be conscious of the outfits they wear. They should all work well together, both in pallet and style. For example, if the guy wants to wear his all black leather Harley Davidson riding gear and the girl wants to wear her Little House on the Prairie Sunday school dress, unless it is Halloween it just doesn't go well together. I also prefer that the family avoids being too similar. If a family has two girls and they are 3 years apart and having matching dresses that would be too similar. Lastly, I just want their experience to be comfortable, and fun, and not a burden.