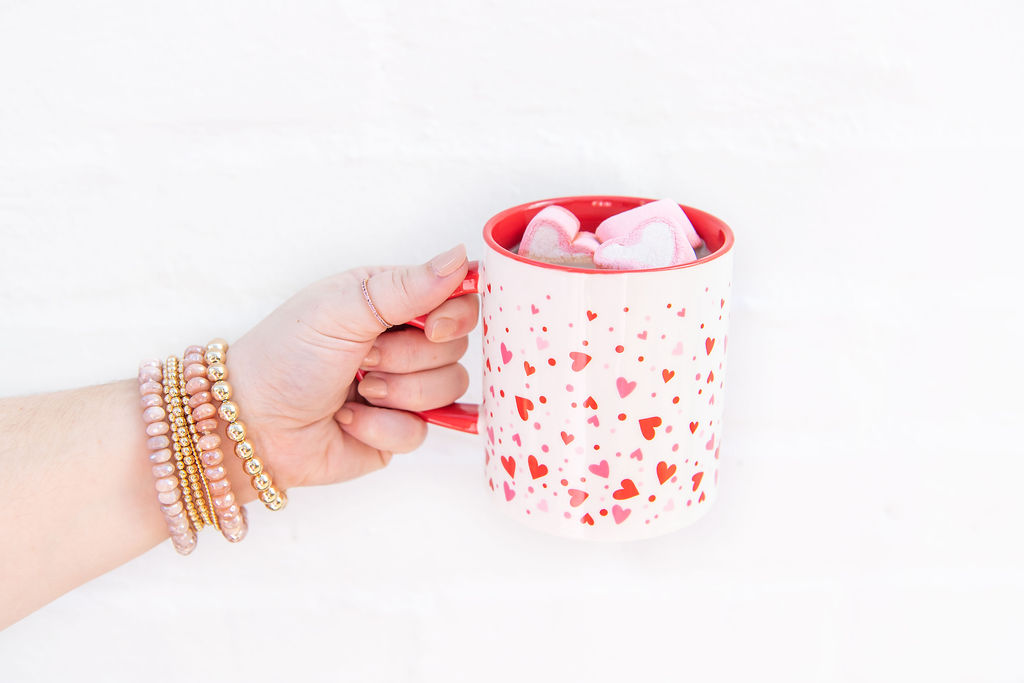 Happy National Hot Chocolate Day, friends! Did you know this was a thing? I must admit that I didn't until last week, but it's absolutely something that I can get excited about. I loooooooove hot chocolate on a cold winter's day!
When my family goes skiing, one of my happiest spots is fireside, sipping a hot chocolate after a day on the slopes with my bigs or making snowmen with my littles. It just feels so cozy – and delicious! Since I'm on a quest to bring simple, happy moments to the every day, I've started having hot chocolate at home more often and it's such a fun treat. In fact, we set up a hot chocolate bar in my house every winter now and it makes the experience even more fun for my boys.
In my mind, all you need is a delicious hot chocolate recipe and a mug that feels comfy in your hands and makes you smile. If you can add fun toppings and a cozy fire and blanket, all the better! Since not all hot chocolate is created equal, I wanted to share a few of my favorite recipes with you all – and some links to our FAVORITE toppings that make the hot chocolate station extra fun. Hope you enjoy them!
If you're looking for a gourmet hot chocolate recipe and have the time to pull out ingredients and make it right, this is one of our favorite recipes over at Annie's Eats. It's decadent, delicious and is a major treat! Also fabulous if you're entertaining and want to wow your guests!
However, as a mom of four boys who owns her own business, I'm typically pressed for time, especially in the kitchen. I want to create special memories more often, even when pressed for time and I want it to taste like I spent time on it. (Sorry, but I can't stand the taste of your average hot chocolate mix from the grocery store!) For our "everyday" hot chocolate recipe, our go-to favorite is this one from I Am Baker. It is rich, velvety and delicious – and only really requires four quick and easy ingredients – milk, sugar, vanilla extract and a good quality cocoa (this is key!) That alone makes a delicious cup of hot cocoa, but if you have the time to include the fifth ingredient in the recipe – miniature marshmallows – and let them cook into the hot cocoa, you will definitely be rewarded for your patience! It. Is. Delish! Highly recommend.
Now for the accoutrement (to be read in a fancy French accent!) to make your hot cocoa really fun. I've saved all of the items below in one list on my Amazon page here if you want to see it all in one spot.
We love adding cute things to our hot cocoa – fun, flavored marshmallows, little stirs with treats on them and even little sprinkles. While a cup of hot cocoa piled high with mini marshmallows is super fun, our favorite marshmallows are Smashmallows. They are cute square marshmallows in fun flavors that add a little something to your favorite hot chocolate. Cinnamon Churro is my current personal favorite, but my boys love the limited edition Sugar Cookie flavor, the Candy Cane and the Toasted Vanilla. The Dark Chocolate Cold Brew (coffee) is also delicious. And, as a bonus, sometimes my boys ask for one or two of the Smashmallow as their dessert – easy peasy!
My boys also love the little spoons that you can stir into hot milk and make your own hot cocoa – it's just easy + fun! We also LOVE putting whipped cream on top of our hot chocolate. There's something extra delish about the cool + hot together. We typically keep a can of whipped cream in our fridge. It's a quick, easy add to hot chocolate and my kids also love a dab of it atop strawberries as a dessert after dinner. And sometimes we add it to our favorite waffles on the weekends with a few chocolate chips for a special treat. When we have time, we use this crazy whipped cream contraption, which we LOVE. It's expensive, yes, but it's great for whipped sauces and soups and such as well. Of course, if you won't use it enough to justify it, there are lots of less expensive options!
I hope that helps you get started on making some sweet memories with your family with some tasty hot chocolate on a dreary winter's day – or a hot chocolate "bar" for a fun Friday night treat or to last throughout the season. Any way you do it, I hope that it brings you a little extra joy!