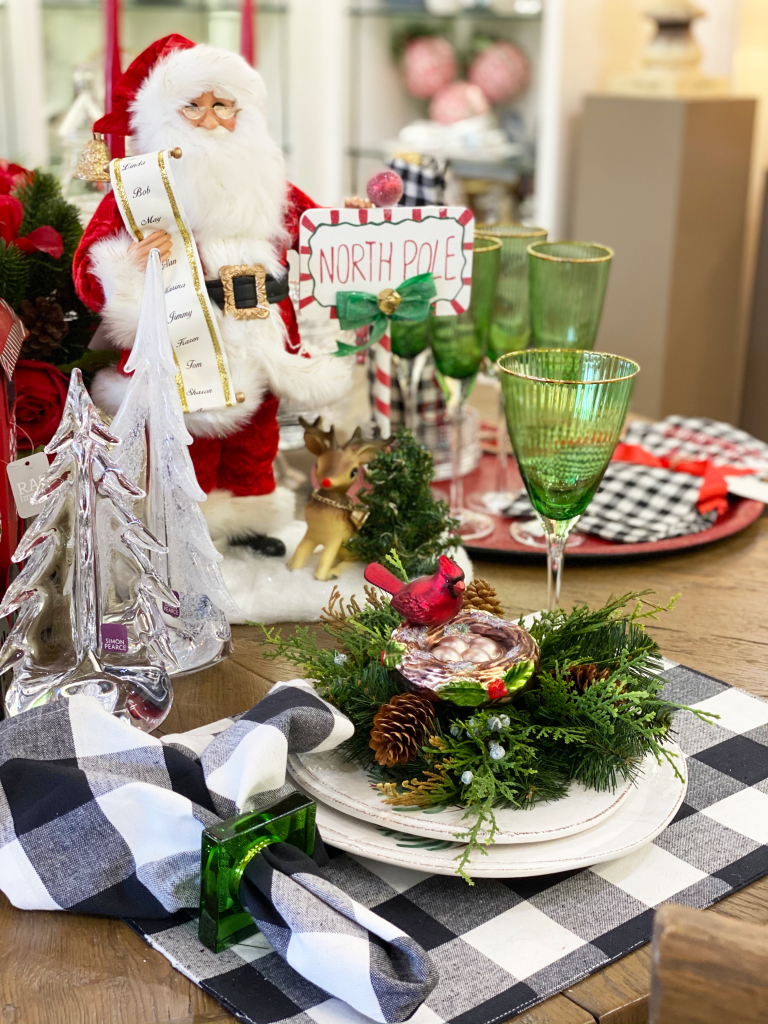 On Wednesday, Bering's Hardware hosted our Boxwood Breakfast Group for a little holiday fun. They set up several beautiful tablescapes for us and showcased some fabulous gift ideas and we had a wonderful time! I've been shopping at Bering's for as long as I can remember. When I was a little girl, my daddy would take me there on Saturday mornings to pick up fresh lumber for his latest woodworking projects. We would drive up to the Westheimer location and I could smell the fresh cut wood before we even got out of the car. We would usually pick up tamales from the Texas Tamale Company, which back then was an outdoor push cart filled with homemade ones that was only there on Saturday mornings and sold out fast. Over the years, Bering's has changed a little bit, but the overall feel of walking into your neighborhood corner store filled with friendly, helpful people remains the same. They no longer carry lumber, but they do still sell hardware and if you're in need of some, there is simply no other store where the workers know more about their products or the processes to install them. Seriously. I've never been steered wrong by someone who works at Bering's when I'm in need of something for a crazy home project. Of course, they also carry beautiful home decor and gift items and one of my favorite things is that it's a one-stop shop. You could literally do every bit of your holiday gift list shopping there if you wanted to. (Although, obviously, you'd need to supplement with some sparkly jewelry from me – Ha!)
When our girls group arrived at Bering's on Wednesday morning, we were created by Jo's Mini Mobile Bar (which is actually a vintage Italian Piaggo Ape on wheels!) This thing is adorable and featured a mimosa bar. The perfect start to the morning event!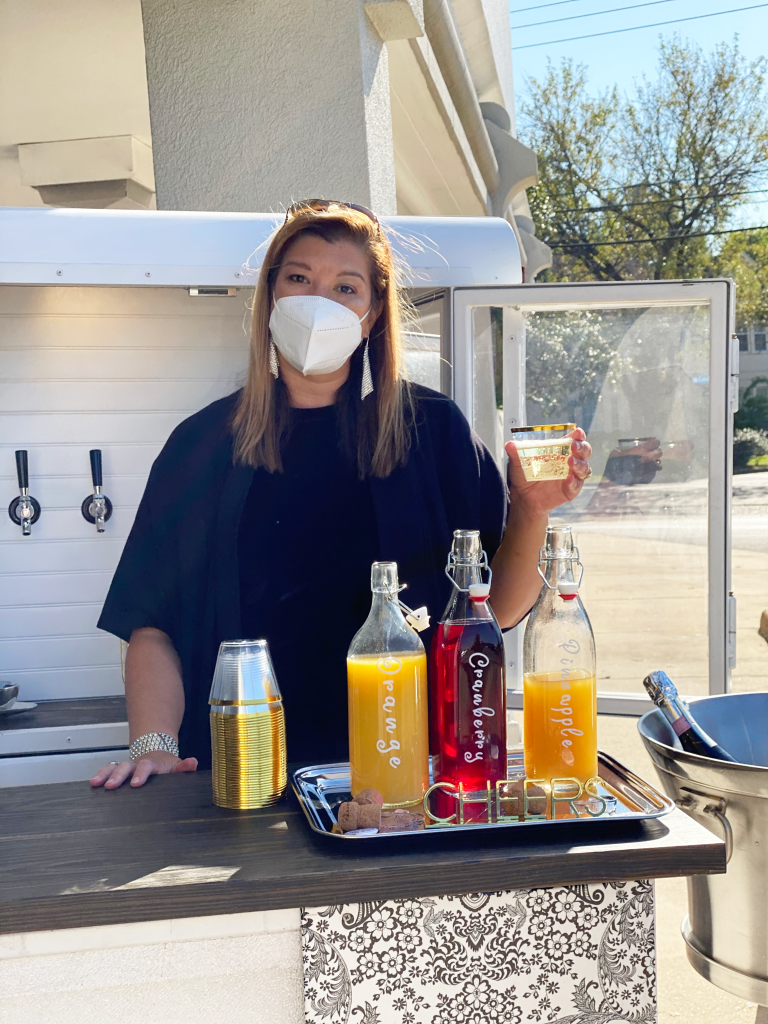 You can rent this little bit of preciousness for parties or weddings, too. How cute is that?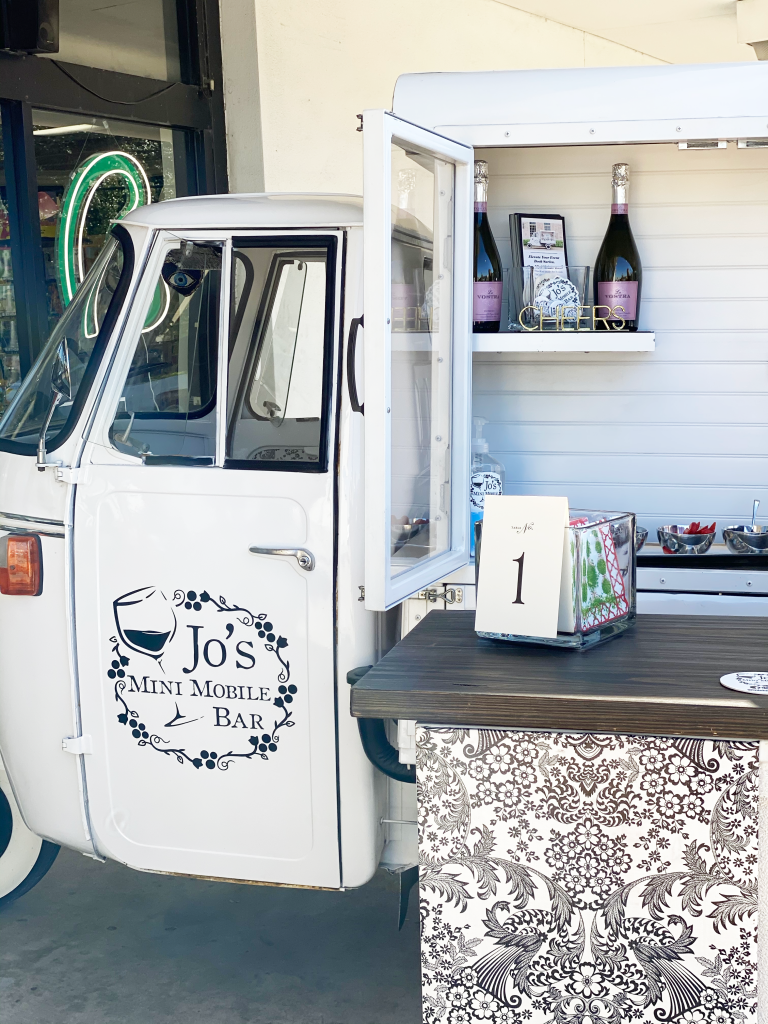 I think it's just about one of the cutest things ever and obviously, it made the mimosa taste even better!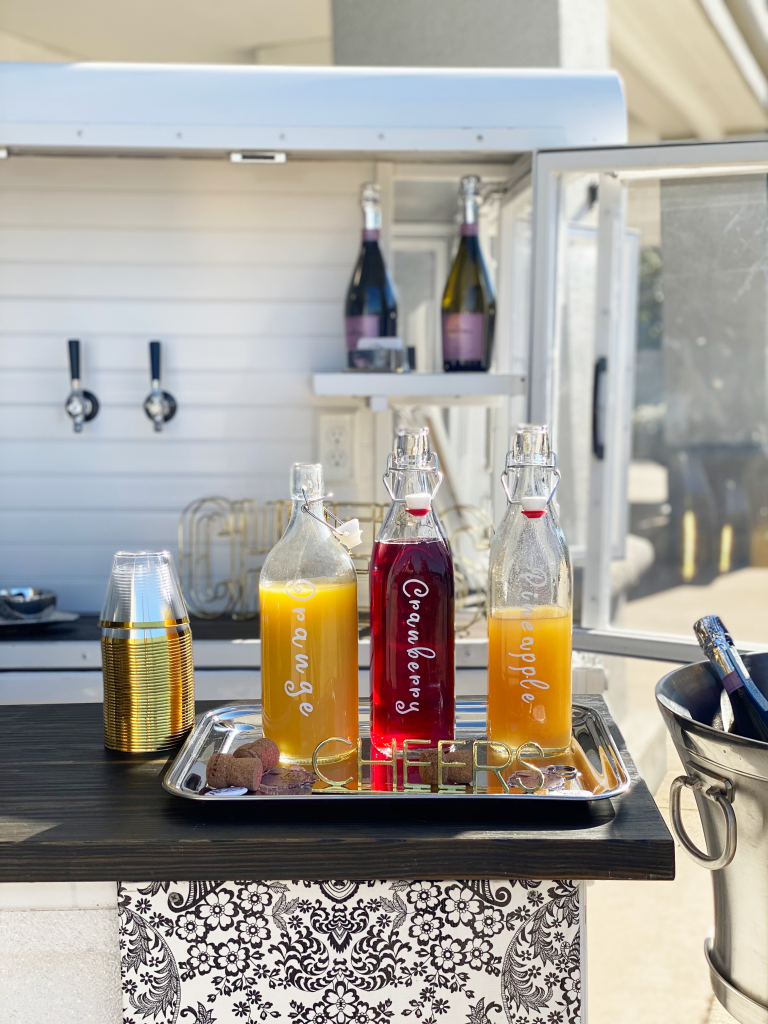 Upon entering the store, our eyes were met with a feast of beauty that got me super excited for the upcoming holiday season. I'll admit that I've been heads-down in making inventory, doing trunk shows and knocking things off of my to do list and I sort of missed November entirely. But, Thanksgiving will be here soon and I got way more excited about that fact after seeing their tablescape ideas. Nothing like a few new pieces to refresh your vision of your home at the holidays!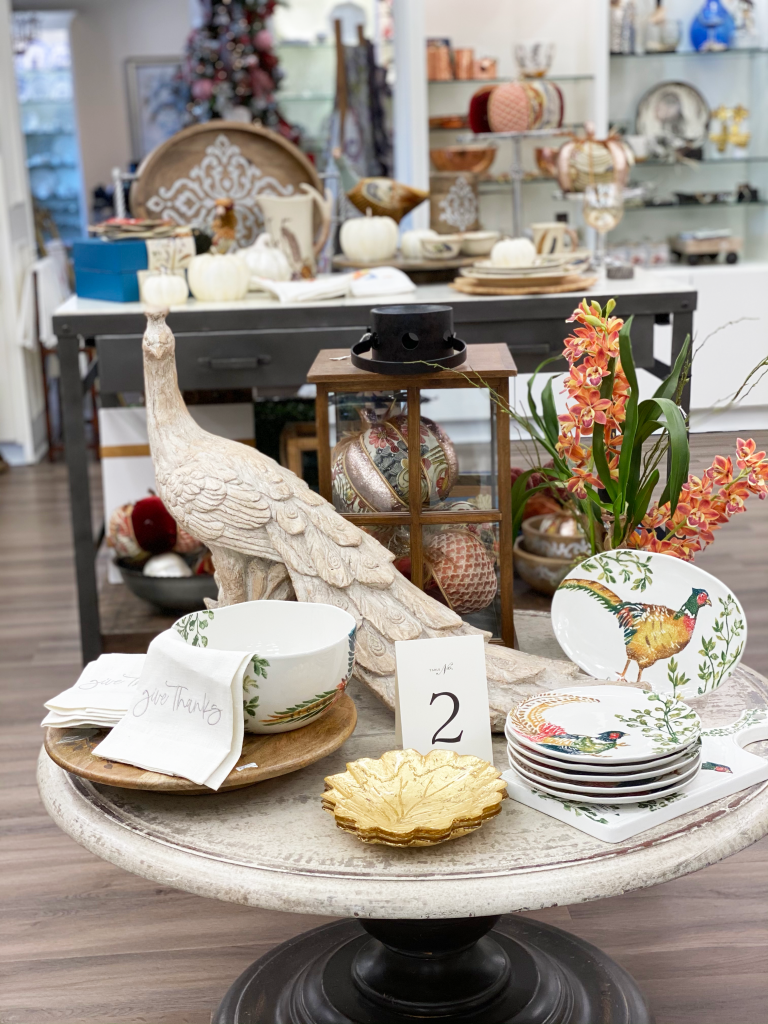 I love this fall table look – especially those beautiful gold leaf plates by Vietre!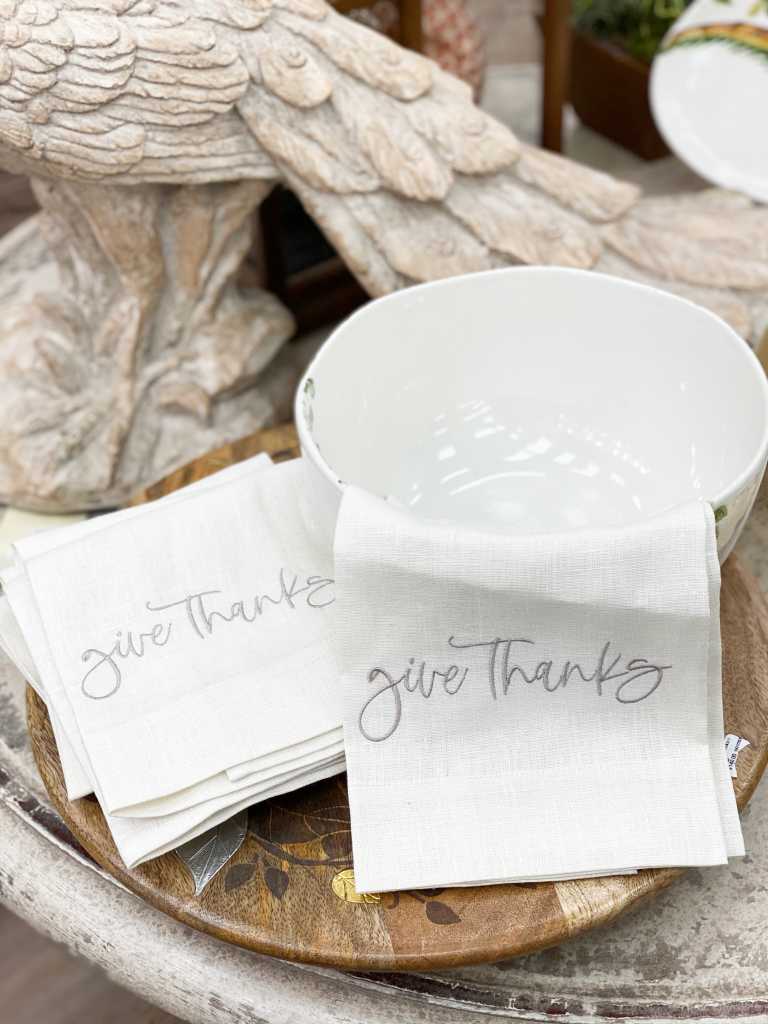 And these beautiful linen napkins with grey embroidery. Gorgeous!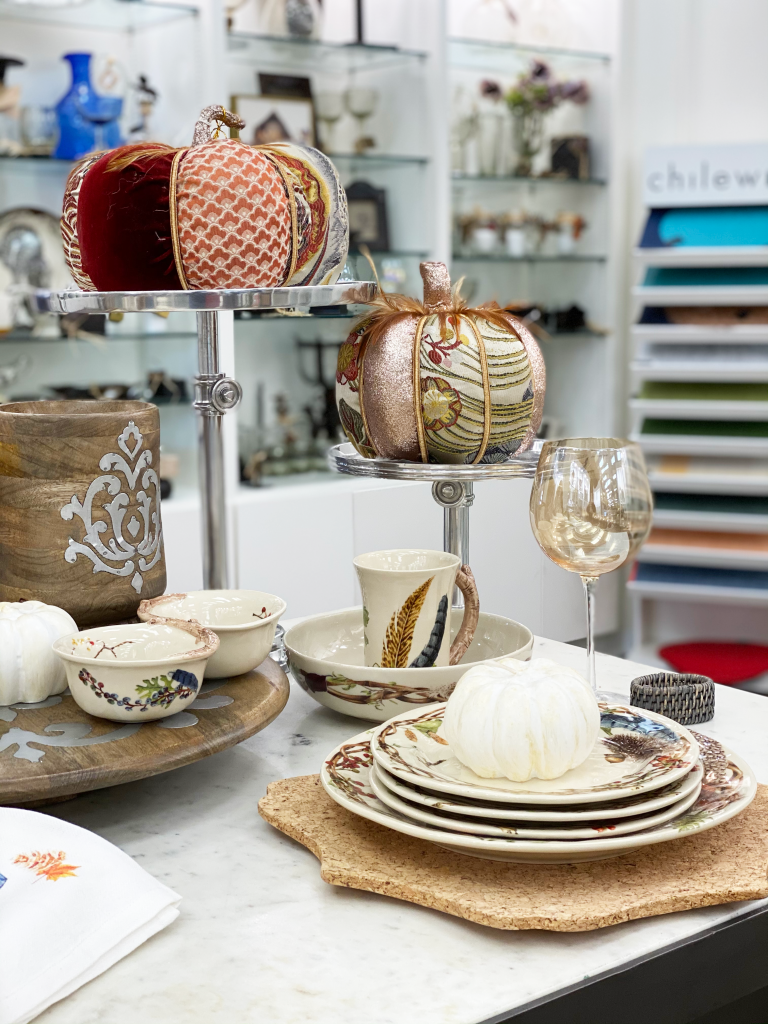 LOVE this wine glass, the cute feather coffee mug by Juliska (love the shape!), the white pumpkin candles and these velvet, brocade and feather pumpkins! They're so unique and I think I need them to add in to my velvet pumpkin collection. So, basically I wanted one of each on this lovely table!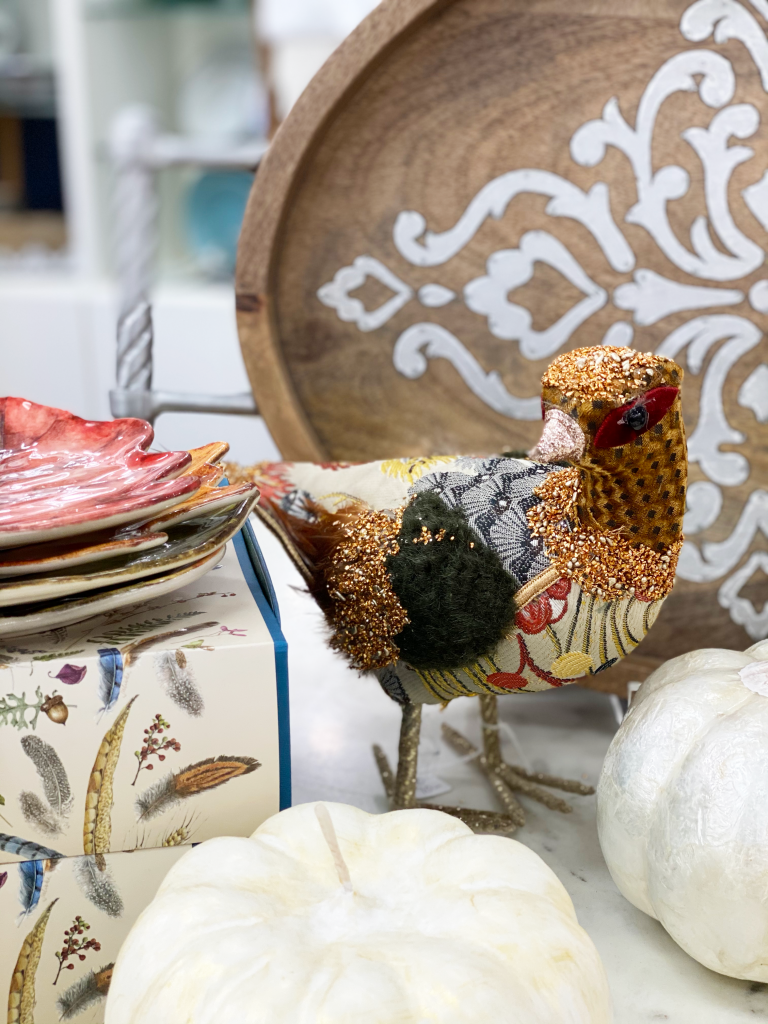 And this little guy!! Too cute for words!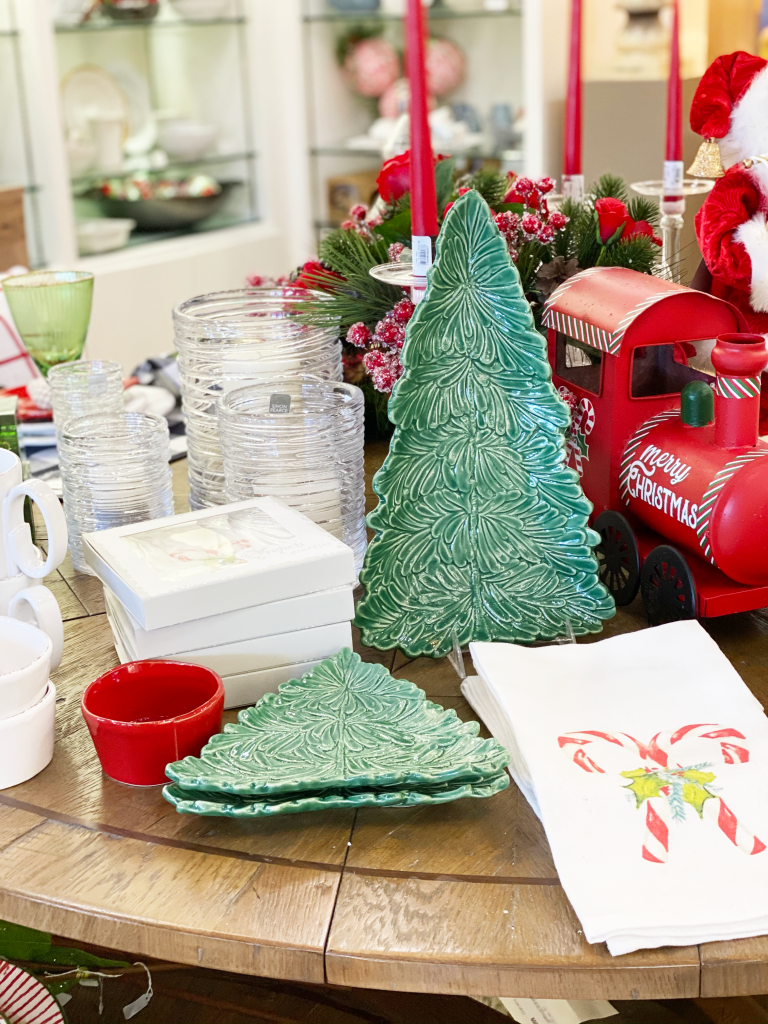 The Christmas tables were equally inspiring and now I'm ready for Christmas immediately! Loved everything on this beauty!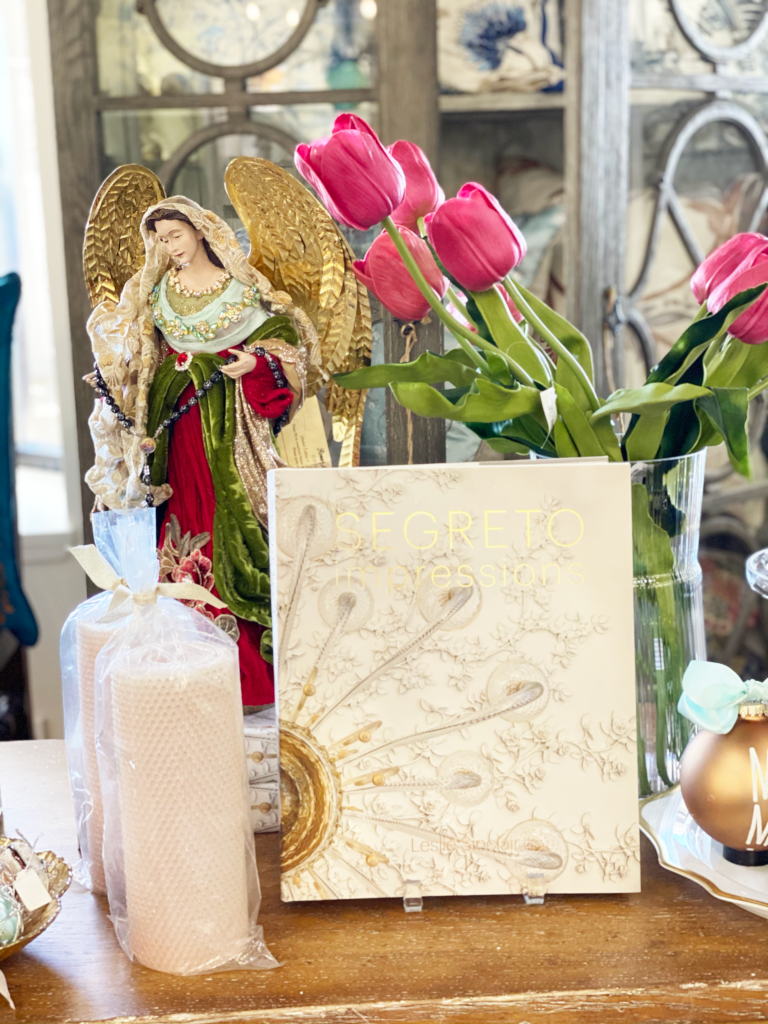 Truly, everywhere you look in Bering's home section is a little vignette of perfectly curated beauty.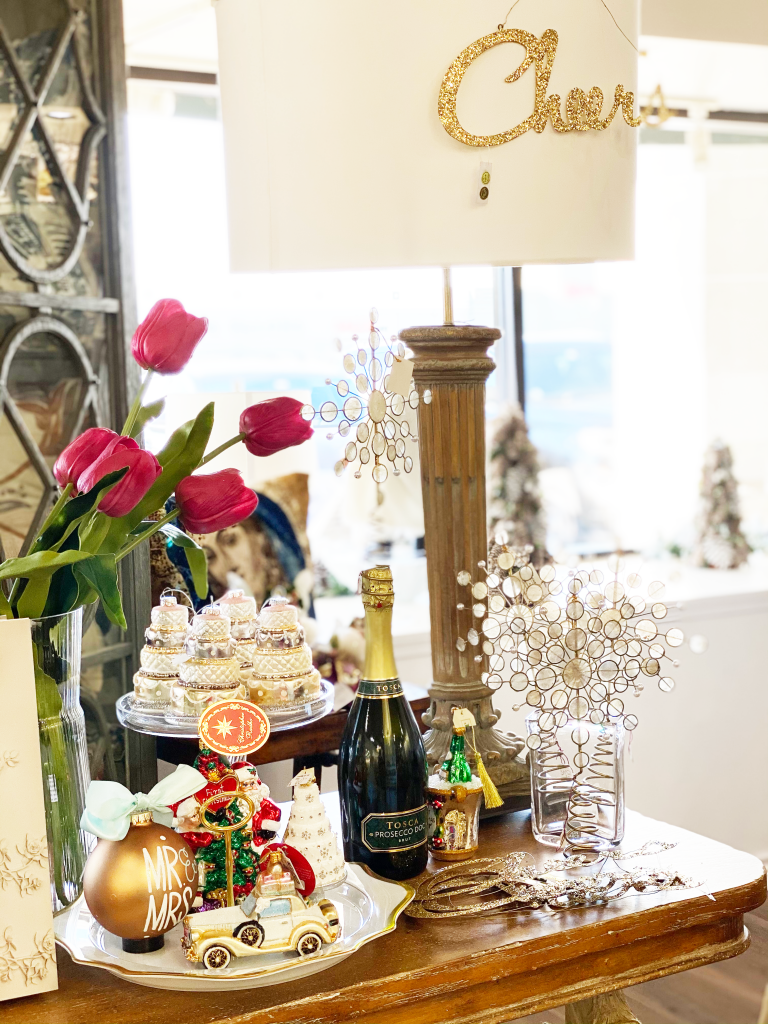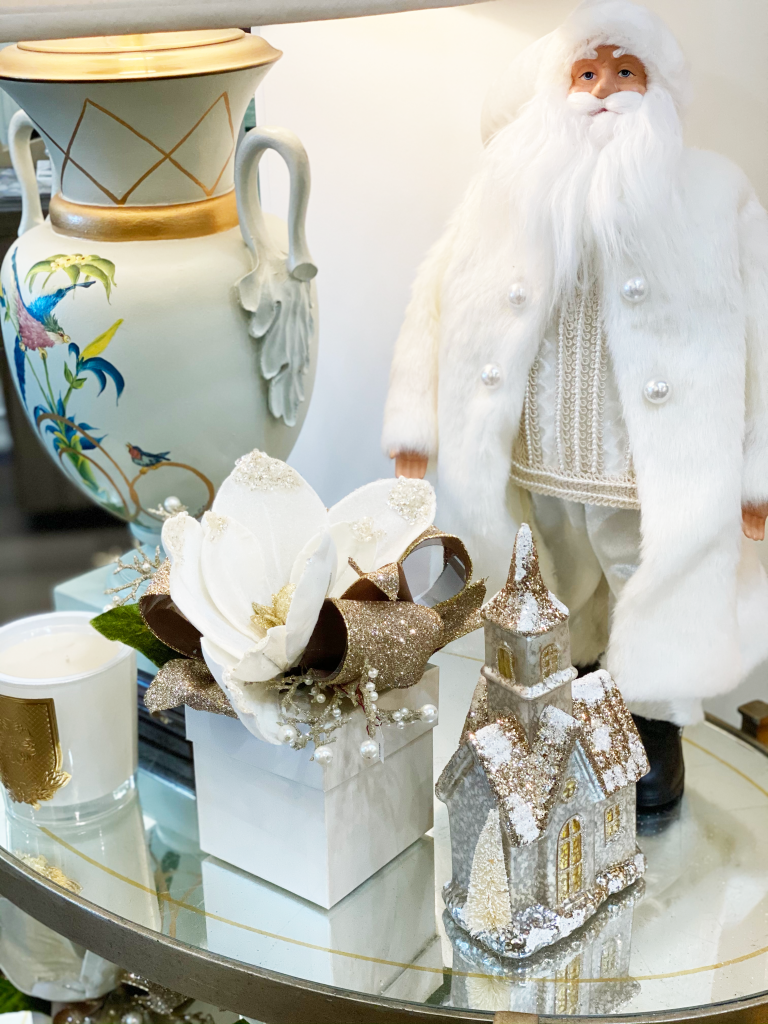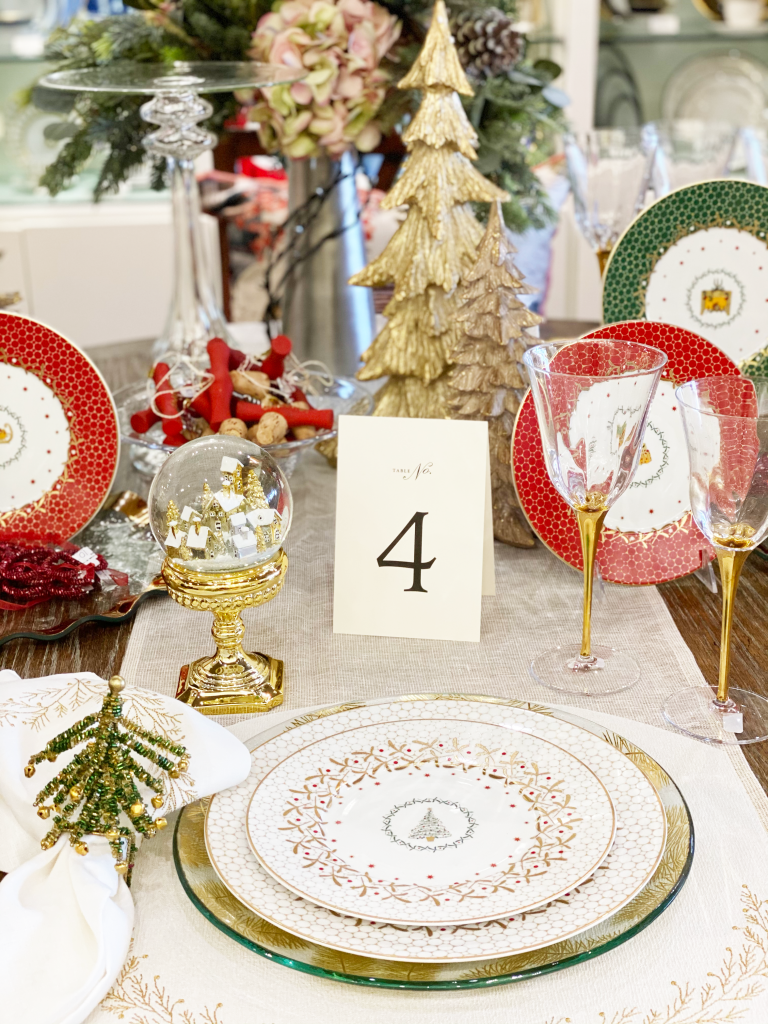 This elegant setting features china from Bernardaud, which I didn't know before I saw this. Loving it! It's simple, clean and elegant, which is exactly what you'd expect out of France, oui?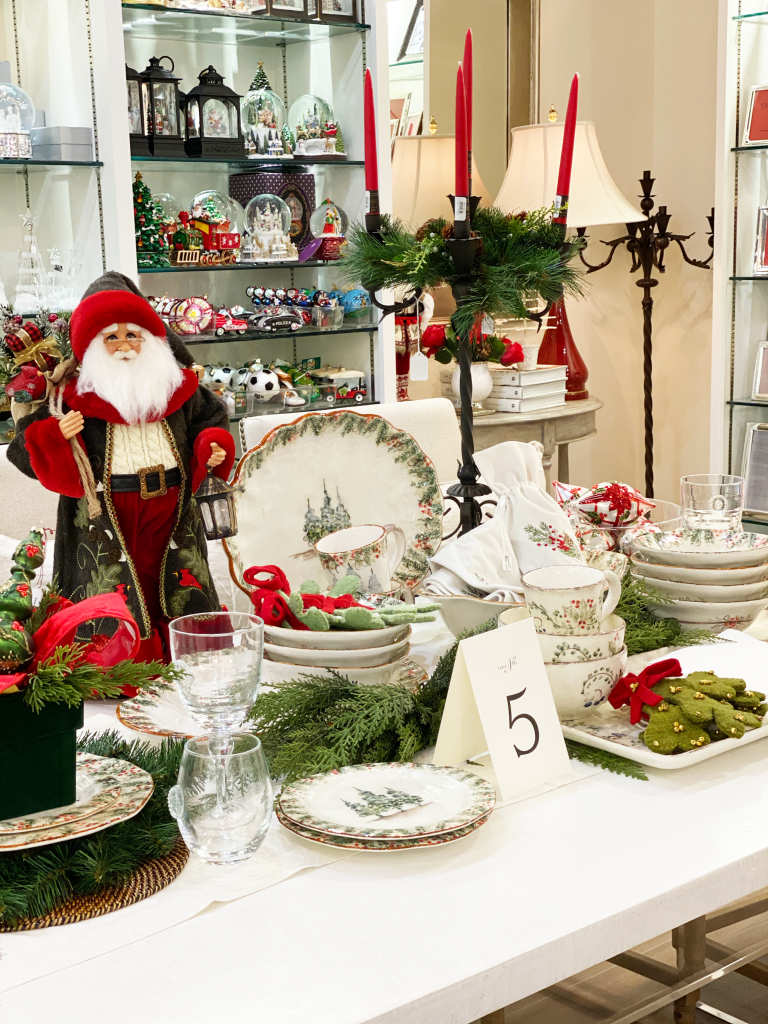 I always love Arte Italica pieces – have loved that brand forever and these Christmas tree plates are no exception.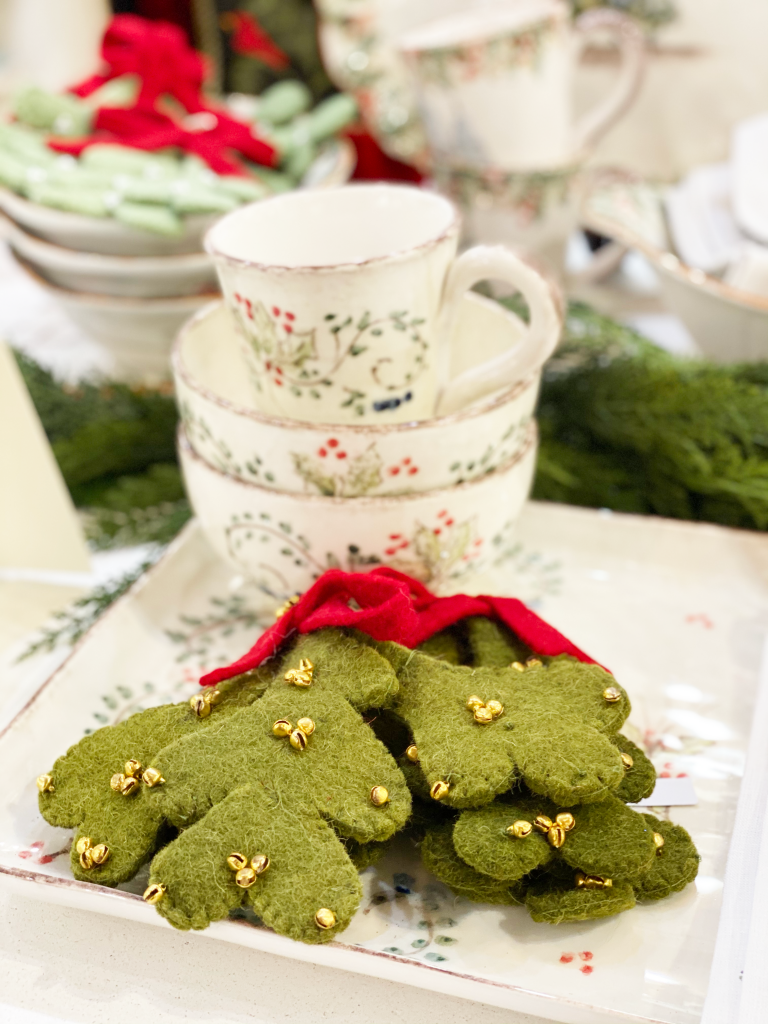 LOVE the felt mistletoe ornament on the plate. Too cute!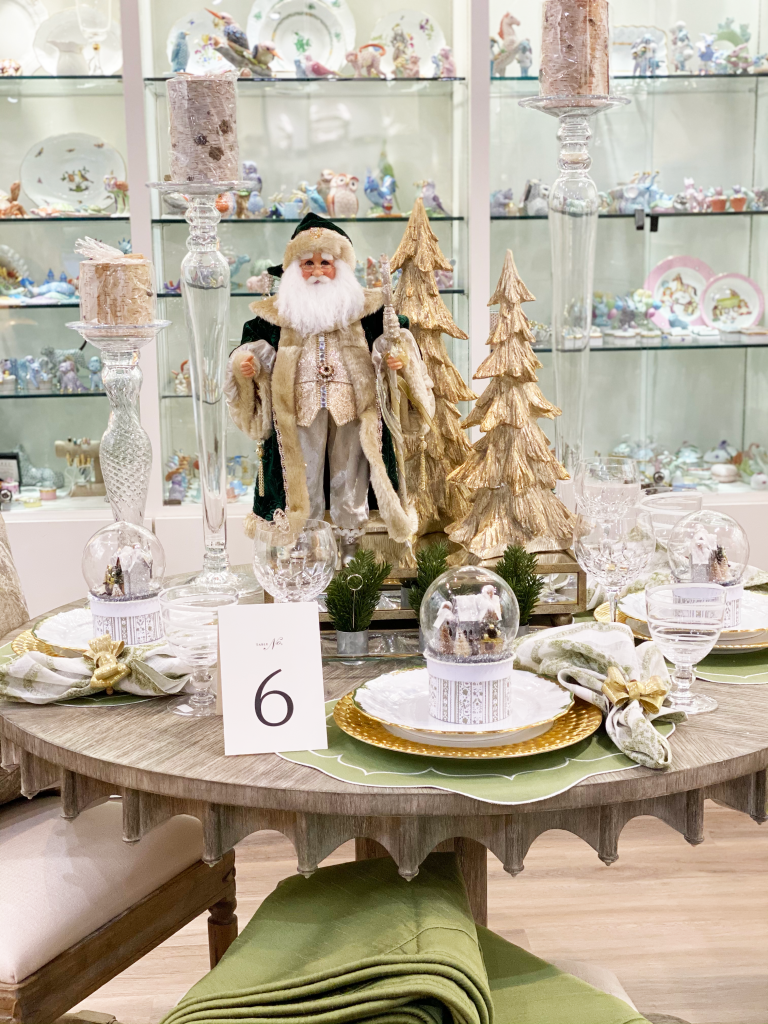 Then, of course, there was the insanely elegant table set with Herend, which makes the china that I selected when we were married. I went with Golden Edge and have never regretted it for one moment! I mix it with fancier salad and dinner plates for various holidays and it has worked so well for us. We get versatility, without too many plates to store!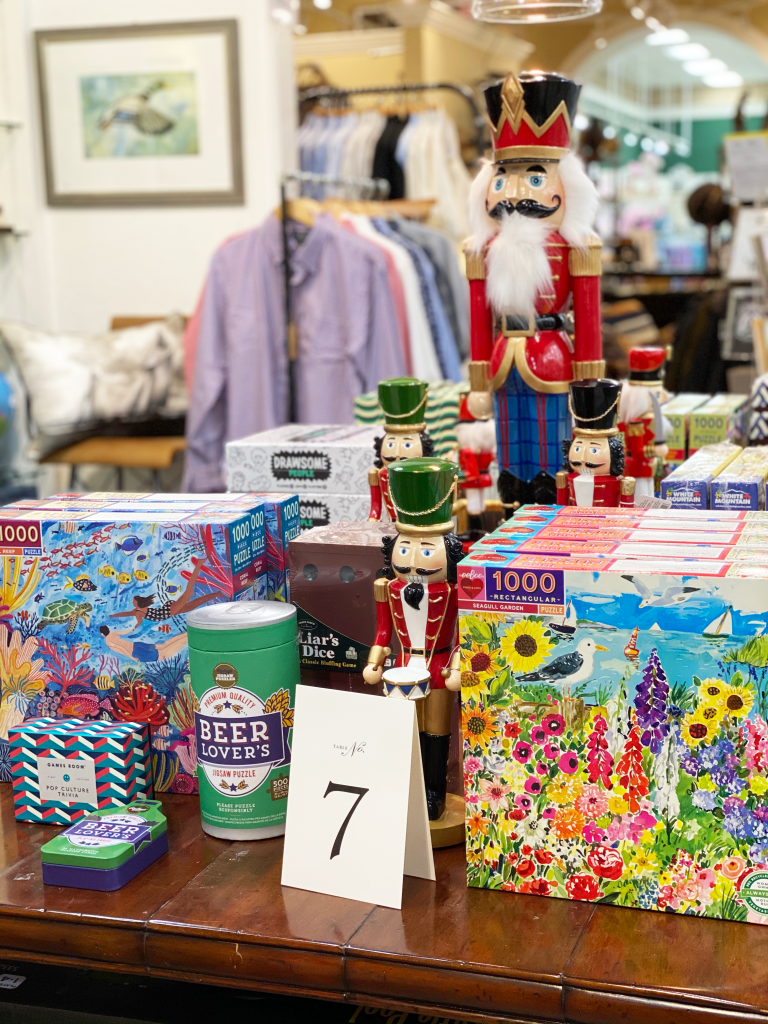 This table was filled with fun games for the whole family, not one of which I had ever seen before. And that is high praise! If you want fun game ideas that are also beautiful, this is the spot for you. I will definitely be back here to knock some things off of my Christmas gift shopping list!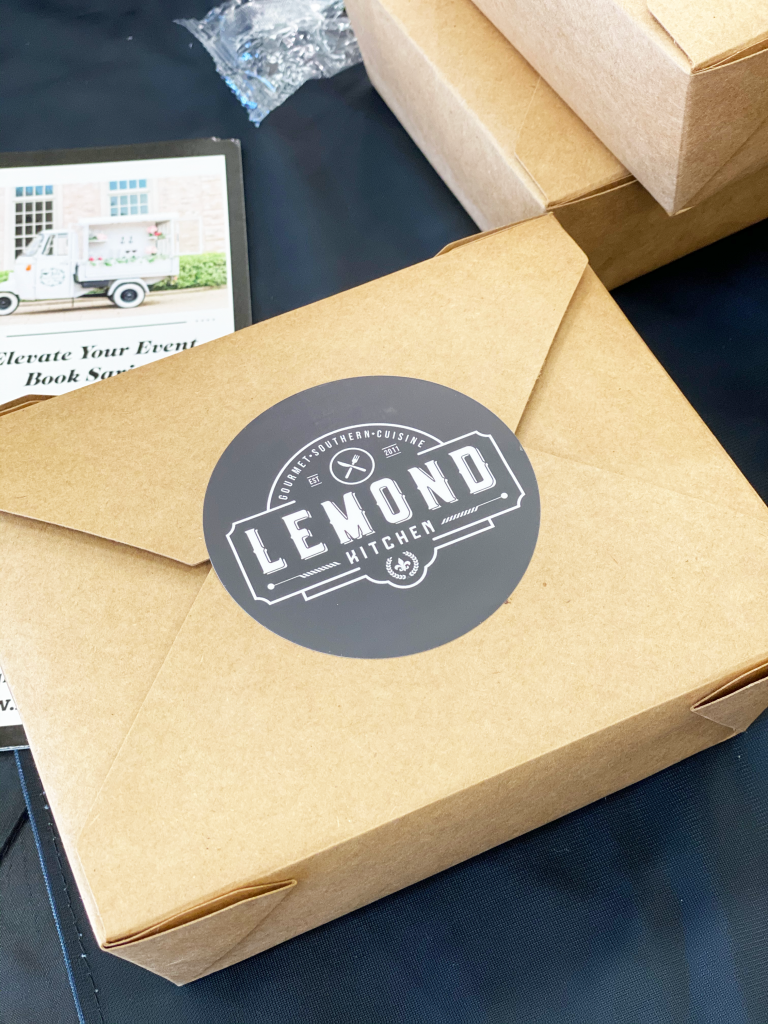 Next time you're in Bering's, don't forget to stop by the refrigerator with the Lemond Kitchen items in it. It's a local Houston spot with amazing Crawfish Etoufee, Gumbo and Bread Pudding with Bourbon Sauce that you won't want to miss. Your taste buds will thank you and you won't have to do any dishes for it!
So, clearly I have a deep love for Bering's. I hope that you enjoyed this little feast for the eyes. Do you shop at Bering's and love it as much as I do? If so, tell me your favorite things there down in the comments below, because I would love to check them out!