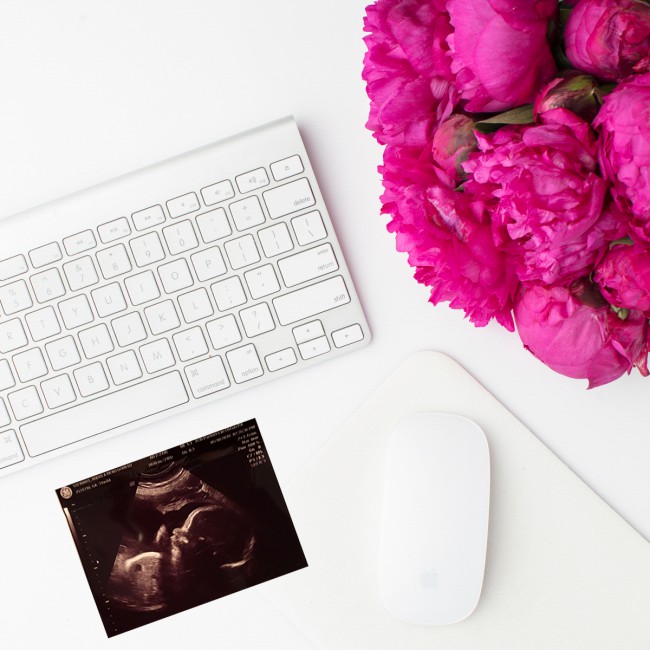 …We are having a baby – that cute little bean in the photo above!! Honestly, I really didn't mean for it to be a secret. That's the funny thing about it all. It just sort of happened. And the longer it went that I hadn't shared the news, the bigger of a deal it seemed. In the end I think what I've learned is that our society is seriously reliant on social media for information and connection. I mean, I think we all know that, but some days, it really feels like if it didn't happen on social media, it didn't happen at all. And I have very mixed feelings about that, but we'll circle back to that in a minute. Recently, a couple of dear friends that I actually see quite often told me that they had no idea I was pregnant. And then a few people asked me why I hadn't posted anything on Facebook or Instagram about the baby on the way and truth be told, I don't have a great reason. But, then the question kept rumbling around in my head and I realized that it was really the combination of a lot of small reasons and one really big one that I've been wrestling with lately.
So, the fun news is that I'm pregnant with our fourth child! We couldn't be more excited. We prayed for this child for quite some time and God is so gracious to bless us with this baby, our little caboose! Looking back, I think our time of waiting for this baby is partly what shaped my caution in telling people that we are expecting. The Lord did quite a work on my heart during that time – probably more than words can adequately describe in a blog post. Suffice it to say, my heart has been changed in many ways. Just one of those ways is my increased tenderness for those who struggle with infertility, delayed fertility, miscarriage and the loss of a child. That's not to say I wasn't sympathetic before, because those have always been struggles very close to my heart, but this is different in that, at the same time, I was also struggling with the role of social media in my own life.
In the past year, I've had more than one friend close to me who lost a baby past 20 weeks. I don't even have words for losses like that or for miscarriages at any stage, for that matter. What I do know is that life is so, so precious and we are called to be sensitive to the struggles of those around us. I'm still working through what that looks like in many ways. I also have dear friends who have been struggling to get pregnant for the first time for many, many, many years. And I didn't really feel like I could talk about our own waiting with people, for fear of sounding like I was trying to compare grief or struggles, which was certainly not my intent and also because we have already been blessed with three healthy, beautiful boys. Nonetheless, God allowed this waiting time in our lives to be a part of our story and has faithfully used it to shape us to be more like Him. He sees our struggles and meets us where we are in those and I am learning to do that better as well.
All of that is to say that somehow, when the time came to announce our news, I just couldn't bring myself to write the post. I kept looking for my reason for posting and I didn't find it for quite a while. I told our family the news first and then dear friends, since it's awfully hard to hide the constant throwing up that I have for the first 6 months or so of my pregnancies! I certainly wasn't hiding it from anyone on purpose, but something kept me from actively posting about it on Instagram or Facebook. Meanwhile, I'm watching plenty of other friends announce their pregnancies and post every day about their joys about being pregnant and every detail about their plans for the baby and many of those friends were due after me. And there was a pang in my heart at each one I read as I thought of my friends who were still struggling with various difficulties surrounding children and what they must feel reading these posts. Getting pregnant, staying pregnant, having safe birthing experiences, adjusting to newborns, raising children responsibly, struggling with health issues in our children and ultimately letting them go off into the world – it's all hard. And the pangs of empathy just weren't going away. So, for maybe the first time in my life, I stayed quiet. And still. And did nothing.
Since I couldn't figure out how to announce it and still honor those in difficult places on their own walks, and since I couldn't clearly define my "why" for posting about it, I just chose not to announce it at all on social media. And, honestly, there was something liberating about it! I had long since been struggling with the use of social media in my life. I love so much about Instagram and Facebook, namely staying connected to friends and family who are far away, learning from the unique perspectives of others and reading articles that friends think are important enough to share, especially since I am not a big consumer of news media in general. Not to mention the memes, funny videos and ensuing laughter. I have a lot of love for these platforms and find myself spending time on them maybe a bit too often. They are fun and pretty and offer a bit of an escape from what can feel like a life full of mundane tasks at times. However, there are struggles with each platform that cannot be denied. Study after study has shown that people are less content and even more depressed after using them for an extended period of time. We all know that these platforms are a highlight reel of people's lives and yet, scrolling through those picture perfect feeds understandably still leads to discontent in our own lives. And I've been convicted about my own role in adding to that discontent for some time now, because I think it's incredibly dangerous and is the opposite of what we are called to do. And so, for a few years now, each time I post, I've been asking myself, both in my personal and professional posts – what is my intention in posting this? I don't want to be the person who just shamelessly self promotes and in doing so, leads others to feel discontent in their own lives. That's not helpful. We all know people who do that constantly and while their feeds can be fun to look at for a while, in the end, the effect on our hearts isn't what I hope my followers feel when looking at mine.
I'll take this moment to quickly add that the fact that I have a jewelry business complicates my desire to be intentional with my posting. Social media platforms are a wonderful way to share my designs with the world and I am so, so grateful for that opportunity. However, I do feel strongly that we, as social media consumers, need some healthy boundaries where social media is concerned and I want to honor those myself when posting as a designer as well. So many people are making LOTS of money convincing people to buy things on these platforms. More often than not, this is the result of people with great tips and ideas sharing those with their faithful readers and friends. And I love that! I've learned about fabulous products and services and free downloads from some of my favorite Instagrammers, bloggers and Pinterest-posting friends and they are, more often than not, the first place I look when I need a recommendation for something! I have dear friends who are bloggers and I value the opinions they share greatly and love the items they post about. I've found some of my favorite shoes, beauty products and clothing that way and it is awesome! After all, who better to get recommendations from than your friends? However, with some others, the basis of their promotions can be contributing to the discontent we all feel at times by seeing such beautiful photos of picture perfect lives being led by the people who own XYZ (insert product for purchase here.) That's the game of advertising and always has been, but the lines have been blurred since social media was invented and blogging became an incredibly high paying career in and of itself for a few people on the platforms. That's partially why the Federal Trade Commission has stepped in and created guidelines requiring bloggers to more clearly disclose when they are being paid to promote something, but that's another discussion for another day.
So, for me, I chose to celebrate within our own little family and with my close friends with whom we are walking through life. And truthfully, with the insane busyness of life with three boys aged seven years and under, I didn't have all that much time to think or worry about it. School, carpools, homework, making lunches, sports schedules and life in general consumes most of my days and that's before my jewelry business kicks in! Add in the sheer exhaustion and constant throwing up of my pregnancy days, and I feel like I have been dropping balls right and left for months now. And I'm slowly learning to be more okay with that.
Fast forward a little bit and more and even more friends were surprised when my belly finally REALLY popped out recently or when they heard from other friends – and then I felt sort of bad, even though all of them were totally understanding! And I realized that I have friends far and wide from so many different times and areas of life and social media is just a really efficient way to tell people what is going on in your life. And people want to know and celebrate with you. So, here we are.
We're having a baby…and soon! Our precious 4th baby is due in just over a month now. Before you ask, we've chosen to be surprised on gender and it has been so much fun! Since we had our first three babies in three years, this is my first pregnancy when my older kids are really understanding what is happening and that has been really fun and sweet to watch as well. We are so grateful for the crazy journey of parenthood and can't wait to share more about our new addition with you. So, why am I sharing now? In part it is because I have some other related big news to share very soon, but I'm going to save that for another post. This one is already way too long and If you've stuck with me this far, thank you for that.
Have a thought about all that I've shared here? Share it with me in the comments below. I would love to hear from you!