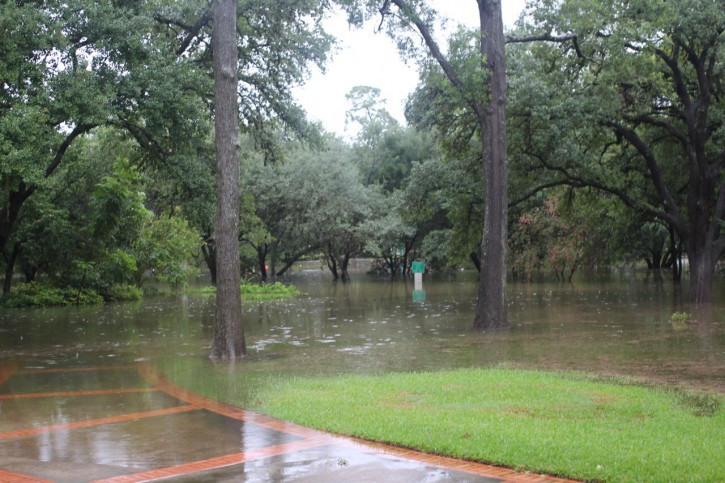 As I sit here typing this, I am listening to the rain fall. I used to love snuggling up during a good ol' Texas thunderstorm and I loved sleeping in one even more. It was actually something I missed during the time we lived in San Francisco. Strangely, it doesn't really storm there. I only saw lightning and heard thunder two times in the five years that we lived there and it always struck me as rather odd. I actually missed it during our time there, as crazy as that feels to type now, in the midst of Harvey. It has been raining for four days now and has been raining without stopping for even a second for at least 24 hours straight. I'd love to tell you exactly how many hours, but I can't, because I'm not even sure what day it is. Somehow, they are all meshing together in my head and I have lost all sense of time. It's a strange feeling and I'm beginning to realize that cabin fever is a very real phenomenon. When you're stranded on a makeshift island surrounded by water and unable to escape except by boat or helicopter for days on end, it really does alter your mind a bit. And we are among the more fortunate in this storm, of that I am very well aware.
The photo above was the view from our front porch yesterday. The floodwaters have filled the park across the street, with its hills and valleys that create a bit of a bowl that is 15-20 feet or so down. The street, which is probably 4-5 feet below our house is also flooded and impassable. You can see by the street sign shown how high it is. It is flooded in both directions as far as the eye can see. The nearest cross street is also underwater. And the water is in our yard and slowly moving up the driveway (which has a pretty steep hill to it) and closer to our home. My son's baby swing in the front yard is halfway under water, so I'm guessing there's about 2-3 feet of water in our yard. A family of ducks just swam by me the now lake that covers our front yard.
For four days now, I've been absorbing and processing. Absorbing information, photos, videos and the very personal stories of people close to me who are in dire distress. It's an awful lot to take in. I've had so many thoughts I wanted to share, but neither the energy or the time to do so. It has taken all I have to keep life within these walls of our house as normal as humanly possible for my children. At the beginning of this ordeal, when Harvey was forming in the Gulf, I was checking the weather nonstop. It may have been a throwback to my energy trading days, when tracking hurricanes and their effects on production in the Gulf was a part of my job. Or it may have had something to do with the fact that though I have weathered Hurricane Alisha, Tropical Storm Allison, Hurricane Rita and Hurricane Ike, I have never weathered a hurricane as a mother. Now, with three boys who are dependent on us for survival, the game has changed dramatically. Regardless, I was glued to the weather. I quickly fell in love with Space City Weather, which offers information without the sensationalism. In the beginning, I didn't realize how crucial that would be to maintaining my sanity. I left the news channels on for a while, as they had tornado alerts and other important information, but I couldn't leave them on for long because of my children. When some desperate woman who had been rescued by boat started screaming about all the little children who were going to die in their homes and our three year old repeated those words and asked me why with a terrified expression, I turned the television off. Images and words on TV are powerful and my boys are so young that they cannot separate fact from drama. Please don't get me wrong, I think the news people in Houston have done and are doing an excellent job and I am grateful for their selfless coverage of this unprecedented disaster, but my own heart aches deeply at watching the images and hearing the stories, so I cannot imagine what the little minds in my house are thinking as they try and process it all.
By now, however, I rarely even look at the weather. I'm simply exhausted by it all. Severe weather alerts have gone off on my phone around every 5-15 minutes 24 hours a day for the past 4 days. Flash flood warning, tornado warning, tropical storm warning, tropical cyclone warning. I get it. We're all in great danger here. I just can't even process them anymore. When the tornado sirens went off, we hunkered down in an interior hallway or in our basement. It's a confusing thing when the authorities tell you to get upstairs because of flash flooding, but also to get to the lowest level because of a tornado. And when your kids are finally sleeping peacefully, do you wake them up to move from one to the other when the sirens go off? It's a tough call, especially when you're tired. When we were taking cover, my children were crying in fear. And I read one of my very favorite books to them, The Jesus Storybook Bible. I cannot recommend it highly enough. It's a refreshing read of the stories we know and love that brings fresh tears to my eyes almost every time I read it to my children. It's a powerful translation, even for adults. We read the story of Jesus calming the storm and talked about how we do not need to fear, because even in difficult times like these, God is still in control. Once it was over, my kids were "playing tornado" and hiding under the dining room table. I remember reading an article on child psychology about how this is how they process trauma in a healthy way, by acting it out again and again, so I let them do it and even joined in some. It was a bit of humbling experience.
We are just fine. We are safe and dry and our house has not taken in water other than some roof and ceiling leaks. We have food and plenty of water. We have electricity and we are all together. Though we are stranded here, we are absolutely fine and beyond grateful. God is merciful and through all of this horror, the loss of life is so much smaller in number than one might expect. For that, we are grateful.
More to come as I continue to process and reflect. There is much to share and there is much to be done in relief and recovery efforts. But for now, I will focus on our family. Keeping us fed and the house and dishes relatively clean, coordinating efforts of help for friends via the internet and Facebook and connecting people as we are so thankful that we have electricity. Until we are able to leave our home, we will do what we can to help, we will support and minister to one another in this time of crisis and we will pray. We will pray for the rain to stop, the storm to dissipate, the winds to die down and for peace for the people of our great city. And when we are able, we will act. We will join others in relief efforts, band together as a community and get our community put back together. We will be stronger and our perspective will be very different. May all of this experience change us for the better, starting with me.