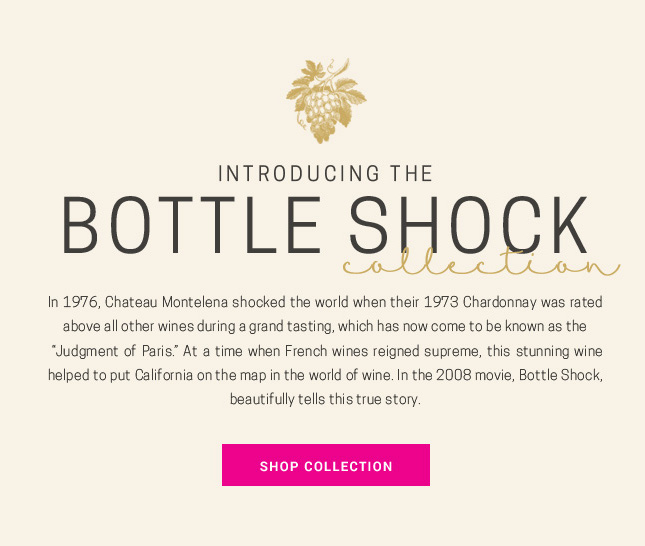 In 1976, Chateau Montelena shocked the world when their 1973 Chardonnay was rated above all other wines during a grand tasting, which has now come to be known as the "Judgment of Paris." At a time when French wines reigned supreme, this stunning win helped to put California on the map in the world of wine. In the 2008 movie, Bottle Shock, beautifully tells this true story and is a must-watch for anyone who enjoys wine.
If you get the chance to visit the California Wine Country, a visit to Chateau Montelena is well worth your time. The grounds are absolutely stunning (and if you're a wine club member, you can use their lovely Jade Lake for picnics!) and the wine is equally fine. Their Chardonnay is, of course, most famous, but all of their offerings are delicious, so don't miss the rest. If you're in San Francisco, but not able to make it North to taste, pop into the Westin St. Francis in Union Square, where Chateau Montelena maintains a small tasting room in the city within the hotel.
Inspired by the deep golden-yellow color of a glass of crisp Chardonnay, our Bottle Shock collection features rich golden tones that are both warm and mellow at the same time. Yellow and brown sapphires, rudilated quartz, gorgeous sunstone, sparkling silverite, champagne-colored mystic topaz and natural and white bone are all featured in this collection, which has a hip, but effortlessly chic vibe. Like a cool glass of white wine on a warm Indian Summer day, this collection brings good feelings with it as it illuminates your skin.
In the spirit of small companies with a big dream making a big splash in the world (and in Chateau Montelena's case, changing the course of history!) take a moment to check out our new collection and learn a little more about what makes Andrea Montgomery Designs different. We are small by design, choosing to craft our pieces out of quality materials right here in Texas.
So, grab a glass of wine, get comfy and click here to peruse our newest collection for Fall (that will transition beautifully into Spring as well!)