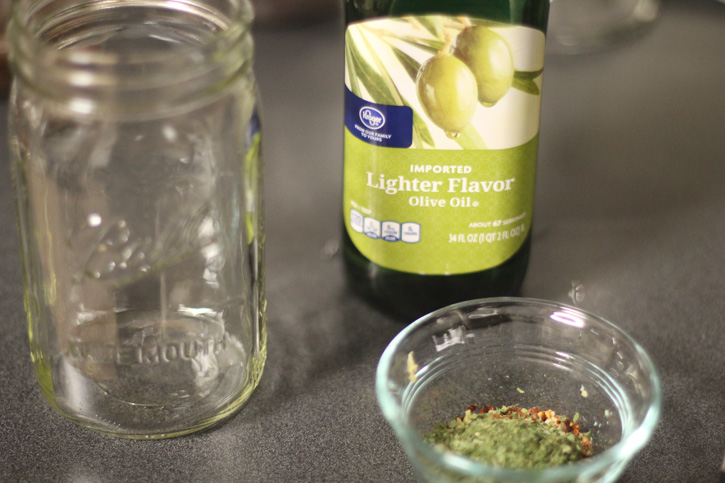 I've been designing jewelry for fifteen years now. I LOVE the thrill of designing something completely new, especially when it is something I can't wait to wear myself. Often, my designs come from a need in my own wardrobe, which makes them all the more satisfying when I finish hand making them and get to flaunt them!
Recently, however, I invented something completely different. (Let's just agree to use the term "invent" loosely, so as not to burst my bubble of excitement, okay?) My sweet hubs and I are on our second round of Whole30. (Between you and me, I like to call it my third round because our first go at it, we did 62 days in total – I really feel like that should count as two, but I digress, so…back to my genius.) A key component of a Whole30 is the homemade mayonnaise and I've discovered since making it that it is WAY better than any store-bought mayo I've ever tasted. In fact, I'm not even sure they should share a name, it is so much better. We use the mayo in burger bowls, mixed with lemon juice and fresh dill on top of salmon, mixed with chicken pieces, slivered almonds and grapes for a quick chicken salad protein fix or mixed with tuna, slivered almonds and chopped apple.  It's even good as a salad dressing when thinned out with lemon juice and spices of your choice. And, of course, its the base for the dressing (almost like a tzatziki sauce) for my very favorite dish – Deconstructed Gyros. Like I said, its a key ingredient for us.
My favorite recipe for said homemade mayonnaise is from Mel Joulwan on her blog Well Fed (please note this was formerly listed in my other posts as The Clothes Make The Girl, but I think she has changed her blog name because it now redirects to Well Fed.) The only bummer about making homemade mayo for a poor planner like me is that you need to let your eggs and your lemon juice come to room temperature before you can start (hello, waiting an hour) and that you have to pour the oil into the Vitamix VERY, VERY slowly. (Sidenote: I love my Vitamix. We have the professional series one, though the standard model is equally fabulous, and it was definitely an investment, but that little machine has MORE than paid off over the four years we have had it. It is my most often used tool in the kitchen and BY FAR my favorite part about it is its self-cleaning setting. That's a huge part of the reason that I use it so often. It's incredible. Okay, back to the amazing mayo you can make in it…)
But the great news for you, my friends, is that I have solved the second of these problems. With a little inventiveness and a splash of creativity, making homemade mayonnaise got WAY easier. I've done two rounds of Whole30 with a group of dear friends/amazing women, because it is just so much more fun that way. And all I have to say is that you would think I solved the world peace problem by the reaction my girls gave me on this invention (of course, that may be why we are such dear friends!)
All you need for my invention is. . . a styrofoam or plastic cup and an icepick or needle or the like. That is it!  It helps if your styrofoam cup is a super cute one like mine pictured below. I mean, how funny is that at preschool baseball practice? Anyway…
All you do is remove the center of the top of your Vitamix, poke a TINY hole (and I mean tiny) in the bottom of your disposable cup, set said cup on the top of the Vitamix and pour in the extra light olive oil that you're supposed to be patiently pouring at a snail's pace in order to make the perfect fluffy, emulsified homemade mayonnaise. Then, you turn your Vitamix on and voila it does all of the work for you as you sit back and take a short (and well-deserved) rest. I like to store mine in a quart-sized wide mouthed mason jar for easy access and I have lots of those on hand for my to-go salads! Per the recipe, the mayo should be good for about a week past the expiration date on the eggs you use in making it.
Go ahead. Give it a try and tell me if it isn't just life-changing!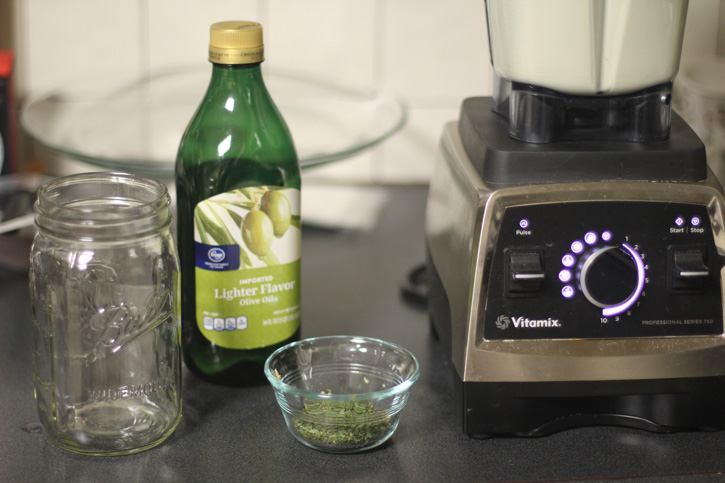 I love the lighter flavor olive oil (this one is from Kroger) since it doesn't give an olive-y taste to the mayo. (Note that the spices shown in the photo are for the Deconstructed Gyro dressing linked above.)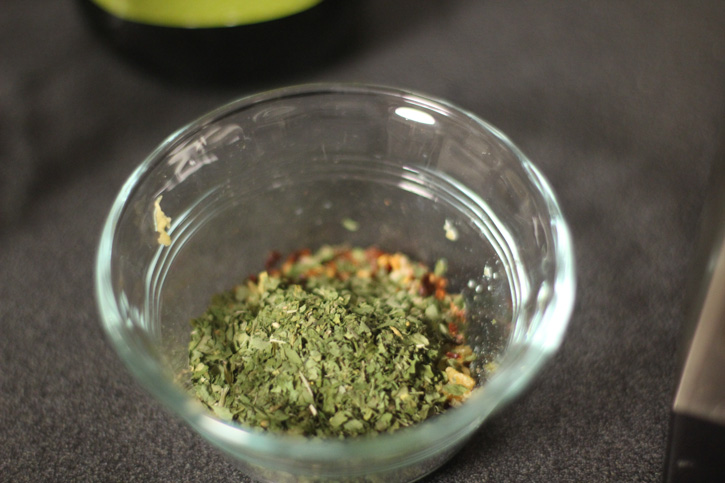 Mint, parsley, red pepper and za'tar = yum!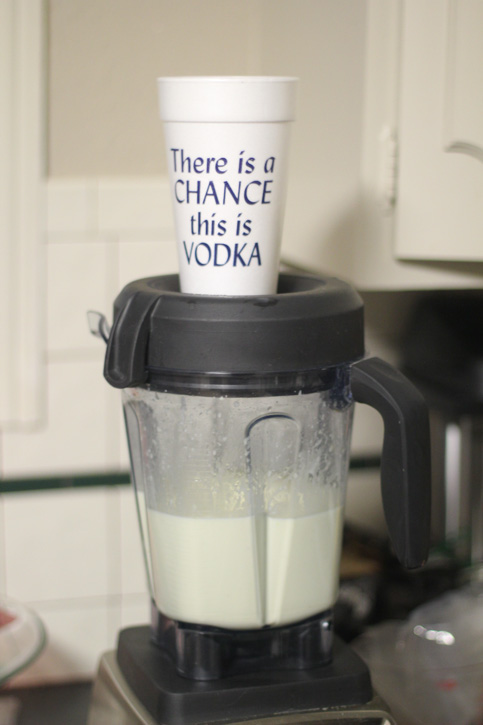 Here it is, folks! Best. Invention. Ever. (And crazy inexpensive!)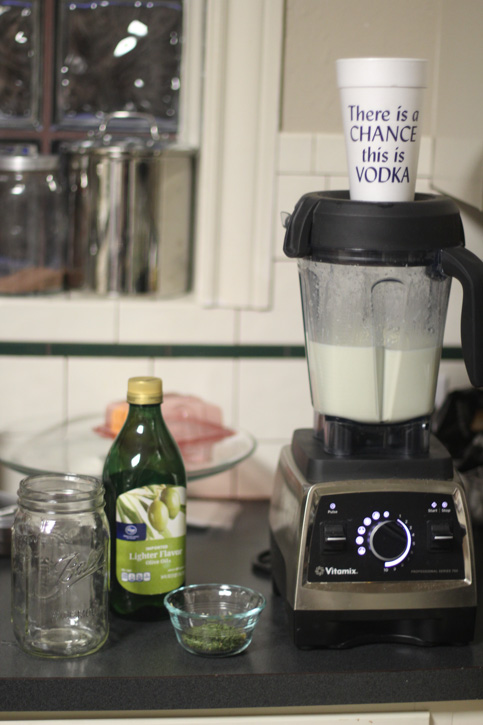 PS. How fun is my styrofoam cup? (And it's not really vodka.)