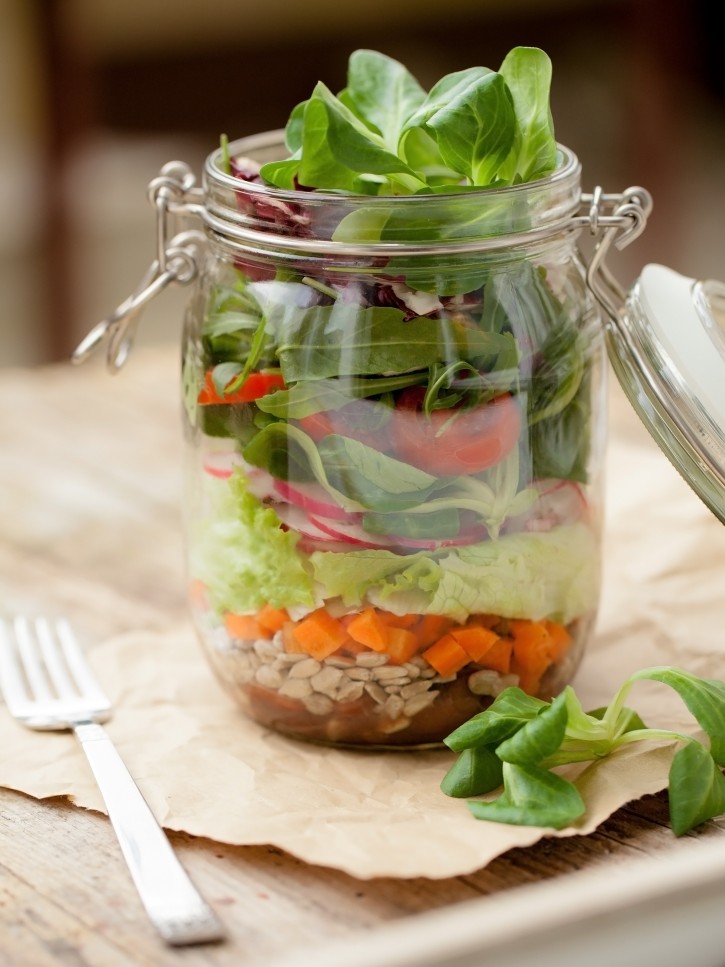 Whole30 is all about planning. I read this before I started and, quite frankly, I ignored it. I mean, I have enough to plan and organize already in my life and now they wanted me to add healthy food planning to that list? No, thank you. I'll just wing it. Boy, was that a mistake. . .
Planning is absolutely KEY to Whole30 success. For someone like me, who battles the overwhelm of life as it is, that can be a daunting truth, but it is still a truth. You absolutely cannot rely on willpower to get through this challenge. If you find yourself hungry with nothing to eat, the odds are stacked against you that you'll give in "just this once" to something that isn't a whole food and isn't compliant with Whole30. I started Whole30 behind because I decided to do it less than 48 hours before starting, so I had no time to prep food or look for recipes or even go shopping. (Thank goodness for dear friends doing it with me who helped immensely!) I also started behind because I refused to head the Whole30 advice NOT to binge in the days (weeks?) before starting it. Big mistake. My detox was WAY worse because of my stubbornness on that one. This week, however, for the first time I looked around my kitchen, ravenous, and found that I had no compliant food options for a quick meal or snack. I was out of protein, eggs, apples, bananas, almonds and compliant Lara bars. Ugh. Short of gnawing on some raw spinach, I was out of luck. (In my defense, I had a big jewelry show this week and hadn't had time to go to the grocery store!) Regardless, that was the point where I realized how crucial planning is. Though it seems like it will take more time to stop and plan, what it actually does is simplify things, set you up for success, make the work you do put into this more efficient and most importantly, take away the importance of sheer willpower.
In an effort to help you out on your Whole30 journey or just on your journey towards eating healthier, whole foods, I want to share some of my best tips and tricks. And I definitely want to hear yours in the comments below! And I must start by saying that I have some amazing friends who have helped me by sharing their tips and tricks which have made my life way easier, so please know that many of these came from my friend network. Aren't friends the best? It truly does take a village.
Plan your menus for the week. This one isn't an absolute must, but I do think that it saves you money at the grocery store. I have thrown away far too much spoiled food that I didn't get around to cooking because I overbought at the store simply because I didn't go into it with a plan. I've also forgotten just how much time cooking a particular dish takes and realized at 6pm that if I start dinner now, I won't be done until 9pm. All of that would have been avoided with some menu planning. I've actually grown quite fond of the ritual of sitting down with my iPad, a notepad and some beautiful cookbooks and going through to decide what we'll eat for the week. I don't always stick to the exact sequence, but at least I know I'll be making 4 dinners this week (and which ones) and using the leftovers for our other 3 and some lunches. Thankfully, there are lots of cool tech tools to help you with this process. As you know, I love Paprika for recipe organizing. They've got a portion of the app for menu planning – you just pick the recipe and add it to the calendar and then select breakfast, lunch or dinner. Easy peasy and right in with your recipes. I've also heard great things about PepperPlate, Plan to Eat and Emeals (one that I've been wanting to try, but haven't yet made time to do!) Of course, the good ol' fashioned pen and paper work great, too!
Get your lunches out of the way. When I convinced Hubs to do this with me, I decided to send lunch with him each day, since his options for buying healthy lunches are pretty much non-existant. Since I already have to make snacks and lunches for the kids at school, making his lunch in addition sort of made me want to cry. On the upside, however, he isn't at all picky about food – especially when someone else is making it for him! So, I've discovered a great life hack for this one. On Pinterest, I had seen the mason jar salads and a few years ago, one of my cousins in South Carolina had touted its praises to me. So, I decided to give it a try and man, is it easy and helpful! First, I bought several large wide mouth Mason jars. (I originally bought 3 or 4, but later went back for another 4 more – they are just so handy!) Then, I purchased a few of these dressing holders that are made for them. I love these from BNTO. At $9, these are a little bit pricey, but I find them to be worth it and I only really need 2 or 3. On Sundays, I make 5 salads for hubs – I put protein on the bottom, then layer in the greens – spinach, kale, arugula, etc. and then on top of that I add some healthy nuts (usually slivered almonds, sunflower seeds, walnuts or pumpkin seeds) and on top of that, I add some dried fruit for a chewy texture and just a hint of sweet or tang. For this, I usually use raisins or dried cranberries (sweetened with apple juice, rather than sugar.) It's quick and easy to make a variety of salads for his week. I leave room at the top for dressing in the BNTO and I go ahead and add the BNTO and dressing to the first few for the week. Then, all I have to do on the remaining days is wash his BNTO and pop it in the top of the rest of the week's jars. For dressings, I usually use a Meyer lemon infused olive oil or a Fig balsamic vinegar or the like. Each day, Hubs grabs a jar and a fork and he's out the door. At lunch, he just pours the dressing on, shakes the jar and eats right out of it. So. Easy.
Cook your protein for the week. Batch cooking has turned out to be my best friend. On Sundays, I like to cook up 8-12 chicken breasts for the week. I use at least 5 in Hubs' lunch salads for the week and that gives us several more to eat on for remaining meals, including a few dinners and my salad lunches. If they're pre-cooked, I'm much more likely to chop one up and make a quick salad with it for my lunch. Another fun tip from a friend of mine is to cook and then freeze the chicken breasts, wrapped individually. That way, you can keep them for longer and just pull some out of the freezer the morning of the day you want to use them. My favorite way to do the chicken is to buy bone-in, skin-on split chicken breasts, because I think they retain moisture better in cooking. I coat them in oil (usually avocado or grapeseed) and then sprinkle with salt, pepper and Herbs de Provence. I toss them in the oven on 400 degrees until they cook to the right temperature (165 degrees or so) which usually takes about 30 minutes, depending on how much chicken you're cooking. I also like to hard boil eggs for the week, so I can grab a quick pop of protein in a pinch, especially on a busy morning when I'm trying to get the kids to school and Hubs out the door. They're also delicious in salads, of course! And finally, I like to cook at least one giant batch of a good meal on Sunday, which usually serves for at least three meals for the week for us. Right now, I'm loving beef stew, deconstructed gyros, lamb bolognese and chicken soup. Yum!
Roast your vegetables. I cannot believe I'm about to say this, but its true. I think perfect freshly roasted vegetables are as good as candy. Seriously. The roasting brings out the natural sweetness and flavor of veggies and I literally cannot resist sneaking a few (okay, a lot) when they come out of the oven. But, it's a treat that I can feel good about! These roasted veggies can serve as side dishes for dinners, toppings for salads or a mix-in for a delicious omelet! We love potatoes, carrots, parsnips, turnips, onions, bell peppers, sweet potatoes and best of all, Brussels sprouts. (Yes, seriously.) Roast a couple of large pans of them (because I think single-layer roasting is the key to a good roast) and you're set for a few days. If you really want to plan ahead, you can go ahead and chop your veggies now for the second roasting of the week as well. Because, the peeling and chopping is, by far, the most time-consuming part! You can also roast up a nice spaghetti squash and get that prepped as a side dish for later in the week as well.
I think that cooking up quite a bit on a Sunday afternoon or evening is a great way to start your week off easy. Monday is far less intimidating when your food is prepped for the first few days of the week. And batch cooking is so efficient! I find that mealtimes are far less stressful when I've taken the time to prepare for the week with a few hours of cooking on the weekend.
Stash some snacks. If your calendar has anything at all on it, you are sure to get stuck out somewhere without food. You'll be in carpool line or at the grocery store or in a meeting and realize that you're starving, you forgot to eat a meal (or a snack) and you are starving. For me, I feel nauseated and light-headed. It can be a cause for slight panic. Before Whole30, this is the point in my day where I would pop by a Starbucks and grab a sweet, hot beverage and a pastry to get me through. Goodbye healthy eating and hello sugar and carbs. With some super-easy planning, however, there is no need to hit up the big, green mermaid for a fix. I love to keep "cuties" (the little clementine oranges), a small ziplock bag with almonds and raisins mixed together and a pecan pie Lara bar (which is Whole30 compliant because it is just pecans and dates) in my car and purse. I also like to keep some of the individual packets of Justin's almond butter with me, so that I can always buy or bring an apple and have a healthy protein and fruit snack. I know that snacking isn't technically Whole30 compliant, but as a breastfeeding mama, I have to do what works to get me through.
These are a few of my favorite things! What are YOUR favorite tips and tricks to keep you eating healthy? Please tell us in the comments below!