Houston-based stylist Natalie Weakly knows trends.  In fact, she makes it her business to know them.  And even better, to help you know them – and how they best work for you.  You may remember her from our "Friend Friday" post about her.  Natalie loves clothes and jewelry (especially ours – she's got great taste, right?) but what she's passionate about is helping you find the clothes and jewelry that work for your look and lifestyle.  A self-proclaimed "color obsessed" gal, she has expert opinions on what colors look great – from your closet to your logo to your living room walls.
This morning, Natalie was on Great Day Houston to talk about Fall fashion trends and that includes jewelry. (Sidenote:  We LOVE Great Day Houston.  Deborah Duncan is adorable and her show always has such helpful tips.  It's not the first time we've been on it and we love it every time!) Since layering is such a hot trend right now, but also one that is soooooo much harder to accomplish than it seems, she chose that to talk about.  And our jewelry is perfect for layering!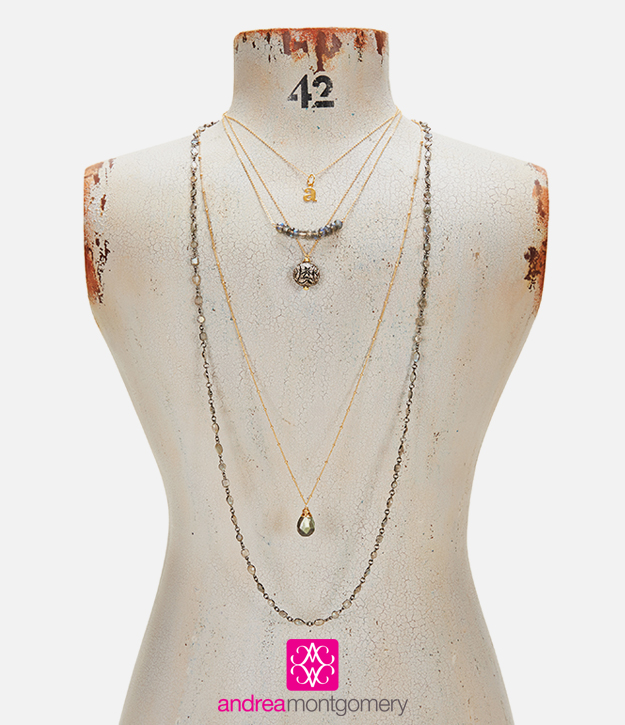 The layered look featured today on Great Day Houston (from top to bottom)
Letter Charm Necklace
Large Bar Necklace in Labradorite
Pave Diamond Scrollwork Necklace
Labradorite Large Gem Drop Beaded Necklace
Labradorite Bezel Necklace
One great feature about our jewelry that is really helpful in the quest for creating that layered look is that many of them are available with extension chains that allow you to make them longer or shorter, depending on what you're pairing them with.  While that chain costs a little more because of the extra materials and labor, most of our customers rave about the fact that it makes their pieces that much more versatile, so on a cost-per-wear basis, its totally worth it.  Another great thing about layering is that you can use one newly purchased piece to give new life to some old pieces that you're not wearing right now.  Toss them on together and voila – an entirely different look.  With delicate pieces that are specifically created for their mix-and-match appeal, layering our designs is a natural and effortless look.
Of course, while layering jewelry looks effortless, it actually takes a little bit of trial and error and it is by far one of the most often asked questions that we hear from our customers. We hear it all the time… "Help!  I can't figure out this layering thing!"  And we are definitely here to help.  Looking at a few pieces on our website and not sure how well they will work together? Drop us a line and ask – we're happy to assist – and to customize things for you.  Consider us your bespoke jeweler.
As a jewelry designer, I think they key is not to be afraid to play around with it.  Try things on.  Play with varying lengths and colors.  Find what works best for your skin and your desired look.  And then, go for it!
PS – If you missed the TV segment today, click here to watch it online!