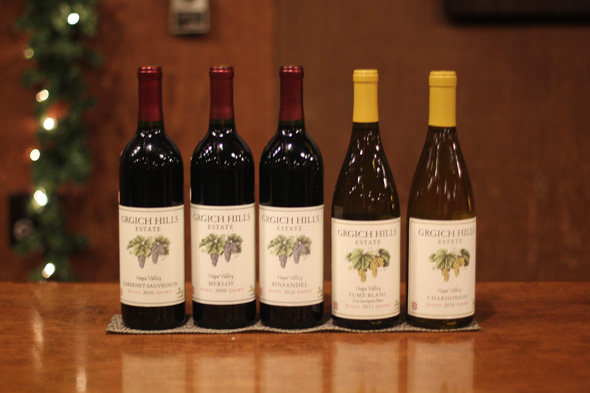 On our recent trip back to San Francisco, we made a little time for a day in the wine country.  (No surprise for those of you who know us well!)  We hit two vineyards that were new to us and the first one was Grgich Hills Estate Winery.
Mike Grgich (pronounced Gur-gitch) made history back in 1976 when his chardonnay was chosen in the now-famous "Paris Tasting."  Then, he was with Chateau Montelena (another fun winery to visit) and they literally put Napa on the map, causing people to start taking California wines seriously.  If you have no idea what I'm talking about, you should definitely read Judgement of Paris or watch the movie Bottle Shock, which I found highly entertaining.
I asked our server at the winery which character was Mike Grgich and he replied, "None of them."  Apparently, Mike felt as though only 10% of that movie was factually accurate and so he declined to have anything to do with the movie and they left out his character completely.
We really liked the wines at Grgich Hills and I would highly recommend a stop by this low-key, delicious winery if you're in the Napa area or trying their wines locally if you're not.  We particularly liked their Chardonnay, their Zinfandel and their 2010 Cabernet Sauvignon, which our server assured us would age really well.  If you join their wine club for the monthly shipments, they send recipes that are specially designed to go with the bottles of wine they send, which I think is really fun!
If you're traveling to the California wine country and planning to take some bottles home with you, I highly recommend a stop by Grgich to pick up one of their airline-friendly wine luggage pieces.  They run about $45 and hold a case of wine.  They comply with all airline standards and weigh less than 50 pounds when filled with a case of wine (no oversized luggage fees!)  The case rolls on wheels and has a carrying handle and also a metal push handle for wheeling.  We used this to bring home our purchases from this trip and it was less expensive than shipping the wine, which can also be tricky to Texas during the Summer months.  It was a great purchase and I highly recommend it!