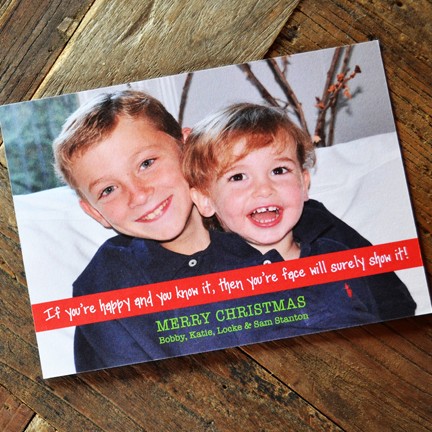 IT'S FALL Y'ALL!
That saying always cracks me up.  Perhaps because it's in part cheesy, perhaps a little cheeky.  I mean, can't you just hear it rolling off the tongues of every stereotypical, big hair, big drawl southern Texas lady? Or perhaps its just because it adds a little humor into a season that often proves stressful.  If you are anything like me, Fall is blindingly busy.  (I think we can now say that about every season.)  But Fall tends to accelerate at a pace that seems faster than any other…most likely due to the fact that you now see Halloween and Christmas catalogues arriving by mail in summer, and holiday lights going up in September.  Each season that arrives seems to focus on the next season.  It becomes increasingly important for us, and for our families, to try and slow down.
In my world, the paper world, Fall represents the upcoming holiday card season… a season for me that is dominated by creativity and creation.  I love it.  And I work hard to help my clients love it too. Because of this fast pace, holiday cards often bring on feelings of stress and the need to get it done.
Buy the perfect outfit. Get the perfect photo. Order the perfect card.  Update the mailing list. Stuff. Stamp. Mail. Check it off the list.  
All in the mad race to Christmas.  I get it.  I too am that mom rushing around to check off my list.  But when I look at it from the different perspective of designer, the creative process changes that stress for me.  My goal each year is to pay it forward so that my clients can reap the joy from creativity too, and therefore, have their stress levels drop just a little bit.
In regards to holiday cards and other paper goods for that matter, we are so lucky to be living in a world where creative expression dominates.  That wasn't the case just a decade ago.  The past ten years has changed the stationery and paper world so much.  Don't get me wrong.  Since the dawn of time, there has been beautiful paper and design.   But the process of creation used to be in the designers' hands only.  You would look through options, pick your card, add your name, and order. You can still do that now, but the creative process has shifted more directly into the hands of the client. Today, especially with the advent of the printed photo card, the sky is the limit on what you can do.  No two cards are the same.  Even if the design premise is the same, the photos and the wording make it unique and thus individual flavor and personality gets infused into every card.  With the advent of online stationers and the myriad of personalizable options out there, unique cards are more accessible.
ENTER THE CUSTOM CARD.
The word custom is over used these days.  Custom is often used in replacement of "personalized".  The two are different.  Personalized means you take a design that is already done, and add your personal text.  Custom means the design is created for you.
My studio, MOLASSES CANDY, focuses on the custom card. From the perspective of a designer, a custom card is the ultimate privilege.  It allows me to work closely with the client, to get inside their head and heart, know them a little more deeply, and be able to translate that onto paper.  The process is intimate and for me delightful.  There are several ways to approach a custom design.  It's all about you, so this is your chance to shine as a designer too.  Many people come to me with very specific ideas, and I welcome that! Others come to me with no idea what they want and let me run with it.  I love that too. Some people have a specific concept, and then take the photos to fit that concept. Others come to me with photo(s) already taken- either from a professional or just from their own camera. In this case, I love to let the photo(s) lead the way and dictate our direction.
Card designs vary with those that focus on one photo to others that use many.  But all cards tell a story. Since the photo(s) are the base of the card, they already portray the emotion that will be expressed.  It is my job to design your card to enhance these emotions.  If it is a casual, candid photo of children laughing and playing, then a whimsical, upbeat design will bring out the happy in the photo.  If it is a more formal portrait, then a more traditional look to the card would emote the right feeling.  Either way, you want the card to reflect who you are and what is current in your life.
One of the myths of custom work is that it has to be pricey.  Not true.  While custom work can demand higher, sometimes lofty prices, it is not always the case.  Yes, it will be a little more expensive, as the cost has to take into account the uniqueness, materials and design time.  And of course, the sky is the limit depending on the materials needed to make the card.  But generally speaking, custom work can be very affordable.  At Molasses Candy, I really try to keep my prices competitive.  In this busy world, I am very aware that my main competition is not necessarily other custom studios, but more so the online, personalized sites that cater to those needing to shop quickly, efficiently and affordably.  Even though these sites are not custom, they appeal to so many.  Take the busy mom, for example.  She only gets quiet time when the kids are at school or asleep.  It is important to her to be able to order her cards quickly and easily from home.  I totally get it.
My aim is to keep my process as simple and efficient as possible, and my prices competitive so to address the lifestyle needs of my clients.  I want everyone to have a chance at the custom experience and to reap the rewards of the artistic process and its final keepsake product.  And it's through the custom experience that I have the blessing of building real, long lasting relationships with my clients.  It is not unusual for a client to call my cell phone and say here is what I need, you know what to do, I trust you.  And let me run with it.  This is directly due to the fact that I know them.  I understand their personality and tastes and can create based on that knowledge.  It works every time.  This is the custom process.  This is what makes memories.  This is what makes me happy.  And ultimately, this is what I want for my clients.
For more information on Molasses Candy Paper Design Studio, go to www.molassescandy.com.  Our website is currently being rebuilt, but you can get my contact information on our home page and contact me directly from there.  I would love to create something for you!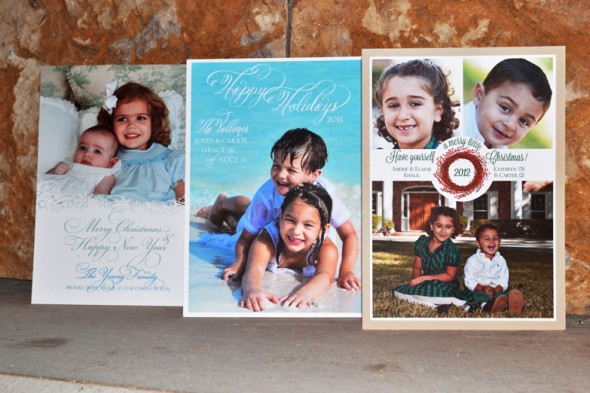 Different styles, different impacts, same fun results!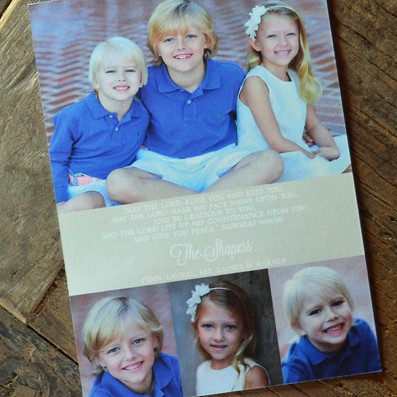 Can't choose one photo? Do a collage!
A holiday classic!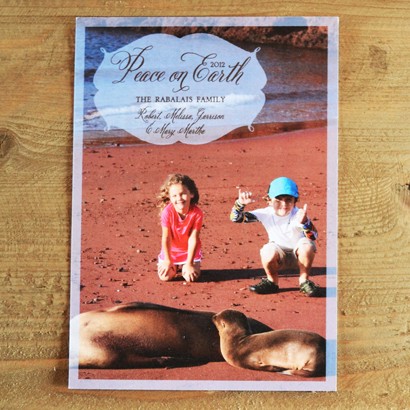 Holiday cards are a perfect way to show family vacations! In this case, the kids are on the beach in the Galapagos Islands. What an experience!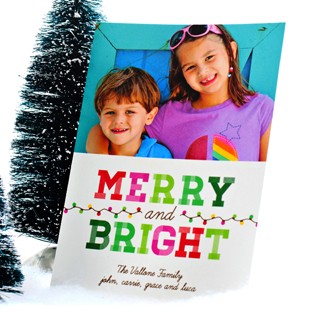 Just fun and festive!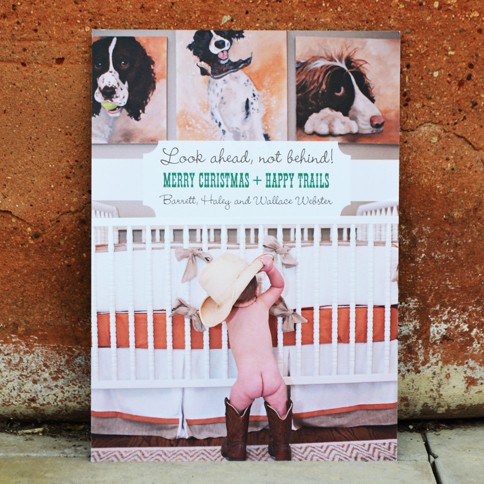 Here is a fun example of creativity…The photo definitely led the way for the design of the card. Who doesn't love baby bottoms!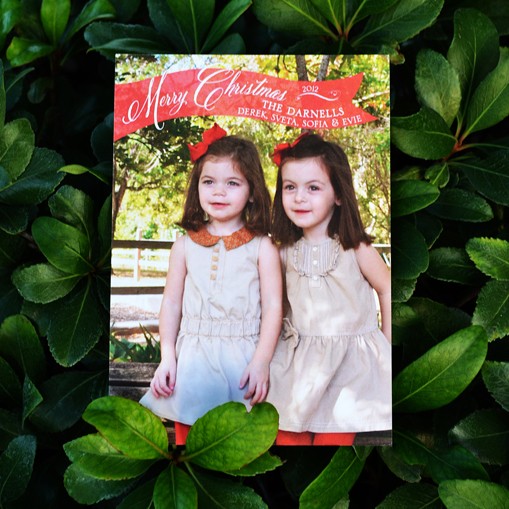 This card didn't need too much. The photo was the design. Precious twin girls. Enough said!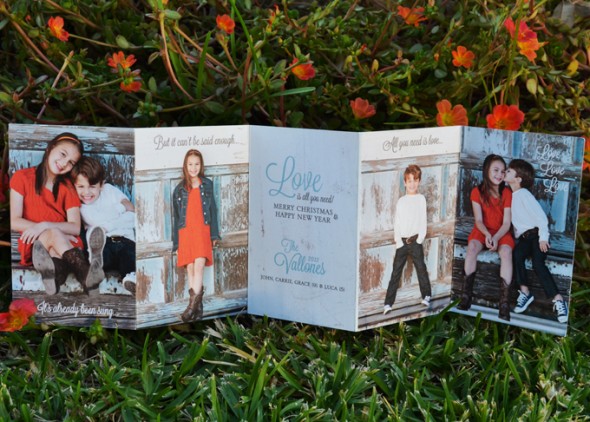 Accordian cards tell the ultimate story. Here is the front.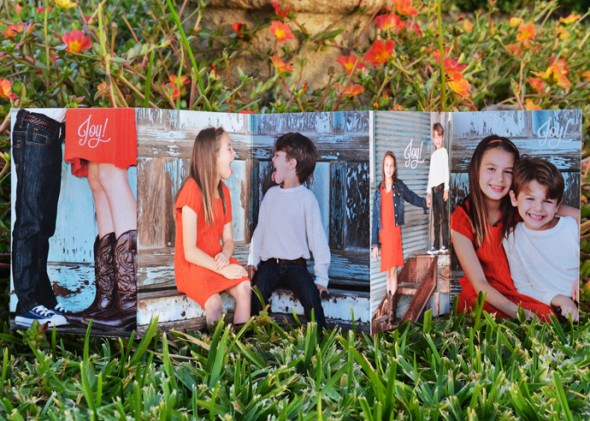 And here is the back.
---
From Andrea…
This guest blog post was written by my darling friend, Carrie Vallone of Molasses Candy Paper Design Studio.  She's pretty famous around Houston, mostly because her paper designs are unique, gorgeous and fun, but also because her husband's family can cook.  (Really, really well.)  She is adorable and sweet and a dear friend to all who know her.  And she's a fantastic Mom of two kids, Grace and Lucca.  San Francisco friends, you'll be thrilled to know that the spelling of her son's name was solidified on Chestnut Street at one of my very favorite delicatessens!  How fun is that?  I recently used Carrie to make some thank you notes for my son William after his third birthday party (fire truck theme!)  She created something completely custom for me that coordinated with the invitations that I had purchased elsewhere.  I mean, how cool is that?  She rocks and I couldn't recommend her more.  So, shop Carrie's website above or email her here.  She is certain to give you incredible service and one-on-one attention to make your holiday cards the best yet!