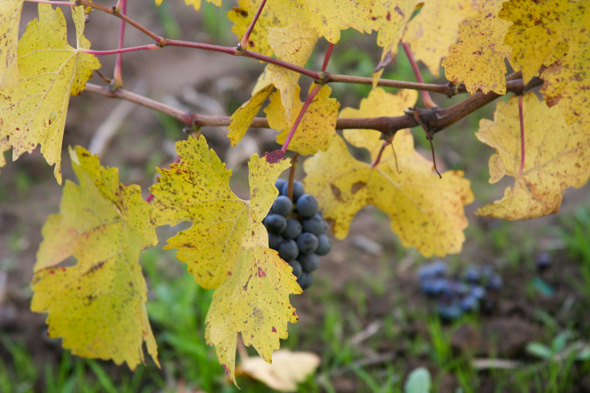 You know those friends that you bond intensely with over a major milestone in your life?  The ones that become fast, but also deep, friendships because you go through something together that absolutely bonds you for life?  For me, the friends that I met through our playgroup (organized by GGMG here in San Francisco) were just like that.  We bonded over having our first babies together and I think because most of us are raising them far away from family, that bond is intensified even more.  Amy is one of the moms from our playgroup and she and I were friends from day one.  Amy is the kind of friend that will literally bend over backward for you in your time of need.  She will stay up all night working on something for you, answer your phone calls at any time of night and generally has your back, no matter what you need.  She's a fantastic mom, an organized person…oh, and a sommelier. No big deal…right?  I asked Amy to impart her sommelier wisdom to those of us who like wine, but need a little direction from someone in the know – like her.
Not only did Amy come through with an informative and fun guest blog post, she is offering our readers a stunning deal!  From now through the end of September, you all can have a 20% discount on all of the wines mentioned in this article (including Auteur Sonoma Coast.)  What a deal!  There is a 6 bottle minimum and Amy will hand-select wines for you if you're unsure where to begin.  What a great way to try new wines and learn about new flavors!
About Amy & Wine Meats Cheese
Amy is Wine Meats Cheese's wine director, certified sommelier and a Northern Rhone wine lover. Amy became a certified sommelier with the Wine and Spirit Education Trust in 2011 (One of the top wine programs in the world). Amy is currently a Diploma Candidate with the WSET. The WSET Diploma is a top qualification in the wine and spirits industry and is a pre-requisite to the Master of Wine. The Diploma is an in-depth study of wine regions, the business of wine, winemaking and food pairings. There are only 304 Masters of Wine in the world and Amy hopes to someday be one of them.
Prior to her life in wine, Amy held various senior event management and marketing positions in Atlanta, Boston, and San Francisco including four years at Kronos, overseeing new customer acquisition programs, marketing strategy, and managing their domestic trade show and events team. Before that, Amy was with Salesforce.com as a Senior Event Marketing Manager managing all customer-focused events. Amy also worked at Harvard Business School where she managed a portfolio of Executive Education programs and events for top level executives and alumni.Amy holds a Bachelor's degree in Journalism from the University of Nebraska and a Master's degree in Communications from Northeastern University. Amy lives in San Francisco with her husband, Ryan (Burgundy lover) and 3 year old daughter, Lily (her second word was cork) and 1 year old daughter, Abby.
Wine Meats Cheese
Wine Meats Cheese specializes in California-produced, small production wines and beer. Our inventory spans the world, but our focus (and first love) is California. Our goal is to elevate the quality of wine and beer served at office happy hours, corporate functions and other events. Our connections in the wine and beer industry and pricing structure allow our clients access to unique wine and beer at below retail pricing. We offer the convenience of direct delivery to your office, event site, or caterer. We also offer custom food pairings, private wine tastings, and sommelier services for all your event needs.
Facebook: https://www.facebook.com/WineMeatsCheese
Twitter: @winemeatscheese
Web: www.winemeatscheese.com
To Purchase Wines: Mary@winemeatscheese.com
My Favorite Secret Regions of California
As a child, I did not keep secrets well. When I heard about something new and exciting, I could not wait to tell the world!  Well, it seems things have not changed. I cannot contain my excitement any longer for all the amazing small production wine areas in California that are not Napa and Sonoma.
Yes, Napa and Sonoma both make great wine. We all have our favorite producers and favorite varietals, but have you ever explored outside these two Goliath regions? Ever heard of Happy Canyon, Amador County, or Manchester Ridge? Come along with me as we take a trip off the beaten path of California's wine country and discover some amazing small production wines to serve at your next event or to drink on a Wednesday night!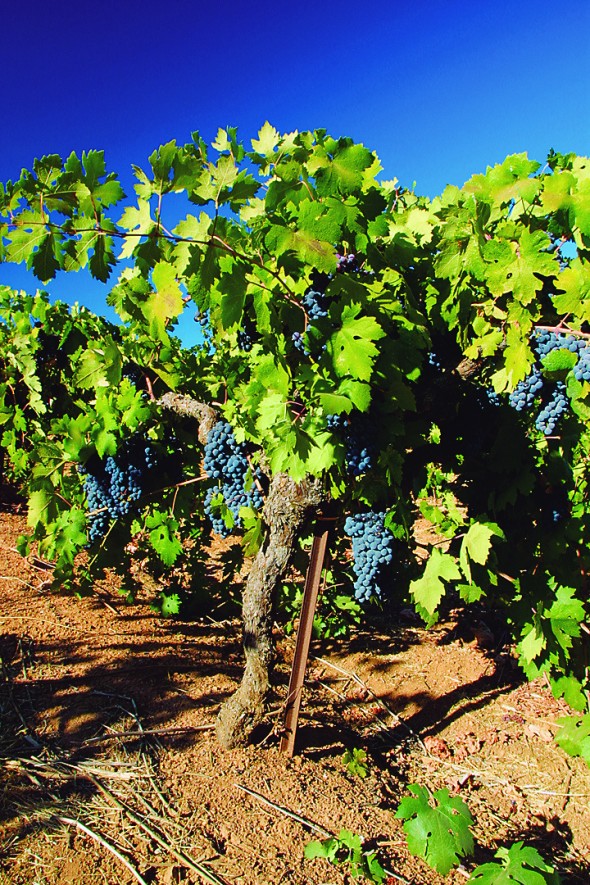 Amador County
Nestled in the Sierra Foothills, this is wine country lost in time. Nearly 600 acres of the area's vines are at least 60 years old. There are close to 40 wineries (most family-owned) focusing on lush old vine Zinfandel (their signature varietal), deeply concentrated Syrah, and lively Barbara and Sangiovese. My personal favorite right now from Amador County….
Tallulah Wines, Shake Ridge, Syrah, 2010 – $30
Mike Drash (winemaker) was destined for this winery. Tallulah winery was up for sale just as Mike was looking for a small place to make a big mark. Growing up in the South, Mike believed his faith would always show signs leading him to his true calling. This sign was the name, Tallulah. The name he gave his daughter years before. He was meant to own this winery. Shake Ridge is a superb vineyard own and farmed by Ann Kraemer. Mike purchases grapes from her to make his single vineyard designated wine.
Dark, complex and intriguing, the nose of this well-structured Syrah layers a rich core of juicy dark plum, mulberry and blueberry fruit with sweet-savory aromas of date molasses, bouillon, black peppercorns and humidor spice. The wine is plump on the palate, where its dark plum and berry fruit again rises toe-to-toe with its spice-box of savory goodies. The finish lingers nicely, and a drying mineral strain comes in at the end to round things into even better food-worthiness.
The first time I was shown a map of Manchester Ridge, I was blown away that they could actually make wine there.  It is referred to as the "Island in the Sky".  How cool is that?  Those white fluffy things on the sides are not fog, but clouds!  These vineyards are literally in the clouds at 2000 ft up!  It is part of the Mendocino Ridge and sits on a plateau above the Pacific Ocean!  This is the real deal.  There are only a handful of winemakers brave enough to take a chance on this cool climate "island."  Pinot Noir and Chardonnay are the only vineyards planted and the best (in my opinion) comes from Auteur.
Auteur, Manchester Ridge, Pinot Noir, 2011 – $50
Auteur currently produces my favorite Pinot Noir in all of California. The head winemaker and owner, Kenneth Juhasz (YOU-haaz) was the head winemaker at Donum, Stemmler, and Dunstan. Last year, he was named one of the most exciting winemakers of the year from Wine Spectator. He has claimed California's two highest-rated Wine Spectator Pinot Noir's ever and with all that pedigree under his belt, he might be one of the nicest, down-to-earth winemakers I have ever met.
I believe in this case, Kenneth says it best. Here are his notes on the Manchester Ridge… Provocative aromatics of wild picked blueberry, dark plum skin, iron, dark chocolate, raspberry, black tea, fresh cracked peppercorn. Full of tension and concentration with a weighty plush mouth feel full of rich vibrant fruit. Perched high on the first ridge from the Pacific at 2000 ft overlooking the sea, this vineyard is like no other.
P.S. Auteur also makes a Sonoma Coast Pinot Noir, 2011 ($38) that is one of the best expressions of Sonoma Coast I have tasted. Tremendous value for the price!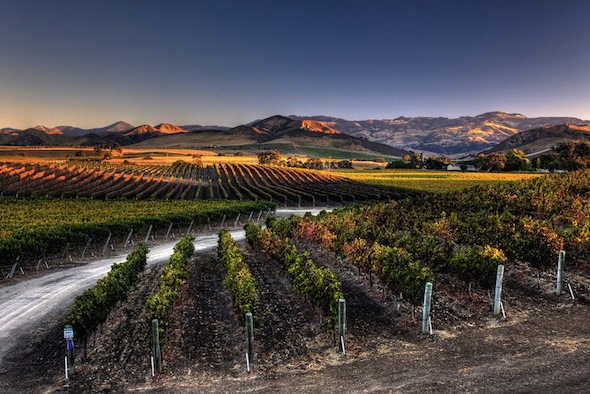 Happy Canyon
Disney might think they have the hold on the happiest place on earth, but I beg to differ.  My new happy place is Happy Canyon in the Santa Barbara AVA. It is located at the very east end of Santa Ynez Valley, on the Los Padres side of Highway 154.  It is different than other areas of Santa Barbara because of its hotter climate and mineral driven terrior.  Also interesting about Happy Canyon, is their desire to protect the rural nature of the area, so none of the 6 wineries in the Canyon offering public tastings.  Restaurants and select wine partners (hint, hint) get allocations. They focus on both Bordeaux and Rhone style wines. My selection…
Westerly, Cote Blonde, Happy Canyon, Syrah, 2010 ($46)
The "Cote Blonde" is a nod to the steep terraces of Côte Rotie with the same name and known for producing elegant and floral Syrah. The Westerly Côte Blonde is created by co-fermenting Happy Canyon hillside Syrah with beautifully aromatic Viognier. Vivid purple in color, ripe and delicious flavors of pomegranate, blackberries and black cherry. Supple in texture yet supported by firm, ripe tannins with a long persistent finish.
These are just a few of the smaller wine areas in California making tremendous wine. Feel free to contact us to pick up some bottles or get recommendations on others wines for your next event. I look forward to sharing with you more of these lesser known areas of California that are making outstanding wines, in my next blog post. Follow us on Twitter @winemeatscheese for our next WMC-California Get Away.  And, don't forget to utilize our 20% discount through the end of September!
Thank you!