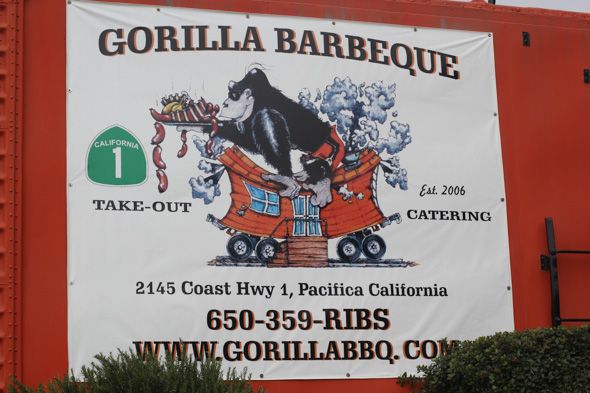 Being a Texas gal, BBQ is definitely something that I miss here in California.  There's nothing quite like sitting outside on the patio at Goode Company with old school country music playing, Shiner in hand, enjoying one of their chopped brisket sandwiches on jalapeño bread with extra sauce for dipping.  Seriously.  My mouth is watering just thinking about it.  Pure Texas.
So when my friend Dave Lomas told me that there is good BBQ within driving distance of SF, we had to check it out.  Down in Pacifica, there's a place called Gorilla BBQ.  It's basically located in an old trailer on the side of the highway and they sell their BBQ until they run out.  And then they close.  The first time we tried to go (around 4pm on a Saturday after the kids' naps,) they were sold out.  Bummer.  (Don't feel too badly for us – we made the most of it with a sunset picnic on the beach down in Pacifica.)
Today, however, we planned ahead and made it there in time to taste the goods!  Gorilla's BBQ is delicious…for California.  It doesn't compare to the Texas BBQ that I love (usually cooked by my Uncle or friends in a backyard – or eaten at Goode Co.) but maybe part of that is just that I'm used to Texas-style BBQ and it evokes memories of home.  Gorilla BBQ it is definitely tasty and worth every single minute of the drive down!