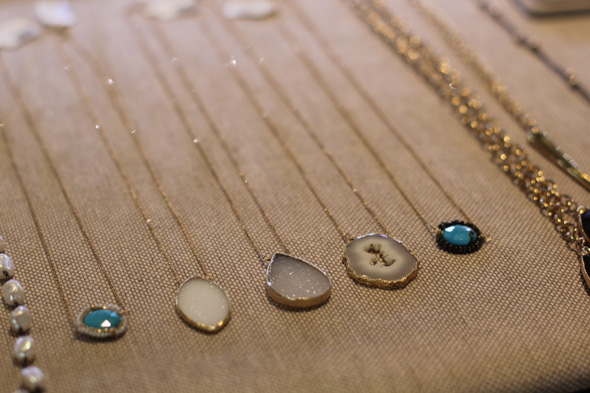 Carmel-by-the-Sea has got to be one of my favorite towns in the world.  It is stunningly gorgeous.  The rocky coastline, the turquoise ocean lapping upon white sandy shores and the wind-shaped cypress trees all come together to form an intoxicating cocktail of beauty that I find incredibly relaxing.  And the town itself is quaint and adorable, but also filled with delicious little finds.  There are lovely antique shops, gorgeous home decor stores, galleries filled with amazing art and, of course, fabulous eats. What there aren't a lot of is clothing boutiques.  I'm pretty sure that's because Sweet Pea has that market cornered.
Sweet Pea is that shop owner who makes you want to be friends with her.  She's darling and friendly and has the most incredible memory.  A few years ago, when I was pregnant with my first, I walked into her store for the first time.  She complimented me on the jewelry I was wearing and I casually mentioned that I made it. Five minutes later, I had the contents of my personal jewelry collection out of my travel jewelry pouch sprawled all across her counter and we were gabbing like old friends.  She was like a kid in a candy store picking things out and asking questions and I left her store after the whirlwind (and accidental!) jewelry showing with a large order to fill.  She has remembered me (and far more impressively, my kids!) ever since.  She always recognizes me immediately and makes me feel like I've walked into a friend's home each time I walk into her beautifully curated boutique.  I've overheard her telling a customer that she remembers the pair of black pants they purchased there years ago and has a fantastic top to put with it.  I mean, come on!  Service like that is rare and I think that, along with her impeccable eye for fashion, is what makes Sweet Pea the fashion maven of Carmel.
GBG, which stands for Girl Boy Girl, is her signature store which is located on the corner of Mission and 7th.  Paloosh is the slightly younger sister store of GBG and is located at Ocean and Dolores.  Both carry gorgeous, unique clothes and are definitely worth stopping by.  You're pretty much guaranteed not to be wearing the same thing as everyone else you know.  This isn't the place to come looking for a "steal" on sale, but it IS the place to come find an investment piece that looks amazing on you and will last for many years to come, all with the help of their knowledgable sales staff.
GBG now has some pieces from our latest Fall collection as well, so if you're in the area, be sure to pop in and take a look.  We're in the front jewelry counter, right in the center!  When you're in there, be sure and ask for Sweet Pea and don't forget to say hello to her adorable pugs, Murray and Penelope.  Photos below to show you just how cute this spot is!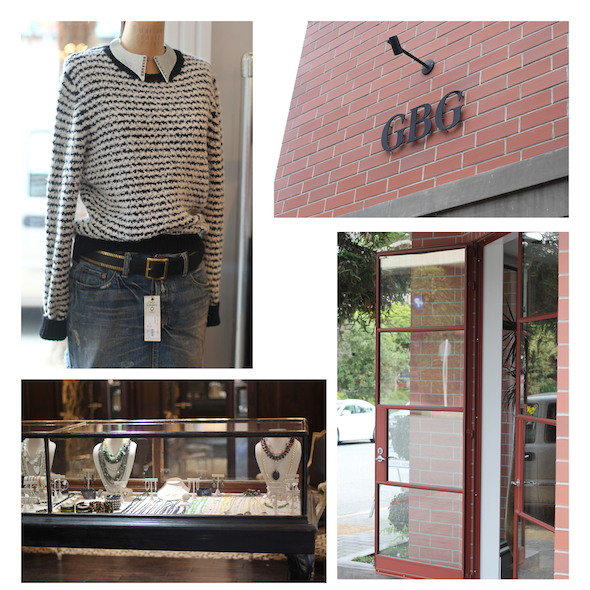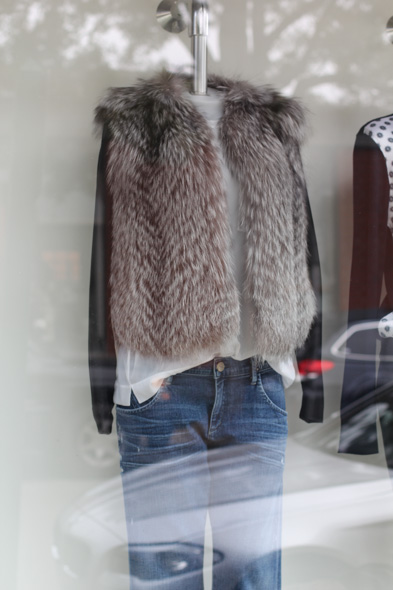 gorgeous fur vest in the front window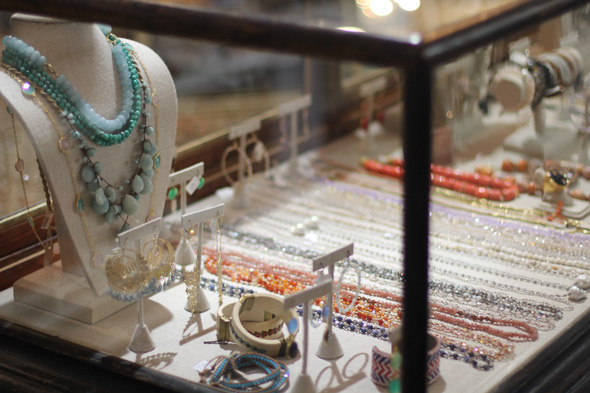 beautiful jewelry cases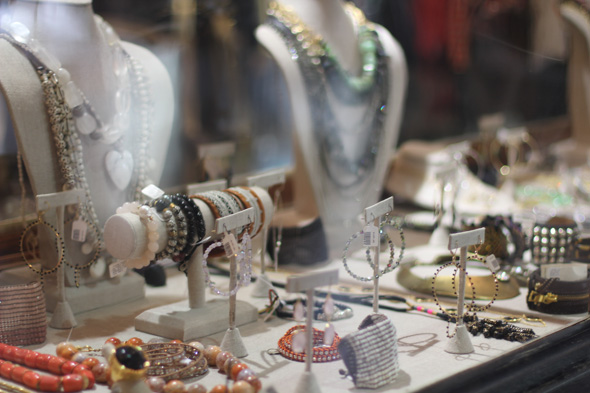 more sparklies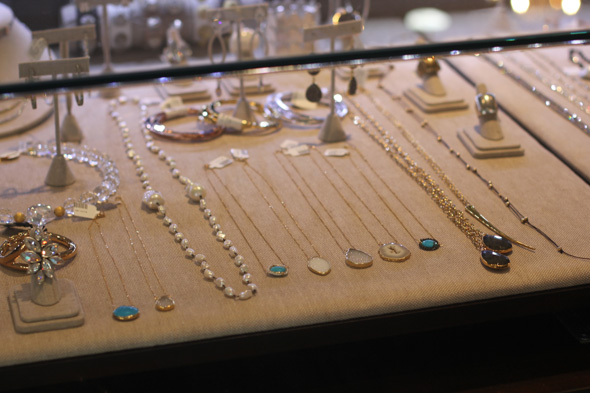 new necklaces from the Fall AMD collection!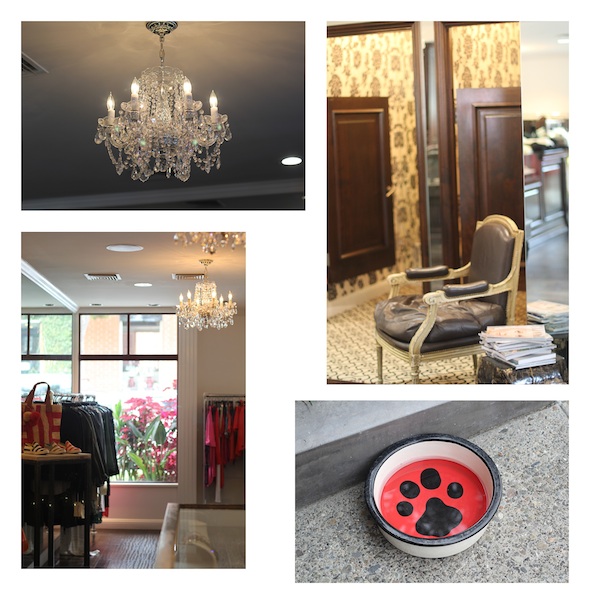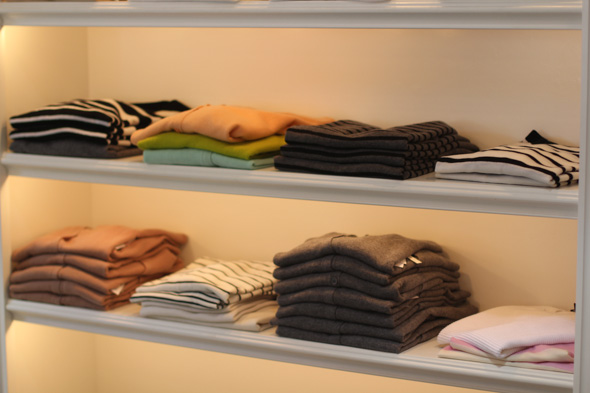 cozy sweaters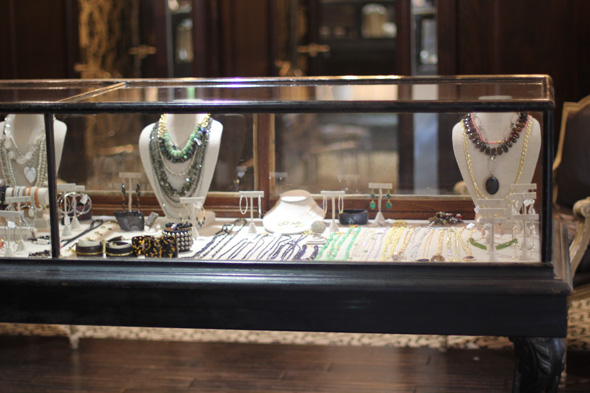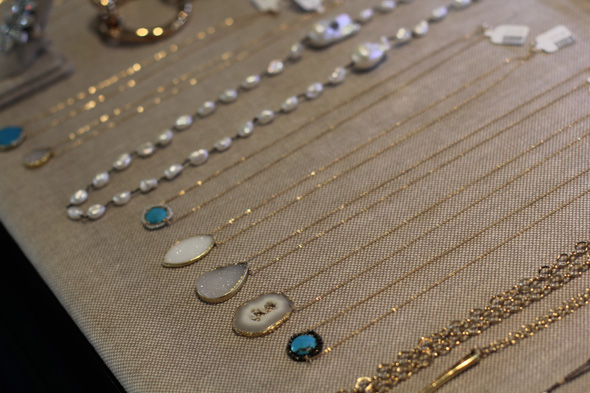 another look at the Andrea Montgomery Designs in their lovely case!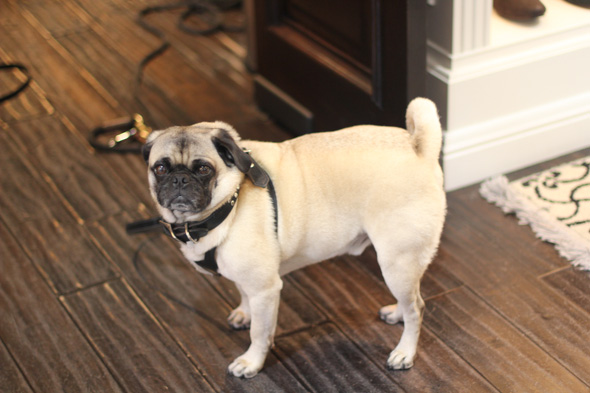 precious Murray – woof!