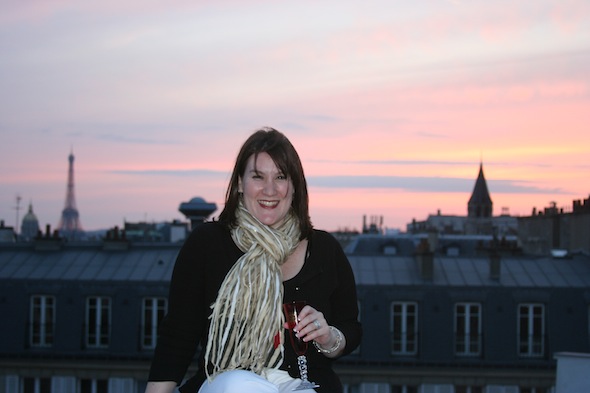 Here in San Francisco, I wear a scarf pretty much every day.  Even if I don't leave the house wearing one, I always throw one in my bag.  The weather can vary SO much here from hour to hour – and from neighborhood to neighborhood.  If you're going to be out for the day or are trekking around the city, you definitely need layers.  You never know what you'll encounter out there and since it is such a walking city,  you're bound to be out in the elements a lot.  I find a scarf really warms you up when you're chilly and is easy to take off if you get too hot.  Plus, it is easy to stuff in your purse, which can't be said for a coat!  I always take one with me when I travel as well.  They're fantastic for the plane, a random chilly restaurant or a blustery day.  Scarves are one of my very favorite accessories!
Not surprisingly, I've collected a lot of scarves over the years.  I had a decent collection going from when I lived in Manhattan, but San Francisco is chilly year-round, so the collection has definitely grown. Honestly, its a little ridiculous, but hey – at least I use them!  I have a couple of heavy scarves (from those New York winters) but I find the thinner scarves to be my favorites these days.  There are so many ways to tie them and they're so versatile.  They're easy to tie on the strap of my purse, so that I don't fill up the entire inside with it, and it adds a cute little accent!
The other day, I found a fab little video on 25 different ways to tie a scarf.  You can check it out here. There really are so many different ways and you're bound to see a lot of them on the streets of San Francisco.  (We're a pretty creative bunch.)  I tend to wear the "modern one loop", the "European loop" or slipknot and "the magic trick" from this video most of all.  For more ideas on scarves – beautiful ones, how to wear them, creative ways to tie them – check out my Pinterest board here.  For more info on what to pack and how to dress when you're visiting SF, check out my Packing for Fog City blog post.
Tell us in the comments below – what's YOUR favorite way to wear a scarf?