I met my talented friend Andrea in 2009 at a Membership Drive for a young professionals group called YTAC (Young Texans Against Cancer). The group raises money for local cancer charities focusing on research, support and education that don't have their own fundraising arm and Andrea encouraged me to join.  At the time, I had just launched my public relations company, Kenektid.  I became a member and went on to become the Social Chair on the Board of Directors. Andrea and I became fast friends and I am proud to have such a talented friend who is both an amazing businesswoman and supermom all in one!
In my position as Social Chair, I created a fantastic chef event for the organization called Kiss My Grits. I convinced the 10 hottest chefs in Houston to come to our event and compete in a grits "throwdown." The event was an instant success and has become one of the biggest annual fund-raising events for the organization. Through working on this event I became buddies with a bunch of the chefs and became an instant Houston foodie.
As you may have read, Houston has been on the fast-track to becoming one of the top cities for food in the country. We have such a diverse population here that it only makes sense that the food culture would reflect all the different flavors in our culture. As a foodie, it is an exciting time to live here as new restaurants, coffee shops and confectionaires seem to open up each week and each one is better than the next. Let me share some of my favorite hungry haunts with you!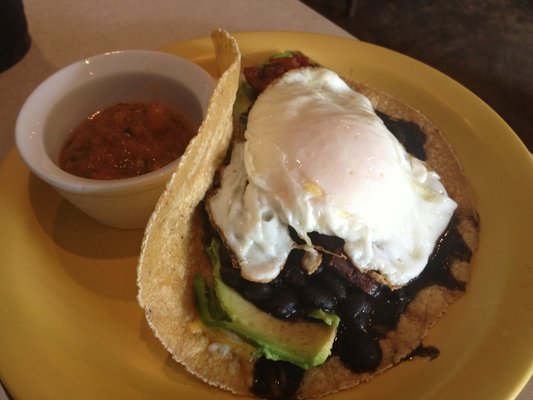 1. Boomtown Coffee – Salted Caramel Latte and a Fried Egg Breakfast Taco
Boomtown Coffee 242 W. 19th, Houston, TX 77008
Boomtown Coffee is exactly the kind of local business that you want to support. The owner, Matt Toomey, is easy-going, casual and a big believer in the locavore rallying call we have here in town "Support Local Grow Together" #SLGT.  Matt and his team roast all their own beans in-house and the small food menu they offer is local, fresh, farm-to-table fare. Several days out of the week the shop hosts a food truck outside the front door. The coffee at this joint is clearly the draw, but for me, Boomtown has the BEST breakfast taco in the city, bar none. It's anchored by a fried egg served on an over-sized corn tortilla with black beans, avocado and delicious house-made salsa. There are two things that make it so out of sight: one, an egg always cooked perfectly – crispy on the outside, but with a perfectly drippy yolk – and two, the INCREDIBLE hand-made corn tortillas that Boomtown buys from local artisan tortilla purveyor Julia Dominguez. They have a story all their own that you can read here http://houston.eater.com/archives/2013/05/24/kitchen-coops-tortillas-make-boomtowns-tacos-great.php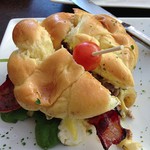 2.  Guru Burgers and Crepes – Turkey Burger
Guru Burger and Crepes 2268 Texas Dr, Sugar Land, TX 77479
Yes you read that right….a place that serves burgers, crepes and craft beer too! Guru is the little sister of Sugar Land's Asian fusion favorite Japaneiro's. Its menu is a super creative smattering of farm-to-table burgers that you can order as sliders, regulars or jumbos. They have Akushi beef, buffalo, chicken, turkey, salmon and even portabello mushroom burgers. All are served on house-made pretzel buns that have just a touch of sweetness to them. Top that off with four different choices for fries including traditional potato, sweet potato, beet, and jicama – don't forget the garlic aioli mayo for dipping. We are partial to the Turkey Burger that is served with spinach, goat cheese, bacon, carmelized onions and honey mustard. The best thing about this place is that it is super kid-friendly with all the sliders available and they offer apple slices instead of fries. I can't wait for their new concept that opens later this month, Jupiter Waffles and Pizza!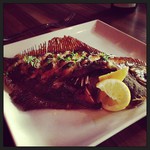 3.  Eleven XI – Apricot Flounder
Eleven XI Restaurant and Bar 607 W. Gray, Houston, TX 77019
I met chef Kevin Bryant back when I was doing one of the Kiss My Grits events. As chefs in Houston go, he is super easy on the eyes AND he used to be George Strait's personal chef for many years. So when I heard that Kevin was opening his own place with Joe Wellborn (of Kata Robata pedigree) I got super excited even before I tried their food. The menu boasts Southern Gulf Coast cuisine and it does not disappoint. Between the broiled oysters stuffed with salsa, mango and cheese to delish blue corn grits that are available as a side, Chef Bryant has created a menu that can almost be called "next level" comfort food to me. My favorite here is one of their signature seafood dishes, the Apricot Flounder. It is served as a whole fish with a melt in your mouth apricot glaze. When it is brought to your table you almost gasp and don't want to touch it because it looks so perfect. This spot is new, but will quickly become a Houston favorite I think. Chef Bryant has a major sweet tooth and won't let you out the door without a mini funnel cake or some of his homemade ice cream. He plans to expand the ice cream program this summer just in time for our big Texas heat.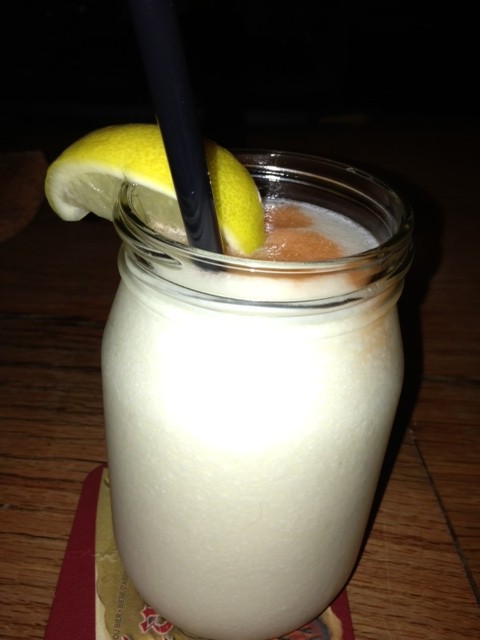 4.  D&T Drive Inn – The Summer Shandy
D&T Drive Inn 1307 Enid Street, Houston , TX 77009
As a single mom and super busy publicist, I don't have a lot of time to go have a drink with friends and just hang. Most of my nights out are client dinners or events. So when I do get to go out, I want to go somewhere super casual where you still feel like one of the cool kids without being at a hipster bar. That place for me these days is the new D&T Drive Inn, just on the outskirts of The Heights. It's owned by Chris Cusack of Downhouse. Get a load of what he has done here. He bought the original D&T that opened in 1959, kept the original façade, replaced the innards with gorgeous blonde wood. Add that to a wall full of craft beer taps, some picnic tables and big clear glass bulb lights strung across the back patio and you've got the makings of a neighborhood ice house where everybody knows your name. But, the hook here is not the aesthetic…it's the magical deliciousness that resides in the frozen drink machine behind the bar. They call it the "Summer Shandy." It's frozen lemonade and beer, served up in mini mason jars with a swig of bitters on top of it. For those of my generation, it is Volcano's Frozen Screwdriver 2.0. You cannot drink only one and both guys and gals can be seen sucking them down at a rapid clip. D&T will definitely be a frequent stop as the heat of Houston hits its stride this summer.
Hope you enjoyed a little tease of some of the tastes I enjoy in Houston!
Have a delicious summer!
SJ
For more about Sara and some of her clients, which include Shop Heights 19th Street, Winter Street and Spring Street Studios, White Linen Night in The Heights and Pistolero's Tequila & Taco Bar, please follow my company Kenektid Public Relations on Facebook , @kenektidpr on Instagram and @kenektid on Twitter.