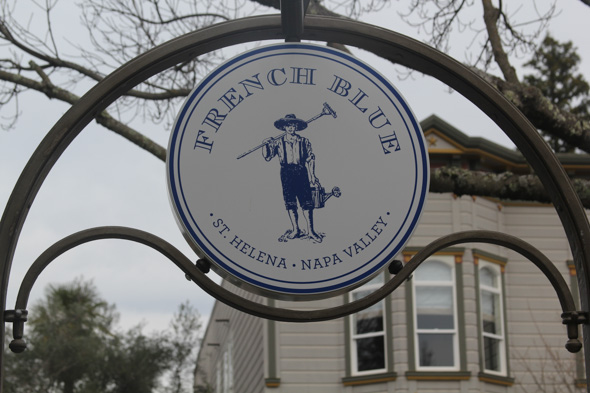 In the heart of St. Helena on the quaint little Main Street lies one of the cutest restaurants I've ever visited.  We discovered it nearly a year ago, just after it opened, and French Blue has quickly become a favorite spot of ours.  The ambiance is serene and inviting, the tables (and banquets!) are beyond comfortable, the space is cozy, complete with a fireplace, and the staff is incredibly friendly.  They are always so kind to us even as we traipse in with two kids aged two and under.  The maitre d' is the nicest man and always offers to take our kids for a few moments and show them the kitchen and walk them around the restaurant to give us "a quick twenty minute date" (in his words.)  I mean, are you kidding me?  What a treasure this man is! (And our kiddos love him…well, that and parading around the restaurant with patrons fawning all over them!)  When we walk in, several of the staff recognize us and come to say hello.  That is more a testament to how sweet they are than to how often we frequent the place.  We have taken several friends (and their little ones!) to the restaurant and every one of them has told us that it will now be a regular spot for them.  It's that good – and that cute.
We particularly love the "Something We Baked Today" which changes daily (often a yummy fruit scone) and the cheddar biscuit egg sandwich.  The almond maple granola with sheep's milk yogurt is also divine as are their french fries!  They use delicious local produce, cheeses, meats and fish and the results are spectacular.  Their cocktail menu is unique and fun and their lattes are fantastic as well, so don't forget to save room for those, too!  And they have a really cute little "marketplace" section with goodies for you to take home, which include their signature dishes, sweet ceramic coffee cups, adorable salt and pepper shakers and gorgeous cookbooks.  Oh, and their SUPER cute aprons!
If you're in San Francisco, it is well worth the hour and 15 minute drive up and if you're not, then I highly recommend you put it on your list of spots to visit on your next vacation to the wine country.  It is delightful!  Below are a few photos to tempt you…I mean, seriously – how cute is this place?!
So tell us, what are your favorite eating spots in the Northern California wine country that we need to try?