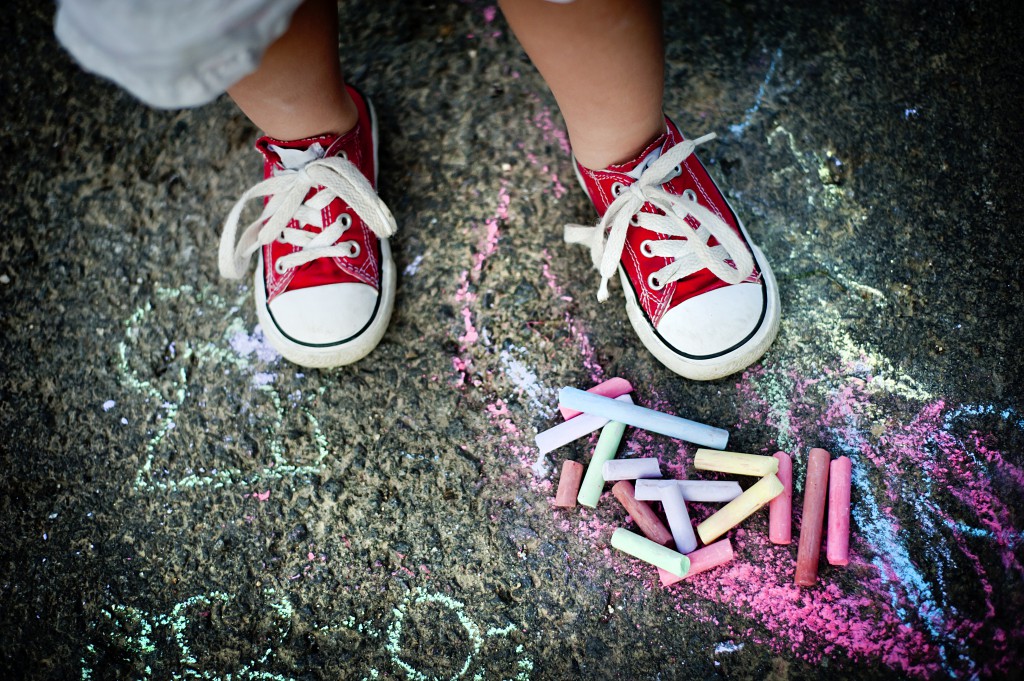 This year, our children's school has committed to being a part of +Works (pronounced Positive Thinking Works). I went to a meeting introducing it a few weeks ago and I was blown away. In fact, I'm still processing much of what was said. There are several schools that are joining in this movement and I couldn't be more excited that our school is among them. The women who started this initiative are two experienced moms (and friends) Sarah Fisher and Trish Morille. As I listened to Sarah speak, I realized how desperately our society needs this thinking. In tumultuous times like this, we need so much more of this and the very best place to start is with the current generation of children. As we learn alongside them and strive to model this type of life for them, our world cannot help but be changed for the better.
Today, our school sent out the following poem from +Works. It struck me to my core as I read it. Tears filled my eyes and my heart was deeply convicted by these words. I thought you might be as well, so I wanted to share them with you. We all need to read this. Multiple times.
Again, these words are not my own, but I did want to share them with you because they are so important. For more resources like this, which I have found very helpful in my parenting journey!) or for information on their movement, please visit their website here or follow them on Facebook or Twitter.
SEE ME
I am your child.
I am your student.
I am your husband.
I am your wife.
I am your brother, your sister.
Your mother, your father.
Your friend.
Your neighbor.
I am a human being doing my best.
And I need you to see me as I am.
I need you to SEE me as I AM.
I need you to allow me to be myself with you.
I want to tell you my truth.
Can you hear me?
I am screaming at you with my eyes wide and my mouth shut.
I need you to give me the gift that comes in a simple card that reads:
You are not me.
You are you.
And I love you.
As you are.
I need you to tell me this to my face:
I love you even when and especially when you don't agree with me because we have so much to learn from each other on this journey.
What is that so hard?
What are you afraid of?
Why do you tell me not to feel what I'm felling when I'm feeling it?
Why do you tell me to believe what you believe when I am still searching?
Why do you dream for me when I have my own dreams?
Why do you think you get to choose whom I will become?
Please know this.
Just because you are older or smarter or richer or poorer or ____er does not make you wiser.
I have seen wisdom spring from unexpected people and unexpected places.
Like youth.
And inexperience.
And silence.
Especially when that silence is imposed.
Please. It is awful not to feel loved.
Hear my voice.
See my face.
Feel my pain.
Set me free.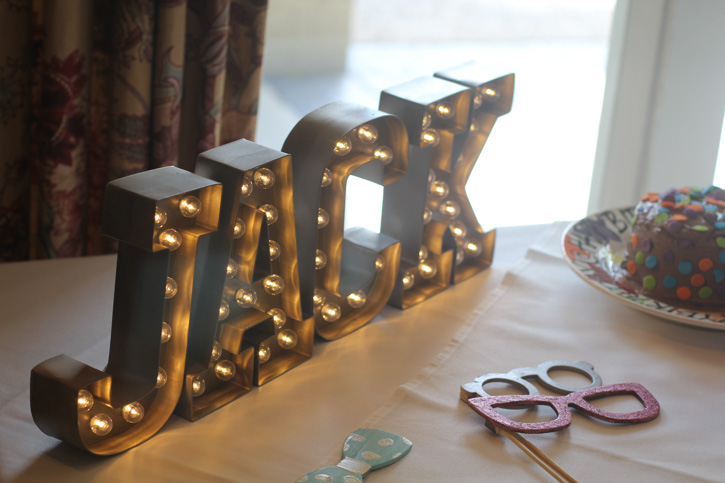 I've been designing and making jewelry for fifteen years now. There are both good and bad sides to being a creative. One of the good things is that a lack of ideas is never a problem. I literally have creative ideas all day long. When I sit down to design a collection, having enough ideas has yet to be an issue. One of the bad sides of being creative, however, is that a lack of ideas is never a problem. And that can be incredibly exhausting. It can also be frustrating when you don't have the time, energy or resources to pursue every idea. And therein lies the crucial challenge of running a creative business – being able to weed through the clutter to the very best.
My sweet little baby boy is one year old today. I'm having a really hard time believing it, since I'm fairly certain that I brought him home from the hospital as a newborn just yesterday, but alas, he's walking (along furniture) and talking (mama is still his favorite word, thankfully!) and even attempting to ride his big brothers' scooters (unsuccessfully, thank goodness!)
When a creative mama who adores her little one sits down to plan his first birthday party, craziness ensues. I had so many ideas that had a really hard time reigning it in. (See above note about creative problems.) We decided on a family birthday party for him since he's just one and we've got two "big boy" birthday parties coming up in the next few months. I've been doing quite a few jewelry shows lately, so I really needed to keep it simple. (Well, simple by my standards, anyway…)
I decided on a "mustache bash" for our little man's big celebration and it was really fun. We did a Sunday brunch (which is, by far, my favorite meal) and it was wonderful having a smaller celebration with family. And the birthday boy had an absolute ball, which was the best part. When we started singing to him, he grinned from ear to ear, and by the end of the event, he (and his seersucker birthday outfit) were completely covered in chocolate, so I consider that a huge success!
I wanted to share a few of the photos from the event with you, in case you're looking for ideas for an upcoming little boy's birthday party (or a cute baby shower theme.) I'm all about sharing the creativity! Have questions about any of the items you see below? Let us know in the comments. If you'd like to know more about any of the DIY decorations, let us know that, too. We love sharing ideas. And please share your birthday party ideas, too – you can never have too many in the queue for the future!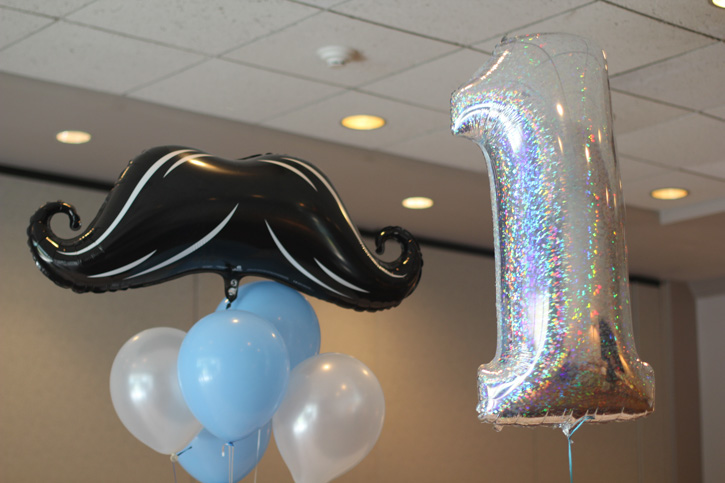 How adorable is this mustache balloon?  And the giant "one" is bigger than the birthday boy!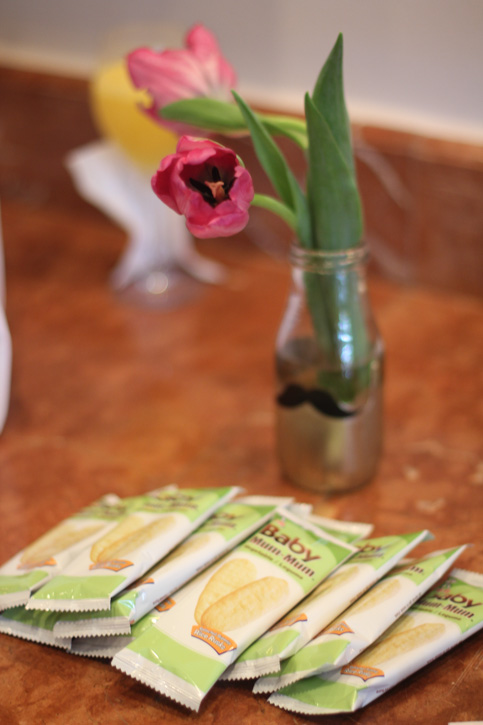 Baby Mum-Mums are a must at any one year old party! Our children have always loved them. They're an easy way to entertain babies who are too little to eat with you at a restaurant, but also don't want to feel left out – or to give to a baby as you're fixing dinner when they're unhappy with slow service!  I buy them on Amazon Prime in bulk here.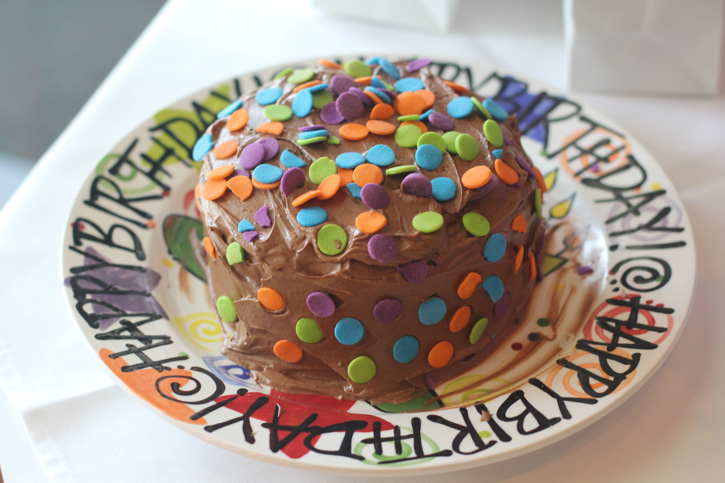 I love to bake (which may be because I enjoy the fruits of my labor!) so making a birthday cake is really fun for me. This is the "smash cake" that I made for our little man. I used the recipe from the Magnolia Bakery Cookbook, which is one of my absolute favorites and a must-own for anyone who loves to bake. I've been going to Magnolia Bakery in New York since the West Village was the only location and they're cupcakes are still my very favorites – not to mention how adorable the place is!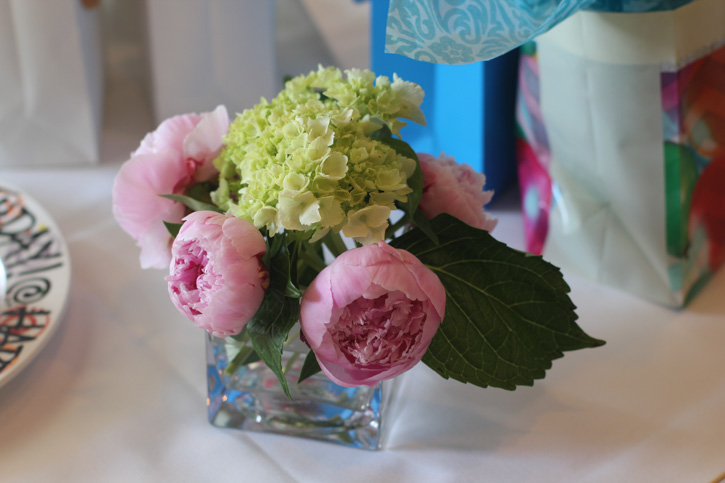 Pink peonies are my absolute favorite flower and I recently found some at the grocery store down the street – yay! I'm also a huge fan of hydrangea and think that the two together are really lovely. I made a similar arrangement for a jewelry show that I had last week and got lots of compliments on it.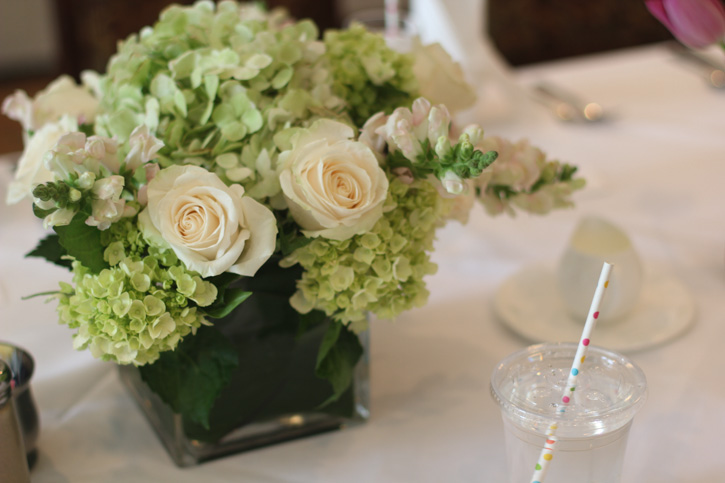 For the main centerpiece, I put hydrangeas and roses (always a classic combination) with snapdragons for a little pop!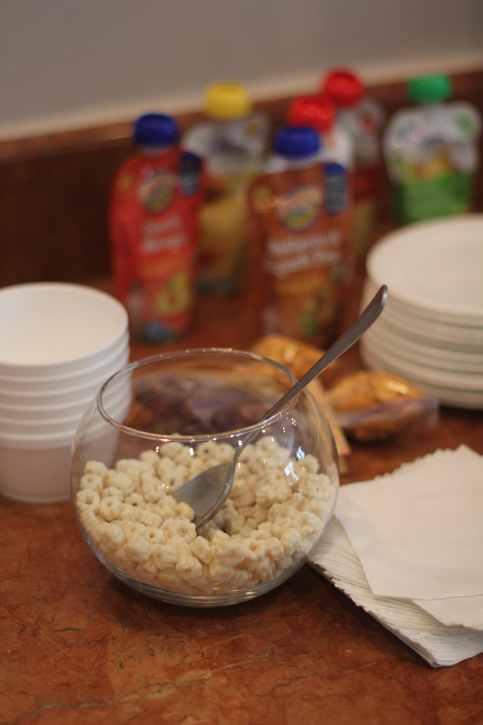 I'm a big fan of puffs for the same reasons as Mum-Mums – their high entertainment value. Plus, what they lack in nutritional value, they make up for in hand-eye coordination training, right? I like this brand, which I also order on Amazon Prime because they bring it right to my doorstep with no shipping charge – which is crazy helpful for this busy mama. (If you haven't yet tried Amazon Prime, they're offering a free 30-day trial of the service and I'm pretty sure you'll be hooked after that! Just click on the graphic at the bottom of this post to claim your trial.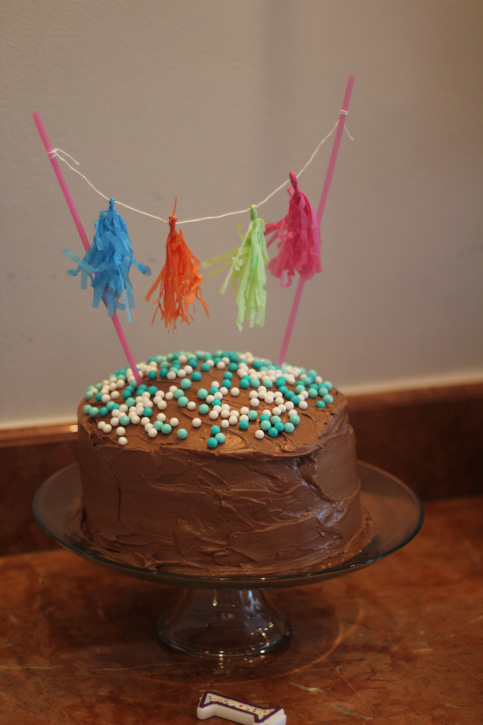 This is the "big cake" I baked.  (And it was SO yummy!)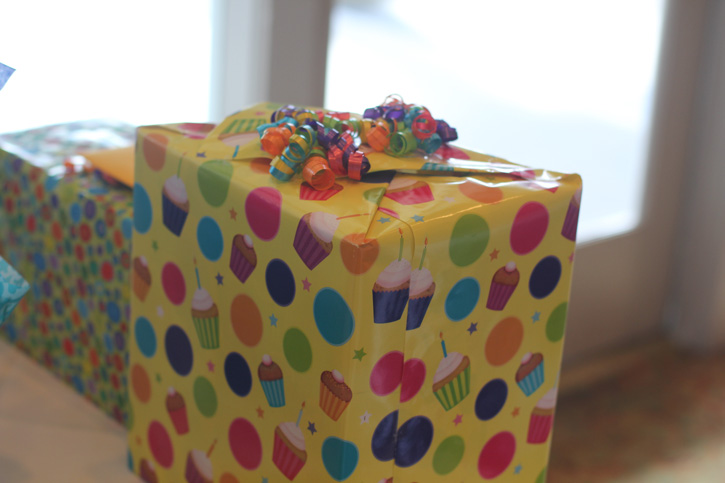 Yay for first birthday gifts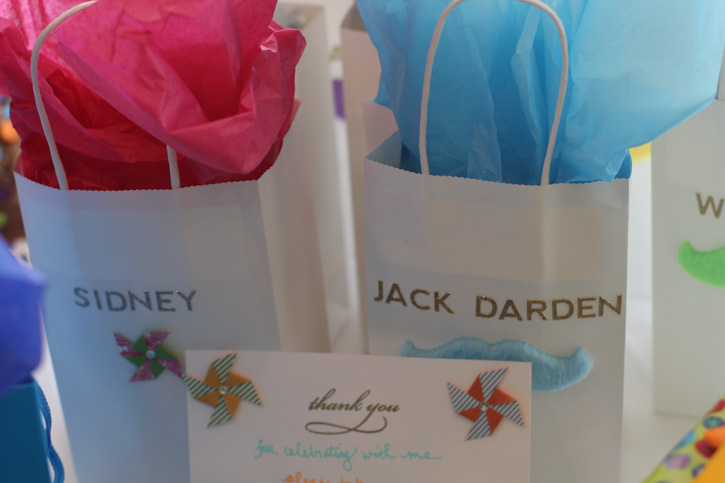 Party favors. (Note the cute furry mustache stickers on the boys' bags!)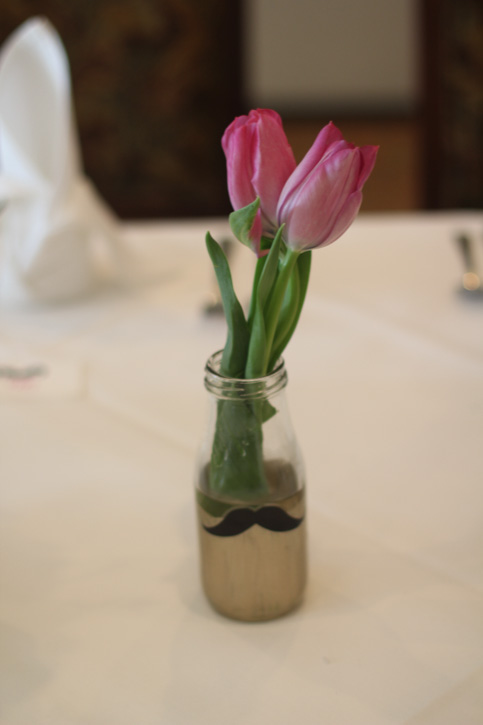 I made these mustache milk bottle vases for table decorations, which
doubled as adult party favors!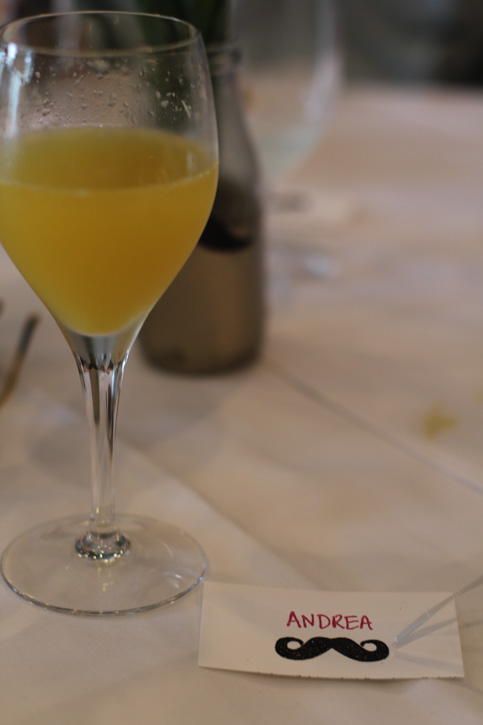 I made these place holders using my new embossing tools that I found at Paper Source. After the sweet (and clearly rather smart) sales associate there made a bookmark for my oldest son when he asked what the embossing tool was as we were browsing in the store, I was hooked.  I mean, how fun are these?!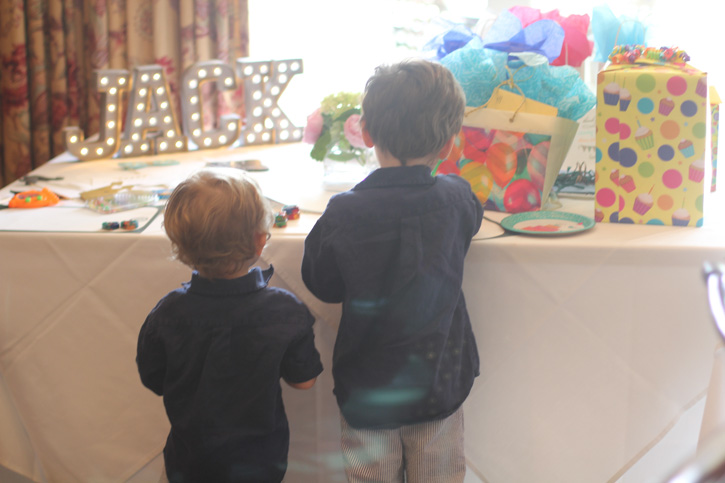 The big boys using the multi-colored marbled heart-shaped crayons that I made for kids to play with during the party. (We also sent a few home in the party favor bags, too!)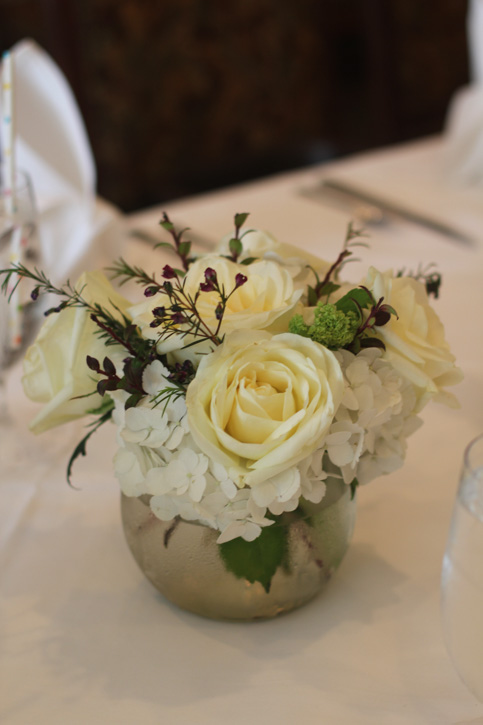 One really cannot have too many flowers, right?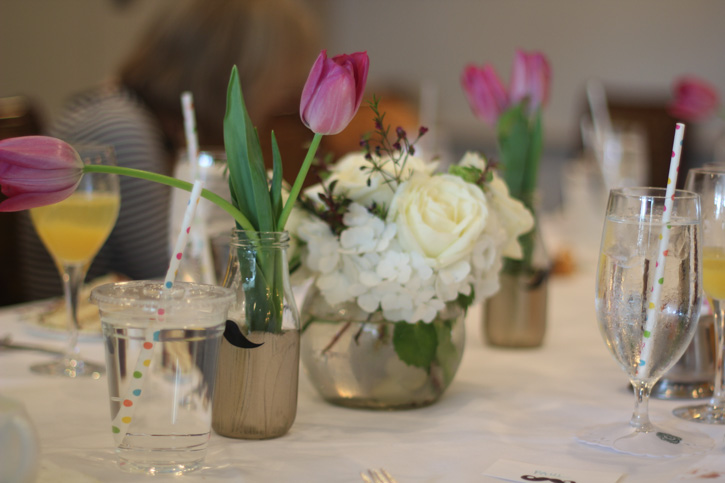 The table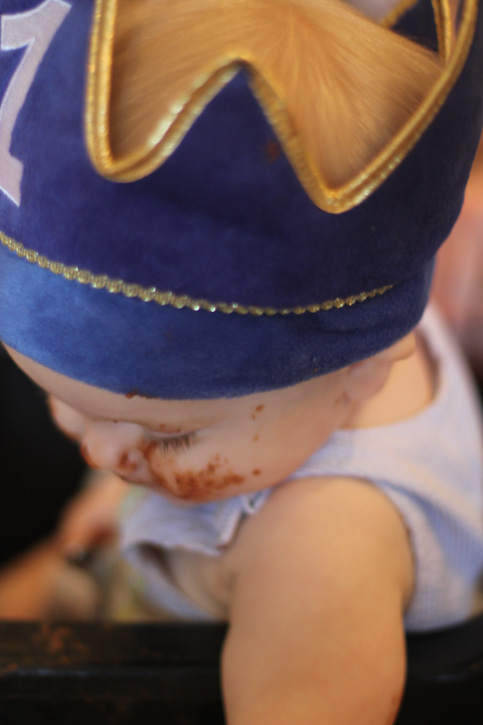 Chocolate-covered = success in my book!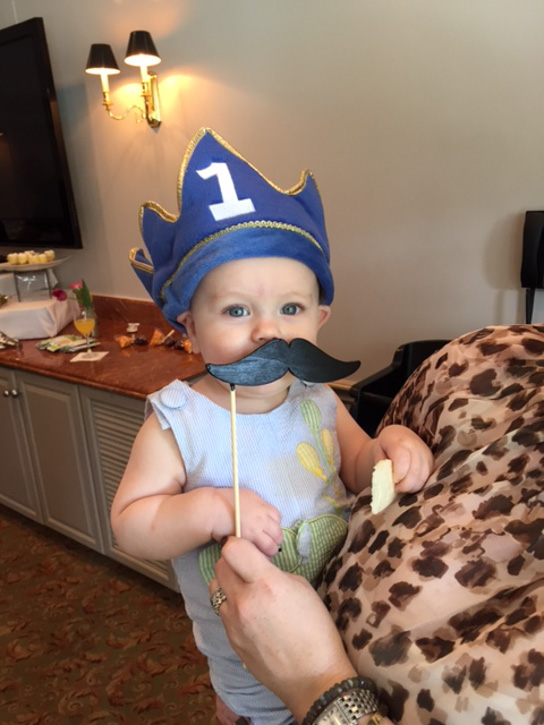 The birthday boy!