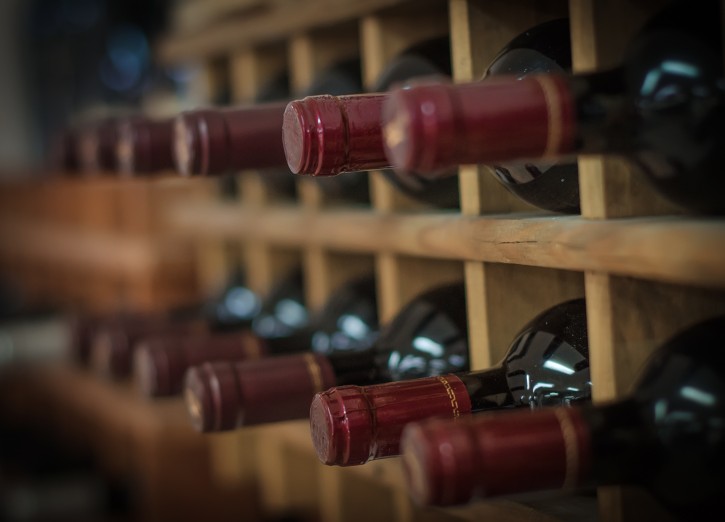 My hubs is a wine dude. When we were dating, I was continually impressed by his knowledge of wine. On each date, he would order a wine and it was always delicious. Come to think of it, throughout the time I've known him, I'm not sure he's ever ordered a bad wine for me. In fact, he usually orders a glass each of two different wines and lets me taste each and chose the one I like best. He says that's a fun challenge for him and ensures he orders two really good wines. Is he a treasure or what?
With a man like him comes a decent-sized (and quality!) wine collection. I consider that a huge plus, but it does come with a few challenges, too.

There have been more than a few times that he wasn't home and I wanted to open a bottle of wine to share with a friend and I would sit, staring at our wine collection, wondering which ones were okay to open without him. (Heaven knows I don't want to open one of these on accident – yikes!) Another challenge has been moving cross-country with the wine. Twice. You can't send it in a moving van and you can't leave it in a hot car because you're moving in July. Figure that one out!
Now that we are settled in Houston again, we've had to figure out where to store this wine. Since we have some decent bottles, we really wanted to keep it in the right environment, temperature and humidity-wise. (Clearly ruling out using our garage here in Texas!) After some discussion, we decided to rent a wine locker at a local storage facility for the time being. I did some research and we chose one near our house with great accessibility and a really nice ambiance. It's called Amazing Spaces and I highly recommend them if you need a storage unit for wine or bigger items. The owners couldn't be nicer, the restroom is the among the nicest and cleanest I've seen in a long time, they will let you use their moving truck when you need it and they sell a few storage supplies right there on site. Oh, and they have a conference room and free WiFi that you can use when you need it. Like I said. . .super nice. They also usually run great specials for new customers, so be sure and check into that. I think we got 50% off the first two months.
Being that a portion of our wine is off-site and we want to be organized about our storage, we decided to migrate our inventory system from the (really ugly) Excel spreadsheet that we've been using and start tracking our collection online. My dear friend Amy Morgan, of Wine Meats Cheese in San Francisco (you may remember her guest blog post, Secrets from a Sommelier) turned me on to Cellar Tracker a few years ago. At the time, I used it sparingly, but it needed a third-party app to access it from your phone and it all seemed a little complicated for me and I never got around to using it much. The other day, though, I checked in with Amy to see if any better apps had come along and she said no – that one is still her favorite. I decided that if it is good enough for a sommelier, then it is good enough for me and did zero further research. (Have I mentioned that I LOVE having such talented friends?!) Turns out, since I last looked, they've made a lot of improvements!
So, today I downloaded their new (and free!) iPhone & iPad apps and I'm so glad that they have their own now. Hubs and I went up to the wine locker and began the inventory and organization process. And I have to say, it wasn't quite as bad as I had feared. Sidetone, as it turns out, when you rent a wine locker, you get exactly that – a big, empty locker, which isn't ideal for efficient storage. So, for his birthday last year, I bought Hubs these super cool interlocking Design-Your-Own Wine Racks from Container Store. Though they were a little more expensive than I had hoped, I love the fact that they are SUPER versatile! You literally build it yourself, like Tinker Toys (for adults!) And, you can always rebuild them in whatever shape fits your future cellar needs best, which is perfect for what we need. Also, they just feel really solid and the wine feels secure in them. I've had a few inexpensive wine racks that were flimsy and have suffered a few broken bottles because of it. Thankfully, that was in my young and single days before I owned any wine over $10. Now, about the inventory data entry process. . .
First of all, the app's barcode scanner was a huge help for almost half of the bottles. That made data entry on those bottles an absolute breeze. Hubs has quite a lot of French and German wines, though, and a lot of those weren't barcoded. For many of these, however, there was a search feature that returned quick results and I was able to select the wine and vintage and save it to our cellar. For a select few, we had to add them manually, but the process wasn't too hard. I chose to enter those on a laptop and I think that helped them go far more quickly.
Features that I love about Cellar Tracker:  Syncing across platforms (laptop, iPhone and iPad) is quick and seamless, so you can enter wines in whichever way suits you and you can add notes or thoughts or "remove them from your cellar" from the comfort of your couch as you drink them. You can also add notes on wines that you don't yet own from a restaurant, wine bar or winery. I also love that you can note where that particular bottle is stored, which allows you to keep separate inventory lists for home, a storage locker, your cellar, etc. You can even enter wine that has been ordered, but not yet delivered. On their website, there are wine articles, shared tasting notes, ratings, discussions and much more. Basic membership is completely free and gets you inventory management, suggested drinkability date tracking, the barcode scanner and community reviews. For a $20/year membership fee, you can upgrade to include pro scores and automatic inventory valuation, which is helpful if you want to insure your collection. (Hey, you can't beat free!)
So, whether you're an experienced wine collector or just starting out, hopefully some of these tips will be useful for you. And we would love to hear your favorite wine ideas. Let us know in the comments below what you're favorite tips are for organizing, storing and enjoying your vino!