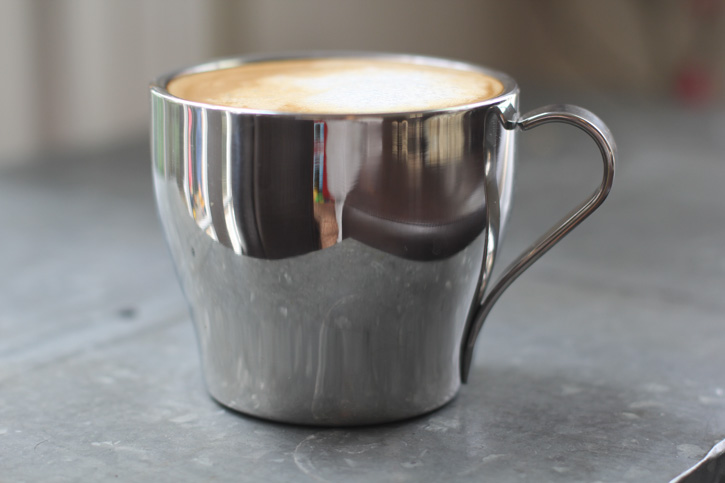 Hubs and I are really into coffee. Part of it is due to my my friend Pauline's influence, as she encouraged it by giving us her old espresso machine when she upgraded to a new one. I think it really took off to new heights, however, when we lived in San Francisco. SF is coffee-crazy and incredible artisan coffee abounds there, so we were a little spoiled with options and our standards raised in proportion.

I've received several coffee-related Christmas gifts from Hubs over the years. Last year, he gave me an incredible new professional-grade grinder, which we needed because our espresso machine is super picky about the fineness of the grind and. Most years, he has given me at least one pair of coffee mugs in various styles. One year, he gave me some beautiful handmade pottery ones from a store near our house in SF. Another year, he bought me some lovely glazed Simon Pearce ones. Last year, I got some really cool double-walled glass bistro cups from Bodum, which I love! This year, however, he really outdid himself. My friend Pauline has had some double-walled stainless steel mugs for over 10 years that I've always loved. Every time I go to her house and have coffee, I comment again to Hubs about them and, as it turns out, he was making mental notes. Made in Italy, they're really, really hard to find, but Hubs is incredibly resourceful and found some similar to hers. (The place she bought them no longer carries them.)
Being the good friend that I am, I'm here to share the source with you! These cups are awesome. As thermal cups, they retain heat, keeping lattes warm for a long time. They look gorgeous and they feel fantastic in your hands. We absolutely love them and I highly recommend them. We actually have two sizes. The one pictured above is the latte size, but he also bought some that are cappuccino sized. We got ours at PodHead.com, but if they are out of stock, you can also get more at 1st Line Equipment. I mean, really, how beautiful are these? I love them!
What is your favorite cup for enjoying a hot beverage?