If you read our blog or follow us on Twitter, Instagram or Facebook, then you know about our friends in San Francisco who are fighting to bring their adopted son, Miles Jephte, home from the Congo.  If you have no idea what I'm talking about, check out my blog post about it here.  If you want more background on the family and their specific situation, check out their blog, In the Time Between.  I'm passionate about helping them bring their son, who has been legally adopted as of December 2012, home.  Finally.  I'm also passionate about the countless other children who have been legally adopted and yet are being denied exit letters by the DRC government, whose precious little lives hang in the balance as their "forever parents" wait patiently with loving arms for their children to be able to come home.  
I'm passionate about the U.S. Government using their resources to engage in a dialogue with the DRC to help these U.S. families and these children in limbo, rather than ignoring the situation entirely. One way to draw their attention to this matter is to sign a petition that has been drafted asking them to take notice.  Yesterday, I shared that link with you all via my blog, Facebook page, Twitter and Instagram.  So did countless other people who have been touched by this situation in one way or another.  In the past 24 hours, 54,000 signatures have been received on the petition.  54,000.  In a day.  That number boggles my mind.  People care.  People are concerned.  People. . . are using their voices.
It's time to take this to the next level, friends.   We need even more signatures. I know how it is – you read stuff on a blog or on Facebook and you're moved. . . for a moment.  Your heart skips a beat or cracks just a little and you honestly, genuinely feel something for the people you're reading about.  But, there is just so much out there.  So much heartbreak.  So many causes.  So many stories of injustice that our minds start to swirl with the thoughts of them all and we just get overwhelmed.  And when I get overwhelmed, sometimes I just shut down.  I hate to admit it, but it's a self-preservation thing for me and sometimes I just cannot engage.  Or, I don't have time.  Or, I honestly think I'll do it later.  I know how it is. . . and I don't want you to do that in this case.  Signing this petition takes under 30 seconds and makes your voice heard on behalf of these little children.  Still, it's a time investment, even if it is 30 seconds, and so – I'm going to give you a little incentive – a chance to win our popular faceted teardrop Swiss blue topaz gem drop necklace shown here: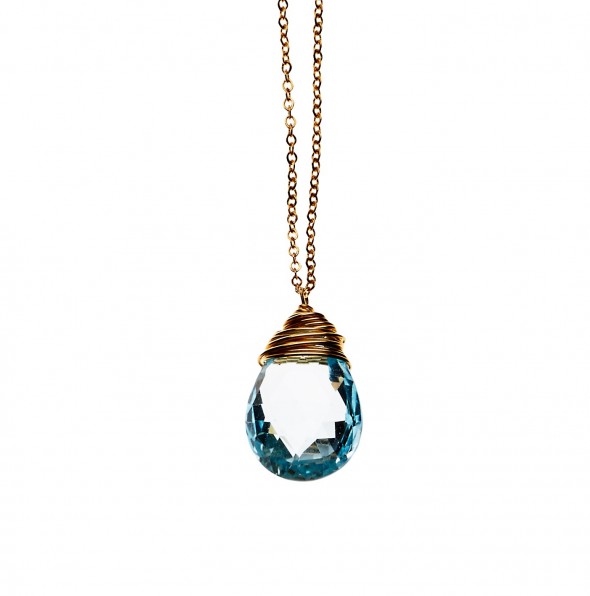 Here's how to win:  First, go sign the petition here.  (This is on the honesty policy – I'm going to trust you that you did it.)  Then, do one or more of the things listed in the Rafflecopter link below the necklace photo to be entered into the giveaway.  Don't forget that you can do more than one of them to be entered more than once.  The contest ends at midnight EST on Sunday, April 6th.  Good luck!
{Update:  This contest is now closed.  Congratulations to Brandee on her new necklace!  Thanks to all of you who entered and thanks, most of all, for helping this sweet family!  Congress has taken notice because of your efforts on the petition and has contacted the DRC government in support of these families. Praise!}