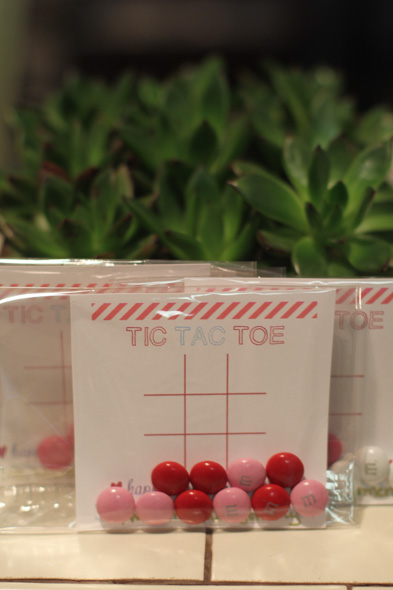 On Monday, I received an email from my son's preschool.  They are having a Valentine exchange on Friday and we're supposed to send cards for each of the kids in his class if we want to participate.  (Of course we do!)  It is our first year of school, so although most parents might have seen this coming, I didn't.  Luckily, I've been on Pinterest a lot lately and had seen a few cute things pop up on there that caught my eye.  I honestly love little projects like this because it reminds me to be creative with my sons.  Its all too easy to get caught up in the mundane parts of life and when we can throw in a little art and creativity and a fun project together, it reminds me to stop and savor these sweet moments together – and to be a more fun mama!
I've pinned several of the ideas that I thought were cute to my "Holidays!" board, so if you're in need of a good idea for your own cards, feel free to check it out.  I decided to go with the adorable Valentine's tic-tac-toe board idea, primarily because I thought that it was really cute and it looked pretty easy and this is a jam-packed week for me.   Some sweet and wonderful blogger over at seven thirty-three was kind enough to share her free printable, so all I had to do was print it out, pop it in a plastic bag and toss in a few MnM's in two colors, so that they kids can play a delicious game of tic-tac-toe!  Easy as pie.  (Sidenote:  Where does that expression come from?  Pie is NOT easy to make.  But, I digress…)
I printed the cards out on card stock, even though they were originally designed for Avery shipping labels, simply because I didn't have any of those on hand and didn't have time to run to the office supply store.  I did have clear bags on hand, however, so that worked out great, although if you don't, said sweet blogger was kind enough to include envelope printables, too.  (She's got you covered!)  I wrote my little bug's name on them in gold paint pen and sealed them up with some pretty deco tape (similar to this) that I found at the drugstore, which I thought added a fun touch.  Bug is SUPER excited about giving them, so I'm going to put this in the win column!
What are you doing for Valentine's cards this year or what is a favorite that you've seen?  Let us know in the comments below.  We love ideas!