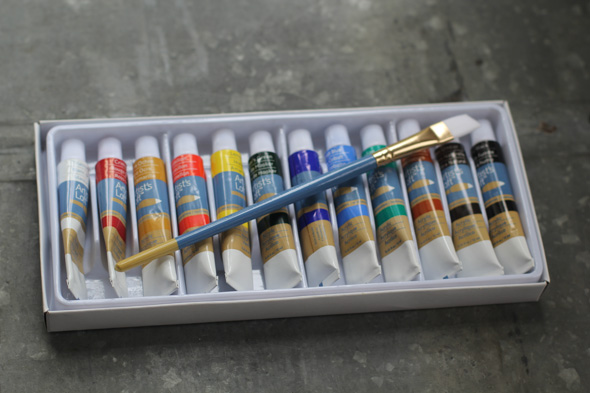 Over the weekend, the boys and I decided to take on a little Valentine's Day project for their grandmothers.  I thought that it would be fun to give them a little piece of original artwork this year.  My little bug is all about the art these days, thanks to his wonderful preschool and was really excited to paint something.  I hit the craft store earlier this week and bought a few canvases and some inexpensive acrylic paint and brushes.  For the project, I put a sticker down on the canvas, to keep that portion white and then let the boys go to town with their paint brushes all over the canvas.  After letting them dry, I carefully peeled off the sticker and, voila – heart art!
For my heart, I cut out the shape of a heart from a large shipping label sticker simply because that is what I had on hand, but you could easily buy a packet of smaller heart stickers and put those all over your canvas or use your imagination and put anything on there.  Letters spelling something out or the shape of an animal would be super cute and I think would make really neat art for a nursery – especially if you did a series!
In full disclosure, I got this idea from a dear friend of mine in San Francisco.  For her daughter's second birthday party, she had easels set up with canvas boards for the kids to paint.  She had put stickers spelling out each child's name on their own canvases and let the kids paint away and it made such a fun birthday party activity and a neat favor to take home!  Ours has been sitting in the boys' room ever since and each time I look at it, I think of my sweet friend and her daughter (one of my little bug's besties!) which makes it extra-special.
The how-to photos and final results are below!  What fun Valentine's Day crafts are YOU doing this year?  Tell us in the comments below – we love ideas!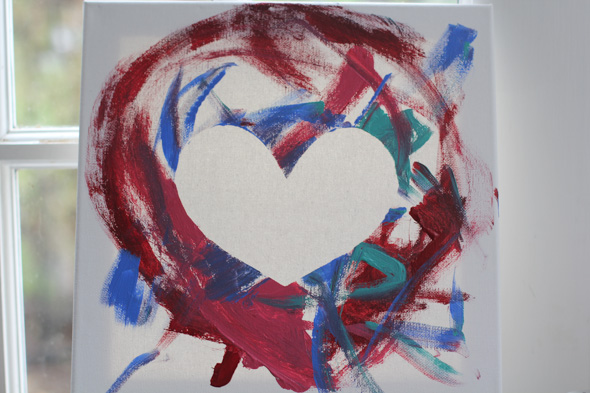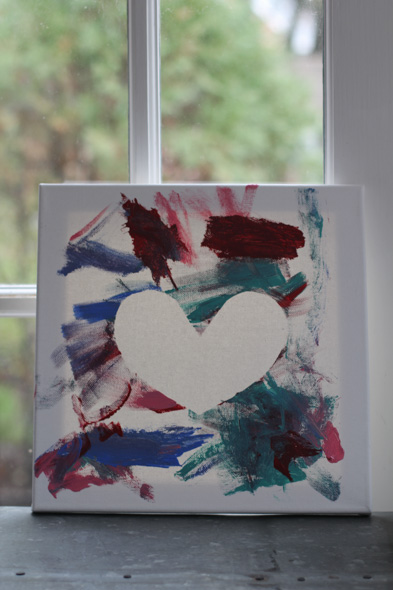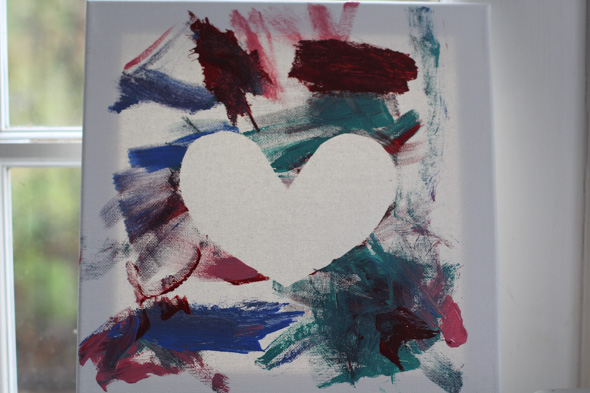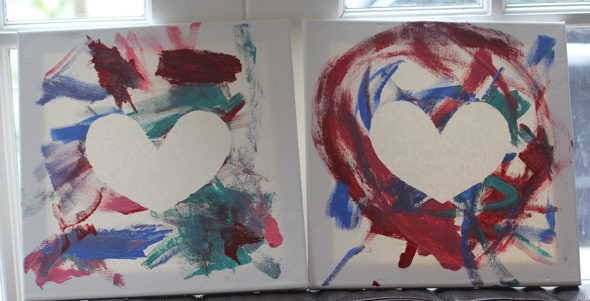 Our finished pieces