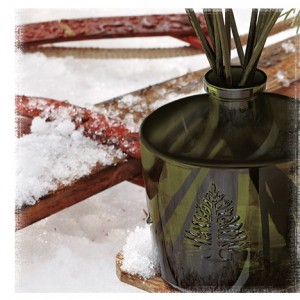 I love Christmas.  Like, a lot.  I know, I know.  Everyone says that.  But I really, really, really love it.  Like, I get sad the day after Thanksgiving because that marks the beginning of the true Christmas season and I feel like that means it is already slipping away.  That's crazy, right?  My husband certainly thinks so.
I love the meaning of Christmas most of all.  Beyond that, I love the music, the gorgeous decorations, the yummy treats, the chilly weather, the hot chocolate, the beautifully adorned trees…  The list truly goes on and on.  When I was a little girl, we discovered that I'm allergic to real Christmas trees.  Total bummer, I know.  But, what can you do?  Sneezing your way through the Christmas season is no way to enjoy this magical time.
About seven years ago, however, a dear family friend shared a fabulous, wonderful smelling secret with me.  (Shout out to you, Mr. Greg Frazier!)  He told me about the Frasier Fir (ironic that it's his name, right?) reed diffuser from Thymes Limited.  My husband and I promptly went out and purchased a bottle.  At $60, it was a bit of an investment, but I trust Greg.  And I have to tell you, that same bottle lasted us at least four or five years.  Now, that's a great return on investment – especially when you consider the smile that scent brought to my face every single day of December!
I've introduced several friends and family members to the scent and every one of them loved it from day one.  And now, I'm sharing my smelly secret with you. Especially if you have an artificial tree (under duress or by choice!) – this is the solution for you.  You'll get the amazing smell without (hopefully) the sneezing fits. Thymes is kind enough to offer an entire collection of the holiday scent, so if you prefer reed diffusers, candles, potpourri, soap, room spray – they've got it.  They've even got Frasier Fir scented dish soap!  (Even I think that might be taking it a little too far.)
Many of my friends have commented on how lovely our home smells at the holidays.  So, now you know my little secret.  Feel free to share it with friends – its the Christmasy thing to do!