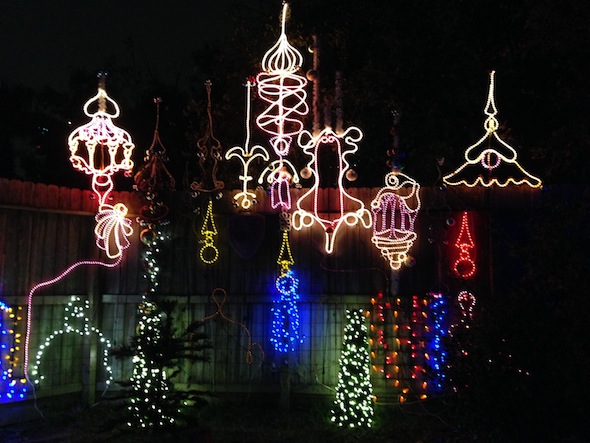 On Friday night, we packed up the fam in warm clothes and a little rain gear and met some dear friends at the Houston Zoo for their holiday Zoo Lights event.  Each evening through January 4th (except December 24th and 25th) from 6pm to 10pm, the Zoo opens up to show off the 1 million holiday lights they've put up all over the grounds.  You can grab a cup of hot chocolate and wander through the old oak trees in the zoo, listening to holiday music and checking out the beautiful light displays.  There's even a cool map to guide you through, with descriptions and photos on the Houston Zoo app, which I downloaded on iTunes for free before we went.  Tickets are $10 in advance or $12 at the door and kids under two are free.  There are food and snacks throughout the zoo as well.
While most of the animals are sleeping at night, we did see some giraffes, a zebra, a Kimodo Dragon, a monitor lizard and the animals in the aquarium.  The tour is definitely mostly about the lights, though.  My boys' favorite parts were the holiday carousel and the enchanted forest, which had some fabulous little houses with trains running around them.  Every child around us exclaimed, "THOMAS!" as they walked up to his track.  It was adorable.
If you're looking for something fun to do in Houston for the holidays, I highly recommend Houston Zoo Lights!