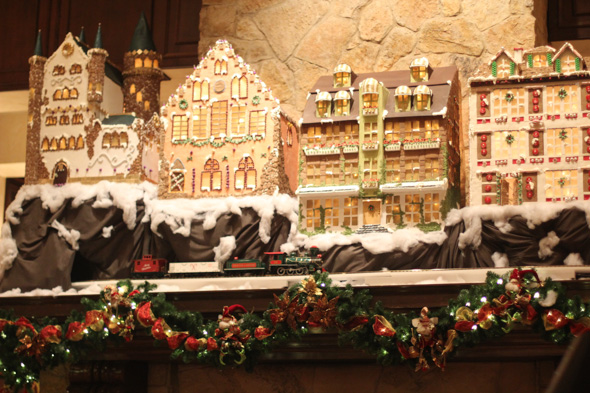 Tonight, the fam packed up and headed to The Houstonian hotel for some hot chocolate by their giant fireplace.  They have huge gingerbread houses surrounding the top of it with a train that drives around them, so we knew that would be a huge hit with the boys.  (We weren't mistaken on that one.)   It was so much fun to sit by a roaring fire, sipping on hot chocolate, while the boys ran around and marveled at the train.  The Houstonian's decorations are absolutely stunning and put us all in the holiday spirit, for sure.
After our treats, we drove around a few neighborhoods here in Houston (Tanglewood, Briargrove, River Oaks and West University are my favorites for Christmas light looking!) and looked at Christmas lights on the houses.  (Wow, has Tanglewood changed since we left Houston five years ago!)  The lights and decorations were gorgeous and it was the perfect ending to a really fun (and chilly!) night.
If you're looking for a fun, low-key evening to celebrate the holidays in Houston, I highly recommend a stop by the Houstonian for dinner and/or hot chocolate! Check out the photos below for a peek into the charming setting.
What are YOUR favorite holiday traditions in the H-town?  Let us know in the comments below – we want to be in the know!