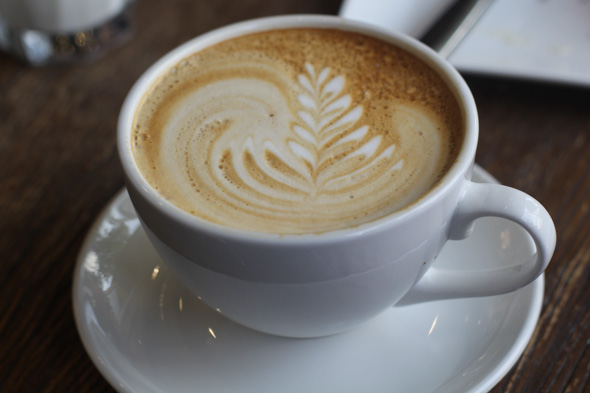 Oh, dear.  I've discovered yet another adorable coffee shop in San Francisco and this one's got amazingly delicious pastries.  And worse, its right in our neighborhood – just a few short blocks from my house.  Yikes!
The other day, we walked over to b. patisserie on California and Divisadero with the kids.  The shop was opened by quite a pair.  Belinda Leong was formerly the pastry chef at Gary Danko (one of my favorites!) and Michel Suas, a native of France, started his career as a pastry chef in Paris.  Not only is this place gorgeous inside, but it is filled with a delicious aroma and equally tasty treats!  They serve Four Barrel coffee and espresso and it is delish as well!  This is a fabulous place to sit, take a breath and contemplate life or to catch up with friends over a steaming latte.  The setting is crisp and serene and the food may have you heading back through the line more than once!
When you go, you MUST try a Kouign Amann.   I was skeptical at first, partly because I wasn't sure how to pronounce it to order it!  Its a French pastry that is basically a flaky dough like a croissant, but with butter and sugar folded into each layer.  When it is baked, the sugar caramelizes and the result is pure delight.  If you like it, be sure and ask for a bag of the scraps to go.  They sell them in a lovely cellophane bag and they make wonderful treats for later on when you start to crave another Kouign Amann (which you will.)  The chocolate banana almond croissant, the sugar brioche tart and the macarons are all delicious as well.  If you're there for lunch, the tartines, the salads and the sandwiches are all wonderful, too!  Check out the full menu here.
This place is a must try.  Trust me.  (Note that they are closed on Mondays.  I made that mistake once and was so sad!)