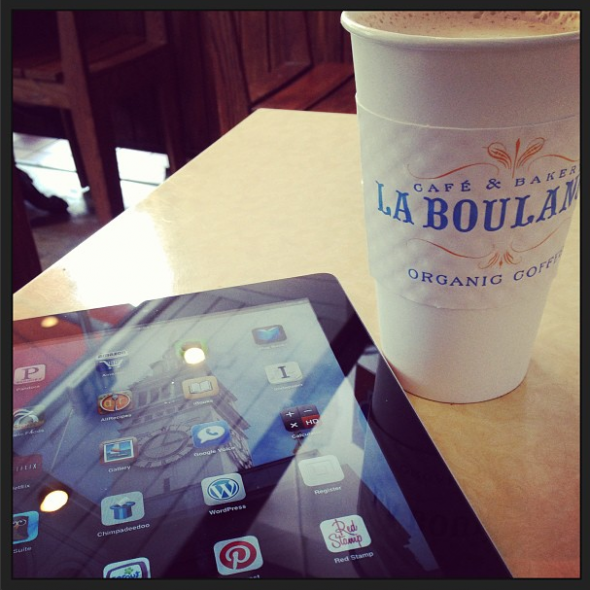 I love reading blogs.  They're such a fun way to connect with other people and learn about new things. They can be educational, hilarious or just plain fun.  And often, they're just so lovely, too!  Pure inspiration.
It used to be that to keep up with blogs, you had to either bookmark them and remember to check the bookmarks to keep up to date.  It's safe to say that doesn't work for me – I have a hard time remembering far more critical things on my to do list.  Another option was signing up for email updates every time a blog you like is updated.  
This may be a good option for someone who doesn't follow a ton of blogs, but I'm pretty overprotective about my email inbox these days because it is already overloaded, leaving me overwhelmed.  So, that doesn't work well for me, either.  Then, they invented a fabulous thing – the blog reader.
Up until now, I've used Google Reader as a handy way to put all the blogs that I read into one place.  I've loved having them all accessible and in one spot – my own personal reading list. And it's super handy on my iPad and iPhone, which is key because I'm most often keeping up with blogs on the go (or from the couch after the littles are in bed!)  Recently, Google announced that they will no longer support Reader and today, an email in my inbox confirmed its impending demise and the retirement date is July 1st.  Of course I've put off finding a new blog reader, so now I've been forced to try out a few other blog feed tools ASAP and I wanted to share them with you today, in case you're in the same predicament as me.  The good news is that all of the options below allow you to import your Google Reader list of feeds, so if you have been using that, you'll want to import that ASAP before it goes away.  It's as easy as one-click, thankfully!
Bloglovin' – I may like this one the best.  Not totally sure yet, but I love the fact that it gives me a photo preview next to each blog post.  By far, one of my favorite things about blogs is the visual part – especially the gorgeous photos.  So, the visual presentation is a huge selling point for me.  This one is clean and simple and easy to navigate (also key!)  It lists the blogs you follow on the right-hand side and see the various blog posts on the left in a preview pane – and you can filter by unread posts as well, which I find helpful.  You can "like" a post to easily find it later and can share posts to Facebook, Twitter and Instapaper right from the home screen, which I love.  Bloglovin' also has a free iPhone/iPad app that is equally visually appealing.  You can follow my blog on Bloglovin' here.
Feedly – This is the reader that Google Reader suggests that you switch to in their email about Google Reader leaving the scene and the one that most people that I know are switching to (if not Bloglovin'.)  It has four different view options, which I love.  You can look at the list view when you're in a hurry and switch to the cards or full article view with the quick click of a mouse to see more detail on each post when you have time.  It maintains a list of the blogs you follow, right on the home page and allows you to categorize them as well, which I find super helpful.  Feedly also has a very nice-looking (and free) iPhone/iPad app – huge bonus.  You can follow my blog on Feedly here.
Digg Reader – I like the layout of Digg Reader as well, though it has a far more technical feel to it visually, which is slightly less appealing to me.  It has options for either a list or an expanded view that includes photos.  It's clean and simple and so far, I love it.  It's also a little like email, where you can have a list of blogs on the left and then see a preview of the one you're currently selecting in the pane on the right.  Simple and convenient.  You can create folders to group your blogs by type, etc. (love!) but you can't currently see only "new" articles (don't love.)  Supposedly, that is coming soon, though.  You can also bookmark things you want to come back to and can post interesting blog posts to Twitter and Facebook directly from the site.  You can follow my blog on Digg Reader here.
Flipboard – While Flipboard isn't exactly a traditional blog reader, it's super cool, so I'm including it here.  It really is like a stunningly beautiful magazine that you edited with all of your favorite content.  You can subscribe to various feeds that Flipboard offers on different topics, to your favorite blogs and you can even follow your Twitter and Facebook feeds there (in a beautiful way!)  This app literally turns your content into a gorgeous, flippable magazine.  It's way cool.  (Note that Flipboard will also save your Google Reader content list if you log in before June 30th, so do it now!)
If you haven't tried a blog reader yet, I highly encourage you to.  They're free and fun and it's a little like editing your own magazine where you get to see only what you want to!  It's a great way to keep up to date on your favorite bloggers and their not-to-miss content.  Sign up for one (or all three) and try them out for yourself to see what suits you best.  Just don't forget to add THIS blog to your feed of must-reads!
How do YOU stay connected to your favorite blog content?