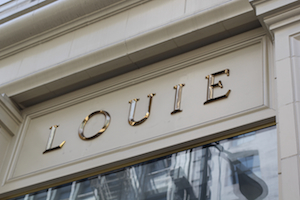 This past weekend, we packed up the littles and drove down to the City of Angels.  Hubs had a work conference there and the boys and I were all to happy to tag along to a warm and sunny location like LA!  I emailed a few friends in the area for recommendations on what we should do while we were there and Michaela, who I "met" when she featured my jewelry designs on her gorgeous blog, came through with an excellent brunch suggestion that I felt obliged to share with you.  It's just too good to keep to myself.
Bottega Louie is simply adorable.  Not only is this spot darling, it is equally delicious.  The market part of the restaurant reminds me of Laduree in Paris (a VERY favorite spot of mine!) and not only because of the stunningly beautiful macarons.  There were lots of fun treats there that would make lovely hostess or birthday gifts or a delicious little bon bon for yourself.  
For a moment, I thought I had been transported to Paris, except the size of the place is clearly American.  The entire place is so airy and gorgeous and the place is filled with the most beautiful light.  It lifted my spirits greatly just walking into this stunning space, and that was even before the incredible food came out.  The staff was super nice and was really accommodating since we had two little ones with us.  They brought out two high chairs for us and parked our stroller in their offices to get it out of our way.
The menu looked amazing.  It was one of those where you literally want to try every single thing on it, making it difficult to decide.  In the end, we went with yummy ricotta pancakes (which the kids loved!), the lobster hash with poached eggs on top (amazing!) and Greek yogurt with fresh fruit.  Every single bite was delightful!  And the lattes and champagne cocktail were amazing as well.  What a treat!
If you're near L.A. and are looking for a brunch spot, I highly recommend that you try Bottega Louie.  I cannot wait to go back!  What are your favorite eats in Los Angeles?  Let me know in the comments below.  Meanwhile, here are a few photos from our visit to whet your appetite…