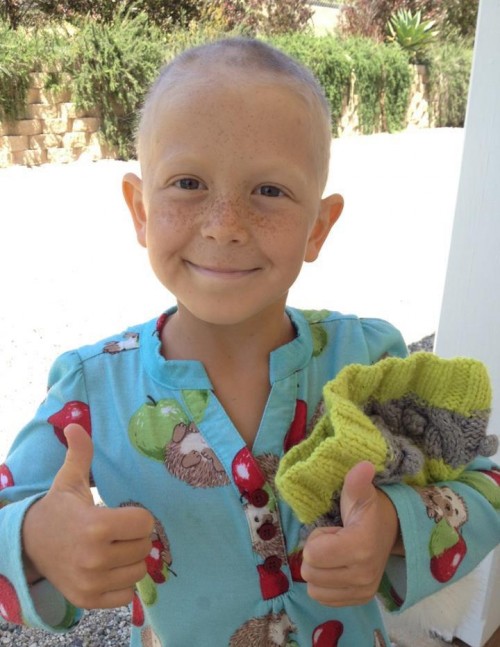 Thank you, thank you, thank you to all of you who supported our fundraiser for Daisy Love Merrick.  Your outpouring of love and generosity buying the necklace that I designed with little Daisy's help was beyond anything that we imagined when we first hoped to help this sweet girl.  Thank you for helping us be a part of ministering to Daisy in this difficult time.  There is a "thank you" drawing from Daisy at the bottom of this post.
The funds we raised last Fall went toward's Daisy's treatment.  By God's grace, the family quickly surpassed their fundraising goal of $500,000 and went to Israel to pursue alternative treatments there. In November, the Merricks came back to California.  
For the latest on Daisy's story and for a listen to Britt's INCREDIBLE perspective on life when tragedy strikes and the question of "why?" overwhelms, please take the time to listen to him in "When Sparrows Fall."  You are sure to be blessed by his amazing attitude and trust. Many of you have called and emailed us asking about the Daisy Love necklaces, which we officially stopped selling at the beginning of November when the family met their fundraising goals.  The Daisy Love Trust will be donating any money above what they needed to a cancer-related charity.  I have recently been in contact with the Executive Director of the trust and he confirmed that they are not currently in need of funds, so at this time, we do not have any plans to bring the necklaces back.  Andrea Montgomery Designs is committed to giving back to the community in various ways.  Each year, we feature a jewelry design that raises funds for a cancer-related charity and donate 100% of the net funds raised to that cause.  The 2012 design raised money for Daisy and we were so blessed by being a part it.  Please check back soon for details on our 2013 fundraiser.
We really appreciate your continued interest and display of love for this precious little girl.  Please be sure to visit their blog at www.prayfordaisy.com for the latest updates on her journey and please, please be praying for this precious little girl as she battles this cancer for the 4th time and for her family as they support and encourage her.