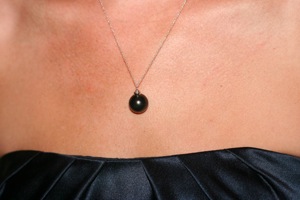 Yesterday, we shared a beautiful bride with you.  Today, we wanted to share her vision for her bridesmaids.  Her attendants wore stunning long strapless gowns in a beautiful midnight navy blue for the black tie affair.  The bride wanted classic designs for her girls that complimented their classic attire and wanted to give them a necklace and earring set as bridesmaid gifts (which is always a big hit!) 
We went with a simple black pearl design on sterling chain for the necklaces with matching black pearls for the earrings in a slightly smaller size.  The result was clean and classic – and very elegant – just perfect for this Buckhead wedding!
I think the sets turned out beautifully (and most importantly, so did the bride!) and the girls absolutely loved them!  How beautiful is this sweet bridesmaid in hers?  Love it!