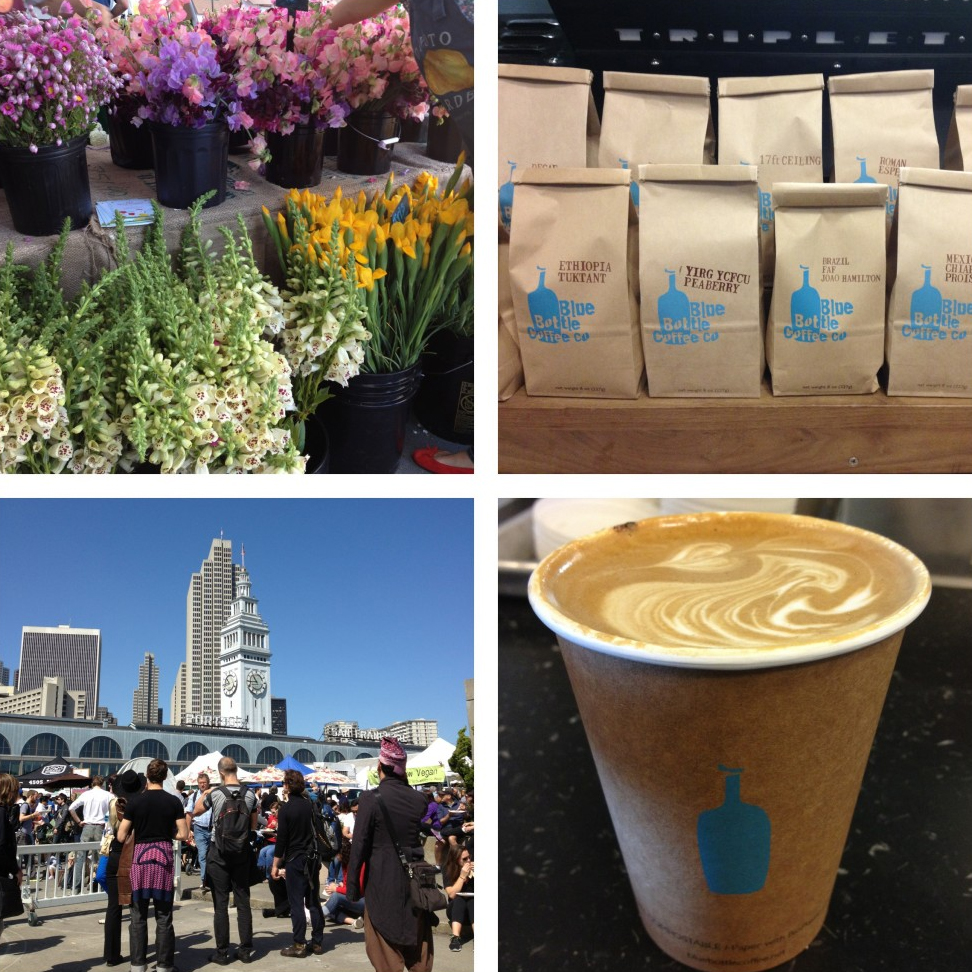 Without a doubt, when people come to visit me here in San Francisco, one of the very first places that I take them is to the Ferry Building.  Even when we don't have friends visiting, the farmers'  market there is one of our very favorite weekend activities.  If you're coming to SF, I highly recommend you carve out a few hours to visit it – it is well worth it! 
The Ferry Building is a beautiful San Francisco landmark where, you guessed it, the ferry terminal is.  (This is contrary to what my friend's precious daughter believes when she visits and asks where all of the fairies are.  How cute is that?)  The Ferry Building is open every day and several businesses have storefronts in there all week long, so if you're not here on a Tuesday or Saturday, it is still definitely worth visiting.
If you're hungry, the Ferry Building is definitely the place for you.  There are several permanent restaurants that are delicious.  Slanted Door is always a favorite.  It has a gorgeous setting and delicious food.  The views of the Bay Bridge are stunning and the modern Vietnamese cuisine is definitely something to talk about.  Reservations are highly recommended for dinner and for Saturday or Sunday lunches.  It's a fab spot and people know it.  Gott's Roadside also has a location here as well, in case you can't make it up to their St. Helena spot for their tasty treats.  They have both indoor and outdoor seating and offer breakfast, lunch and dinner.  (We love the burgers & fries and the fish tacos!)  MarketBar is also a great spot to nosh in the Ferry Building.  It's a wonderful spot for an outdoor brunch with a brassiere feel.  You can sit at their tables on the Embarcadero for hours enjoying a sunny day. . . and the people watching is fabulous!
If you're looking to buy some treats for a picnic in the park or a road trip up to the wine country, the Ferry Building has you covered on that, too.  Cowgirl Creamery is an outstanding artisan organic cheese shop that is definitely worth visiting.  Their selection will astound you.  Acme Bread Company has incredibly good fresh baked bread that we locals are fortunate enough to get at our local grocery stores and delicatessens – and it is delish!  Hog Island Oyster Company is always a favorite, as is Golden Gate Meat Company – and both offer meals for dining in or food items to take home.  Prather Ranch Meat Co. gets my vote for favorite t-shirt, which boasts a pig and the slogan "Praise the Lard" and although Boccalone Salumeria has a strange name, their tagline clearly explains what they sell – "Tasty Salted Pig Parts."  For something sweet, Miette is delicious!  They have incredibly good French macarons (not to be confused with the coconut-laced American version) that are absolutely not to be missed.  Ciao Bella Gelato has yummy cold treats as well.  Their gelato is wonderful.  Recchiuti and Scharffen Berger are both havens for the chocolate-lover and offer lots of sweet samples!
Don't miss the cool mushrooms at Far West Fungi – or the cool mushroom farms they sell for growing mushrooms in your own home.  So fun!  There are tons of great spots to pick up gifts for your friends back home as well.  I've gotten loads of unique things at The Gardener.  It is adorable.  And Sur La Table has my very favorite kitchen accoutrements – they'll definitely inspire you to cook!
There's a lot to see in the Ferry Building – and you're going to need some caffeine fuel.  Not to worry, Blue Bottle Coffee has a location here.  It is one of San Francisco's most famous coffee houses (for good reason!) and though they have many locations around SF, though this may be one of the easiest to find.  The line will assuredly be long, but I assure you, it's worth it!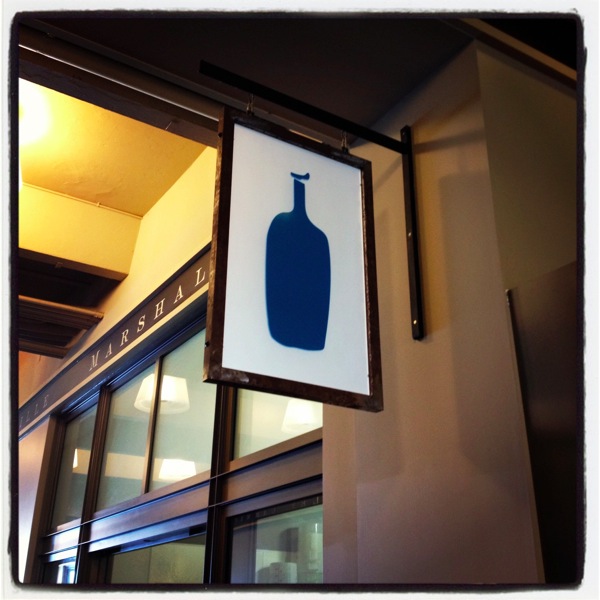 the famous blue bottle coffee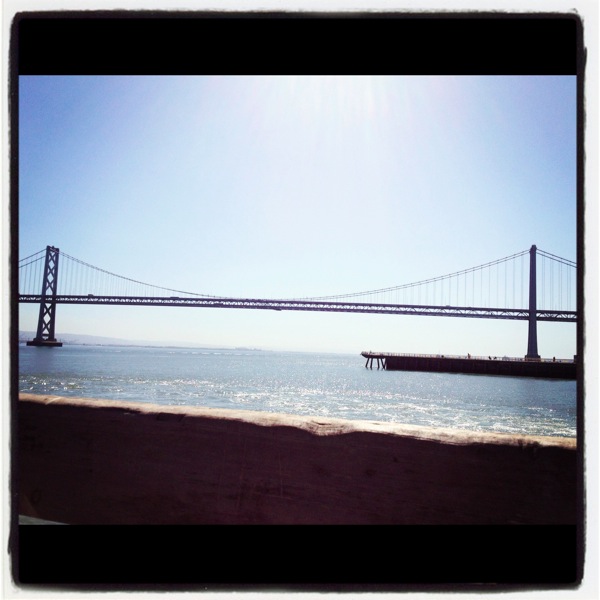 gorgeous views of the bay bridge