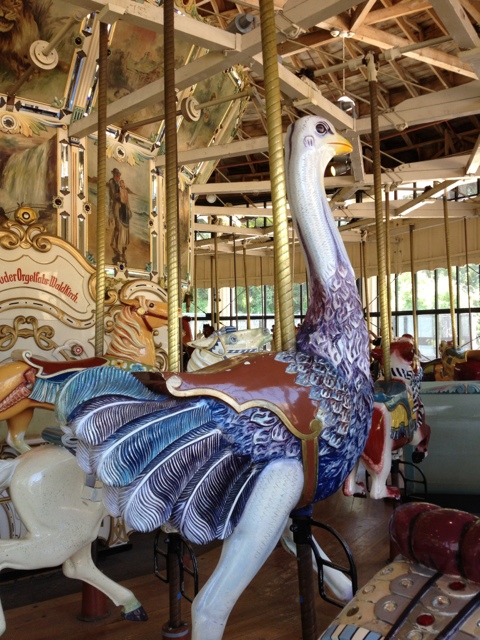 Today, we went to a super fun birthday party in Golden Gate Park. Despite living in the city for three years now, we have not visited this park nearly enough.  There is just so much to see and do there – and it was a perfect spot for a first birthday party.  After the adorable birthday party, we wandered over to the Koret Children's Quarter playground in the park, which (according to the sign there) was the first public children's playground in the US, established in 1887.  It's a fun (and very large) playground with lots to do. 
It's probably a little bit better suited to kids five years old and up, but our little toddler still enjoyed it immensely. There are lots of climbing structures and spinning toys and even a huge rock slide that kids slide down on big sheets of cardboard.  It looked super fun.  There isn't much shade at the park, but there are lots of green grass spaces nearby to pop down on and rest or have a post-play picnic.  There's also a concession stand right next to the park that sells hot dogs, drinks and Blue Bottle (brewed) coffee.
Once we finished up at the park, we headed over to the beautiful (and, as it turns out, historical) carousel. If you have any interest or plan to visit it, check out the history on it here and here.  It's pretty interesting (and the links have info on directions, hours and cost.)  Apparently, there used to be 7,000 thriving carousels during the "Golden Age" of the carousel from the 1880's to 1930's, but now there are only 300 in existence, with a beautiful example of one right here in Golden Gate Park.  I loved all of the different animals on this one, which included unicorns, kittens, dragons, roosters, reindeer and ostriches – there's definitely something for everyone!  The little Bug loved his first carousel ride and we had an absolute ball as well.  I highly recommend visiting it if you're looking for something fun and unique to do on a sunny afternoon in SF!